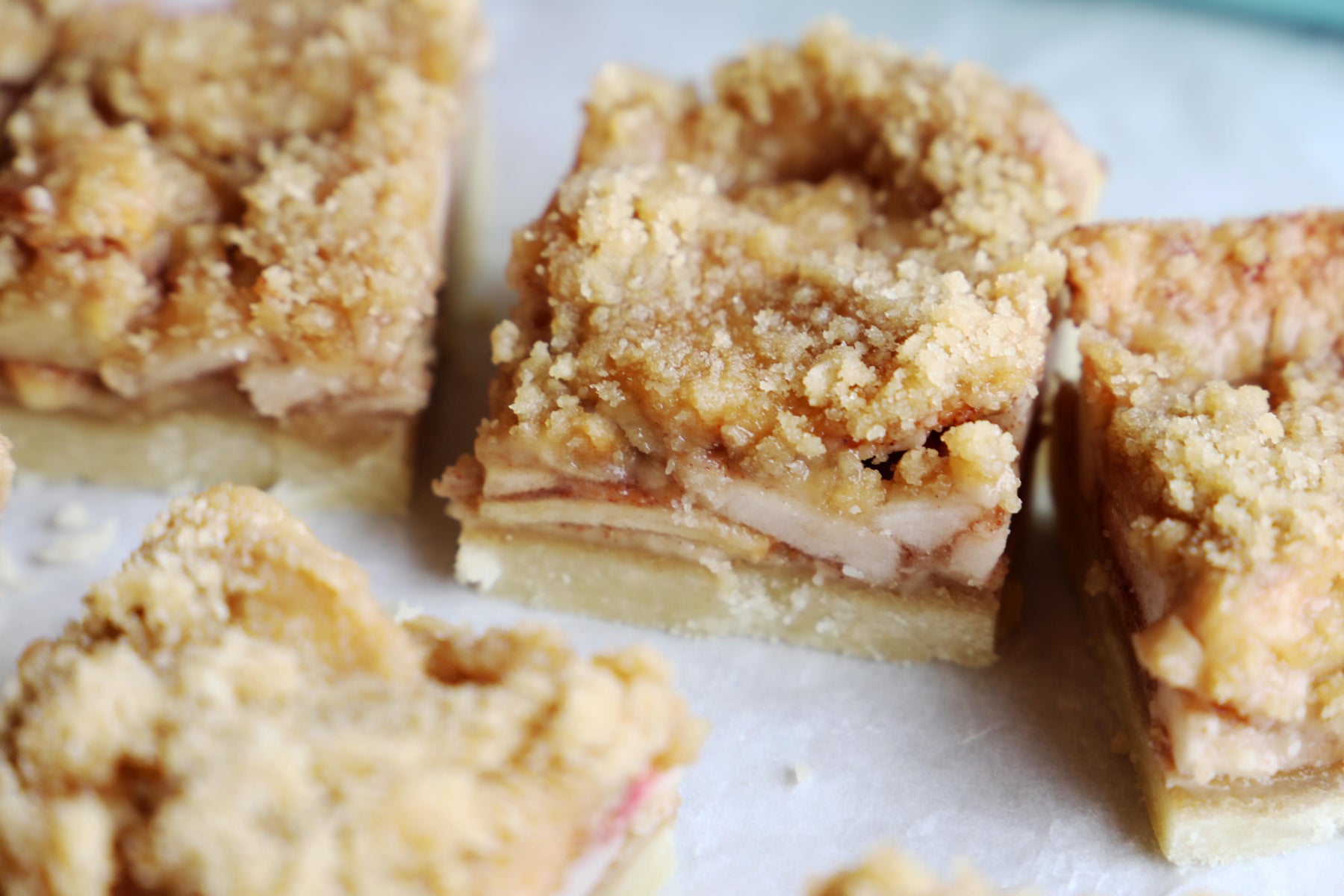 Apple Crumble Shortbread Bars
These easy Apple Crumble Shortbread Bars are the perfect treat to compliment those crisp Autumn days and a cozy cup of tea. Featuring our Organic Maple Sugar and freshly picked apples, simply top with buttery goodness, bake until golden brown and don't forget to share!
8x8 square pan

Shortbread:
½ cup softened butter
¼ cup sugar
½ tsp vanilla
1 cup flour

Filling:
6-8 small apples
2 Tbsp cornstarch
2 Tbsp maple sugar
1 tsp cinnamon
¼ tsp nutmeg
¼ tsp cloves

Topping:
½ cup flour
¼ cup brown sugar
½ cup maple sugar
¼ cup cold butter, cubed

- Preheat oven to 325°. Line an 8x8 square pan with parchment paper, and spray with non-stick cooking spray.
- In the bowl of a stand mixer, mix the softened butter and sugar until light and fluffy. Stir in the vanilla, salt, and flour. Mix until dough comes together and press into your prepared pan. Bake shortbread for 10-12 minutes until just set, and slightly brown.
- While shortbread is baking peel, core, and slice the apples. You want the apple slices to be thin, about ¼ inch thick. In a separate bowl mix the cornstarch, maple sugar, cinnamon, nutmeg, and cloves. Combine spices and apples together and set aside.
- In a separate bowl, whisk together the flour, brown sugar, and maple sugar. Cut in the butter to the dry ingredients until it resembles wet sand, with a few lumps.
- Once shortbread is out of the oven, sprinkle half of the topping mixture on the shortbread. Place spiced apples on the topping, making sure they are laying flat. Sprinkle the rest of the topping on the apples, and bake for 20-25 minutes, or until apples are tender. Cool completely and set in the fridge for 2 hours. Cut in 16 pieces and keep in fridge for up to 1 week.