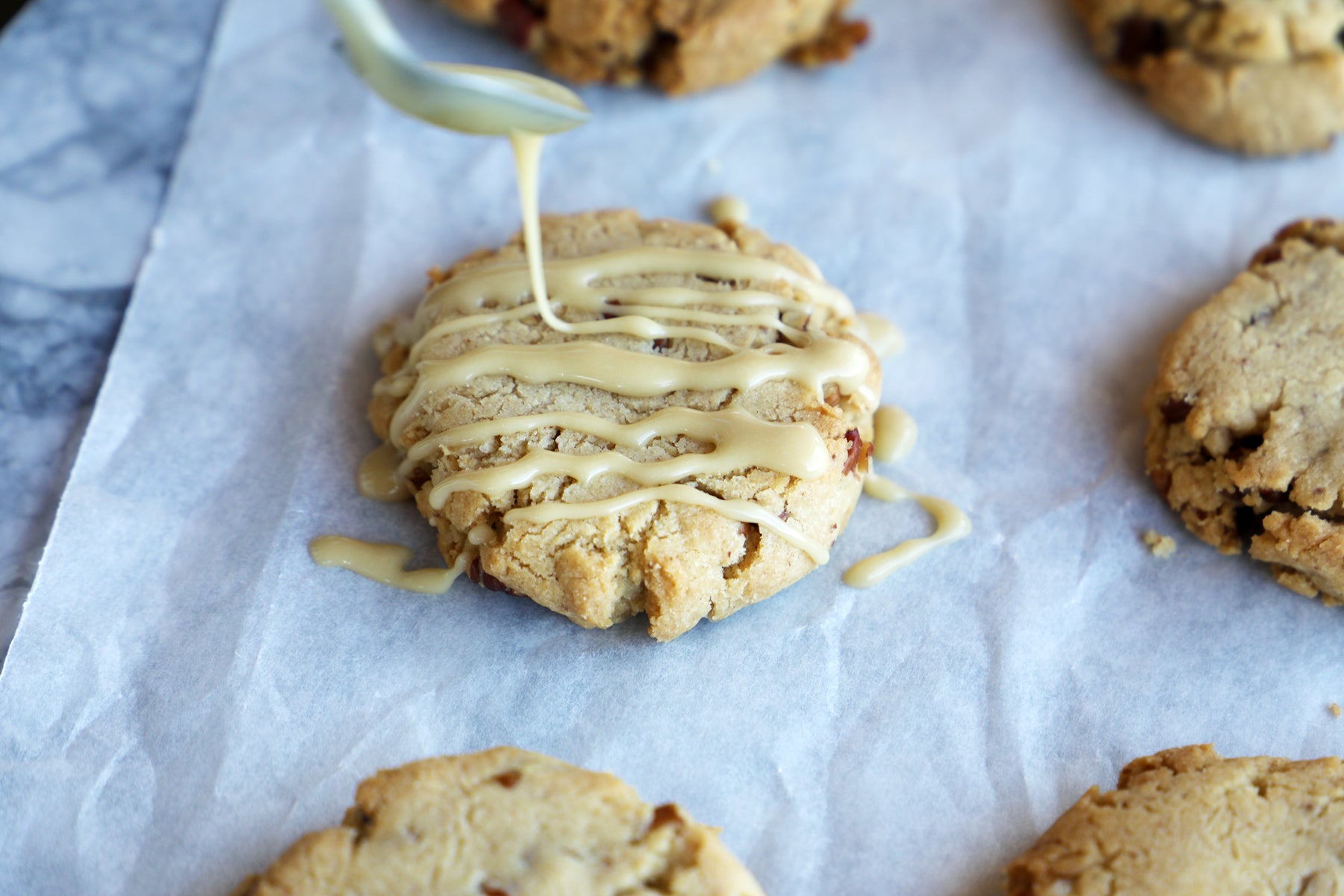 Maple Pecan Brown Butter Cookies
2 dozen cookies
What do you get when you put pecan, brown butter, and maple together? You get a delightful twist on a classic cookie. Browning the butter for these cookies is a must. It adds a rich nutty flavour that is hard to beat. Using both maple sugar and maple syrup another layer of deliciousness is added to this already amazing cookie.

2 ¼ cup flour
1 tsp baking soda
2 tsp cornstarch
½ tsp salt
1 cup browned butter
¾ cup brown sugar
¼ cup maple sugar
¼ cup maple syrup
1 egg
2 tsp vanilla
1 cup chopped pecans
1/2 cup icing sugar
1 tbsp maple syrup
- To brown the butter, put 1 ¼ cup unsalted butter in a saucepan. Melt and boil butter until it becomes brown and smells nutty. There should be brown bits on the bottom of the pan.
- Preheat oven to 325°.
- Sift the flour, baking soda, cornstarch, and salt together in a bowl. Set aside.
- Whisk together the browned butter, brown sugar, maple sugar, and maple syrup. Add in egg and vanilla. Slowly incorporate flour into the butter mixture and stir in the chopped pecans.
- Scoop dough with a cookie scoop onto a parchment lined baking sheet. Set in fridge for 30 minutes- 1 hours. Bake for 9-12 minutes, and make sure to not overbake. The cookies will continue to cook on the pan. Cookies will last for 1 week in an airtight container.
-To make the frosting: whisk together the icing sugar and maple syrup until it reaches the desired consistency.  Add more maple syrup if you want it thinner.