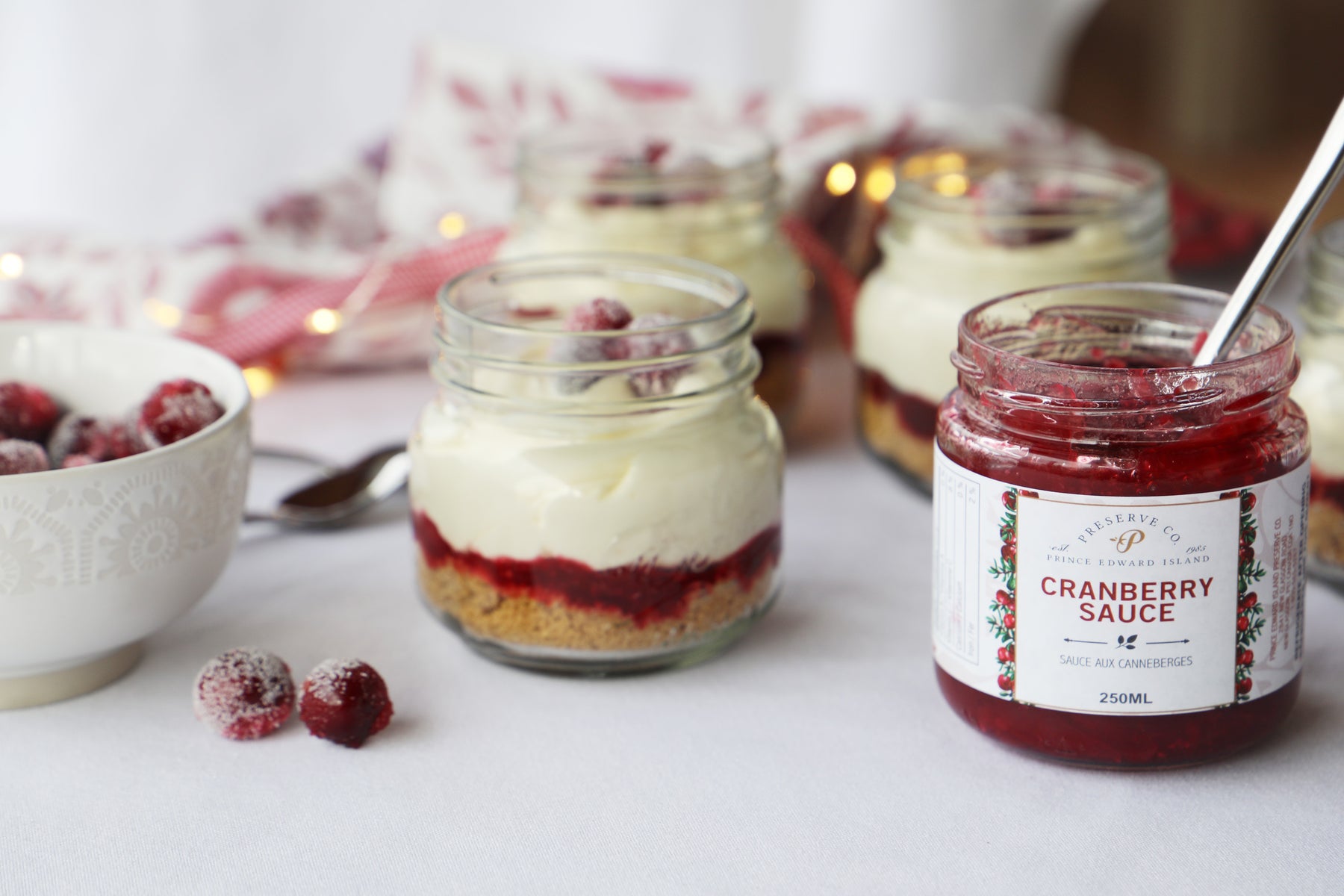 Preserve Company White Chocolate Cranberry Cheesecakes
4 small mason jars (4 oz. each)

Crust:
¾ cup graham cracker crumbs
3 Tbsp sugar
2 Tbsp melted butter

Filling:
1 jar 250ml Preserve Company Cranberry Sauce
6 oz. melted white chocolate
8 oz. softened cream cheese
3 Tbsp icing sugar
¼ cup whipping cream
1 tsp vanilla

- In a bowl stir together the graham cracker crumbs, sugar, and melted butter. Press this mixture into the bottom of the glass jars.
- Spoon Cranberry Sauce on top of the crust. You may not need the entire 250 ml jar. Gently spread it to the edge of the jar. Set aside in fridge while you make the cheesecake filling.
- In a glass bowl melt the white chocolate over a pot of simmering water. This is the easiest way to melt white chocolate vs. melting it in the microwave, as it can burn easily. Set aside to cool slightly.
- Whip up the whipping cream till stiff peaks and set aside. In the bowl of a stand mixer, or with a hand mixer, beat the softened cream cheese and icing sugar together until light and fluffy. (Edited) The whipping cream gets folded into the cheese mixture. Stir in the vanilla. With the mixer still running, slowly pour in the melted chocolate and beat to combine. Fill up a piping bag, fitted with a round tip, with the cheesecake mixture. Pipe the mixture on top of the cranberry sauce, and smooth out the top with a spoon. If you do not have a piping bag, a spoon will work as well to fill up the jars. Top each cheesecake with sugared cranberries, or extra cranberry sauce. Set cheesecakes in the fridge for 4 hours, or overnight.
Cheesecakes will keep for 3 days in the fridge.