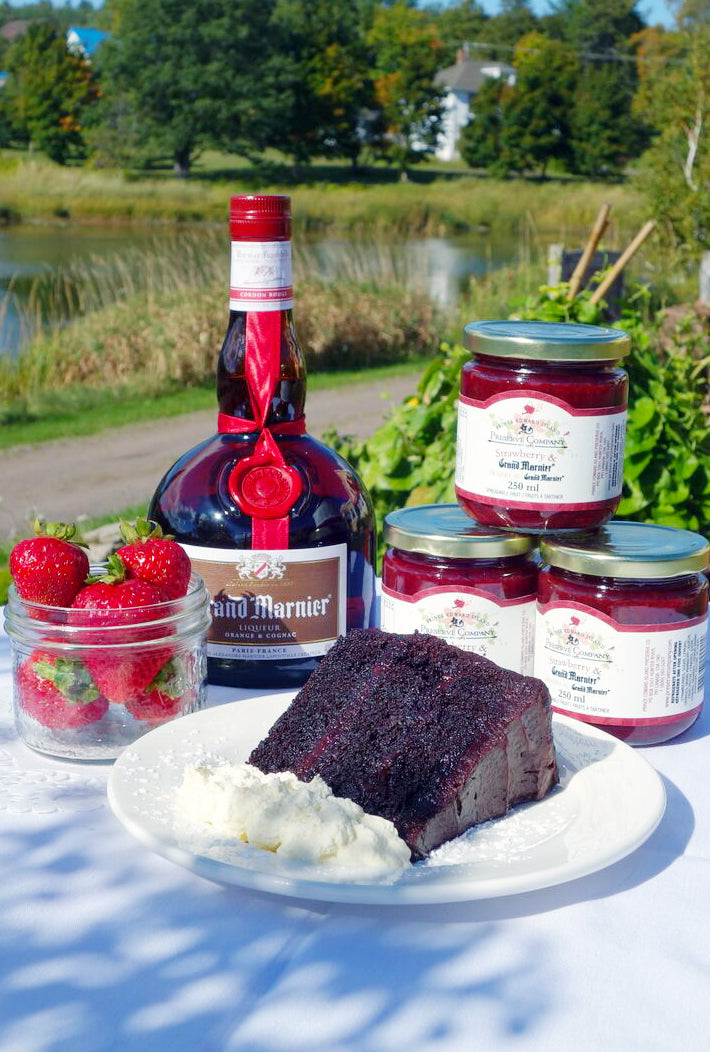 Chocolate Cake, Saying Good-Bye and Travelling
Treat yourself! It's Chocolate Cake Day!

I have some wonderful news to share with you… Saturday was Chocolate Cake Day! That means we are practically required to eat as much chocolate cake as we can. I don't have many vices, but I do have a hankering for chocolate. There's nothing like a thick slab of rich chocolate cake with a cold glass of milk… or a hot cup of black tea. Mmm!

Chocolate cake is one occasion where I think you should forget about lightening up the recipe. If you're going to have chocolate cake, have chocolate cake! That means butter, cream, chocolate, and sugar. There are times and places for healthy substitutions, but, as long as you aren't on a restricted diet, I say, eat cake!

We have an excellent chocolate cake recipe for you, featuring our Strawberry Grand Marnier preserves. This cake is the one we bake and serve to who have a craving for a decadent chocolate fix: Here is the recipe. 
Great one to bake for Valentine's Day!

To make your chocolate cake extra indulgent, you may like to try one of our dessert sauces on top. (Also excellent for dipping strawberries.)

Do you have a story to share about chocolate cake? A cherished memory of baking with someone? A special recipe we should have? A secret ingredient we should know about?

Chocolate cake isn't all that's on my mind today. We know many Islanders will be attending some of the events happening this weekend as part of Music PEI Week. Click Here to Read More.  
We are away this weekend for the Toronto Gift Show, looking at what is new in way of teapots, etc. for the shop, so we will miss the music. 
Music PEI is a non-profit member services organization devoted to advancing careers of Island musicians.
I was saddened to hear of John Bil's passing and for those who didn't know John, he was a passionate food guy who loved food, especially seafood as well as helping others achieve their food dreams. He and I had many a chat sitting on the verandah at our shop in New Glasgow. Chris Nutall-Smith, for The Globe and Mail, has written a fitting tribute to a really nice guy who did a lot for Prince Edward Island fishers. He led quite the life. Worth the read. Read it here. 
Reading about John, his travels and life's journey, it got me thinking and reflecting on the fact we are all travelling in one sense or another. And this quote from Hans Christian Anderson states it well. 
"To move, to breathe, to fly, to float, to gain all while you give, to roam the roads of lands remote: To travel is to live."
― Hans Christian Anderson
Wishing you well and a great week ahead. 
With love from Prince Edward Island, 
Bruce