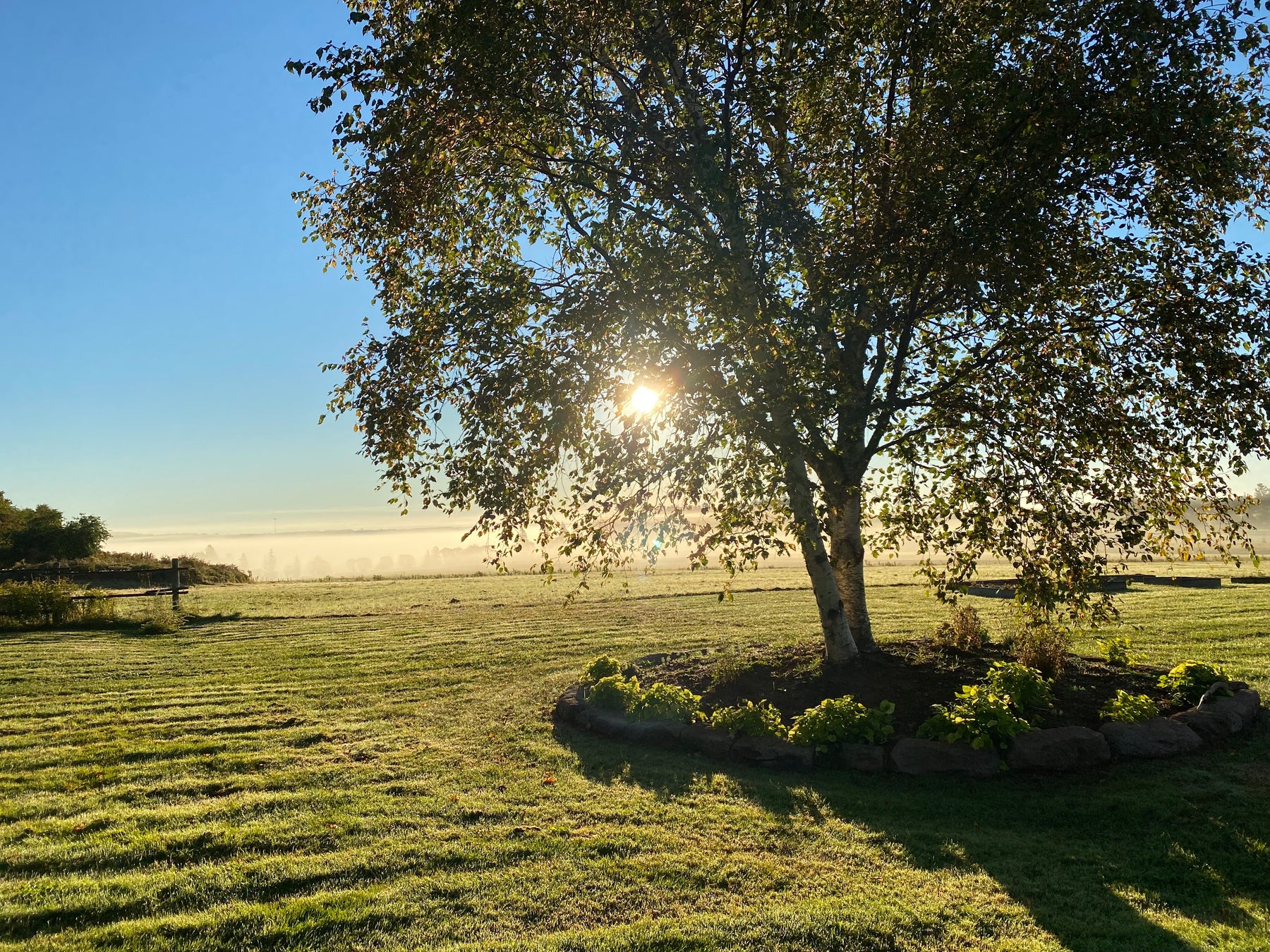 Happy News + Rewilding + Magicians Dilemma
Good Morning from Warren Grove, Prince Edward Island
Fall has arrived. The changes in the season have begun.
Autumn is a second spring when every leaf is a flower. ~ Albert Camus
I hope folks who frequent restaurants to enjoy food and the company of friends set the happy tone for their time together. Please do not give the management or staff grief. By order of the Public Health Office they have to ask for proof of vaccinations. Be Nice. 
And on that note, we are closing our restaurant for the season this coming Monday. Thank you for your continued support during these trying times.
We need to convert our dining room to prepare for mail order season. The orders for the holiday season are already flowing in. The demand for our shortbreads and oatcake cookies and fruitcakes is exciting. 
Books. 
The Little Prince is a novella by French aristocrat, writer, and aviator Antoine de Saint-Exupéry
.
It was first published in English and French in the US by Reynal & Hitchcock in April 1943, and
posthumously
in France following the liberation of France as Saint-Exupéry's works had
been banned by
the Vichy Regime
.
The central" theme of The Little Prince is
the importance of looking beneath the surface to find the real truth and meaning of a thing
. The fox teaches the Prince to see with one's heart instead of with one's eyes.
A goal without a plan is

just

a wish.
It is only with the heart that one can see

rightly

; what is essential is invisible to the eye.

You become responsible, forever, for what you have tamed.
Perfection

is achieved

, not when there is nothing more to add, but when there is nothing left to take away.
Love is not

just

looking at each other; it's looking in the same direction.

What makes the desert beautiful is that somewhere it hides a well.

It is such a secret place, the land of tears.

Language is the source of misunderstandings.
One sees

clearly

only with the heart. Anything essential is invisible to the eyes.

Only the unknown frightens men. But once a man has faced the unknown, that terror becomes the known.
I enjoyed the book on many levels. We seemed to have somewhat similar journeys', b
ut 
the authors is on a grander scale.
The book is part memoir, part science, part inspiration, and part practical instruction. Into the Magic Shop, shows us how we can change our lives by first changing our brains and our hearts.
Growing up in California's high desert, Jim Doty was poor, with an alcoholic father and a mother
chronically
depressed and paralyzed by a stroke
.
Today he is the director of the Center for Compassion and Altruism Research and Education (CCARE) at Stanford University
.
"There are a lot of things in life we can't control. It's hard, especially when you're a child, to feel like you have control over anything. Like you can change anything. But you can control your body, and you can control your mind.
That might not sound like a lot, but it's very powerful. It can change everything." 
~ James Doty, MD.
"Each of us chooses what is acceptable in our lives. As kids, we don't get a lot of choice. We are born into families and situations, and it's all

really

out of our control. But as we get older, we choose.

Consciously

or

unconsciously

, we decide how we are going to allow ourselves to

be treated

. What will you accept? What won't you accept? You're going to have to choose, and you're going to have to stand up for yourself. No one else can do it for you." ~ James R. Doty, MD.
"Research has shown that the more connected we are

socially

, the longer we will live and the faster we will recover when we get ill

. In truth, isolation and loneliness puts us at a greater risk for early disease and death than smoking.

Authentic social connection has a profound effect on your mental health—it even exceeds the value of exercise and ideal body weight on your physical health

. It makes you feel good.

Social connection triggers the same reward centers in your brain that

are triggered

when people do drugs, or drink alcohol, or eat chocolate

. In other words, we get sick alone, and we get well together." ~ James R. Doty, MD
Sharing this article is not a political statement.
Just
the fact families have been without their loved ones for some time and are now reuniting is happy news. This story has been front and centre of news reporting in Canada and China. Michael Kovrig and Michael Spavor and Meng Wanzhou are home now. NY Times story here.
Happy News for Our Planet
In Scotland, landowners and communities are set to establish conditions allowing half a million acres of Scottish Highlands rewilding
. Read the story here.
The proposal
is based
on the conviction that nature, people and businesses need each other to be sustainable for the long term
.
These shared interests are part of a progressive and shared plan to strengthen the local economy and enrich lifestyles
.
"Affric Highlands will take large-scale nature recovery to a new level, providing a catalyst for the local economy at the same time," said Steve Micklewright, chief executive of Trees for Life
.
"The Highlands has huge potential to help nature to come back and so help people to thrive, and to make a leading contribution to tackling the global climate and nature emergencies
."
Times of great calamity and confusion have been productive for the greatest minds. The purest ore

is produced

from the hottest furnace. The brightest thunderbolt

is elicited

from the darkest storm. ~ Charles Caleb Colton
Prince Edward Island cornfields will leave you a-mazed. If you are on the Island this weekend,
perhaps
a journey through some these will leave you amazed and dazed. 
The story by CBC is complete with an ariel video.
https://bit.ly/2Y2p3dL
Some of us have

exceptionally

high expectations of the leaders and the organization where we serve

.

Unrealistically

high expectations cloud our perspective, create unwarranted disappointment, and steal our emotional energy

.

Certainly

, some cultures are so toxic that the best course is to leave as

quickly

and as

graciously

as possible, but far more often, the best place to start a revolution of change is in our hearts and minds

.

Instead of waiting for the top leader to change the culture and make everything smooth, pleasant, and easy, we need to begin with the one person we have the power to control: ourselves

. ~ Samuel R. Chand, author of Culture Catalyst
That is No Way to Say Good-Bye
Have a wonderful weekend and a week ahead.
Love from Prince Edward Island.
A magician was working on a Caribbean cruise ship.
The audience was different each week, so the magician allowed himself to do the same tricks over and over again.
There was only one problem: The captain's parrot saw the show every week and began to understand what the magician did in every trick.
Once he understood, he started shouting in the middle of the show:
"Look, it's not the same hat!"
"Look, he's hiding the flowers under the table!"
"Hey, why are all the cards the Ace of Spades?"
The magician was furious but couldn't do anything; it was the captain's parrot after all.
One day the ship had an accident and sank.
The magician found himself on a piece of wood, in the middle of the ocean, and of course the parrot was by his side.
They stared at each other with hate, but did not utter a word.
This went on for several days.
After a week the parrot finally said:
"Okay, I give up. What'd you do with the boat?"