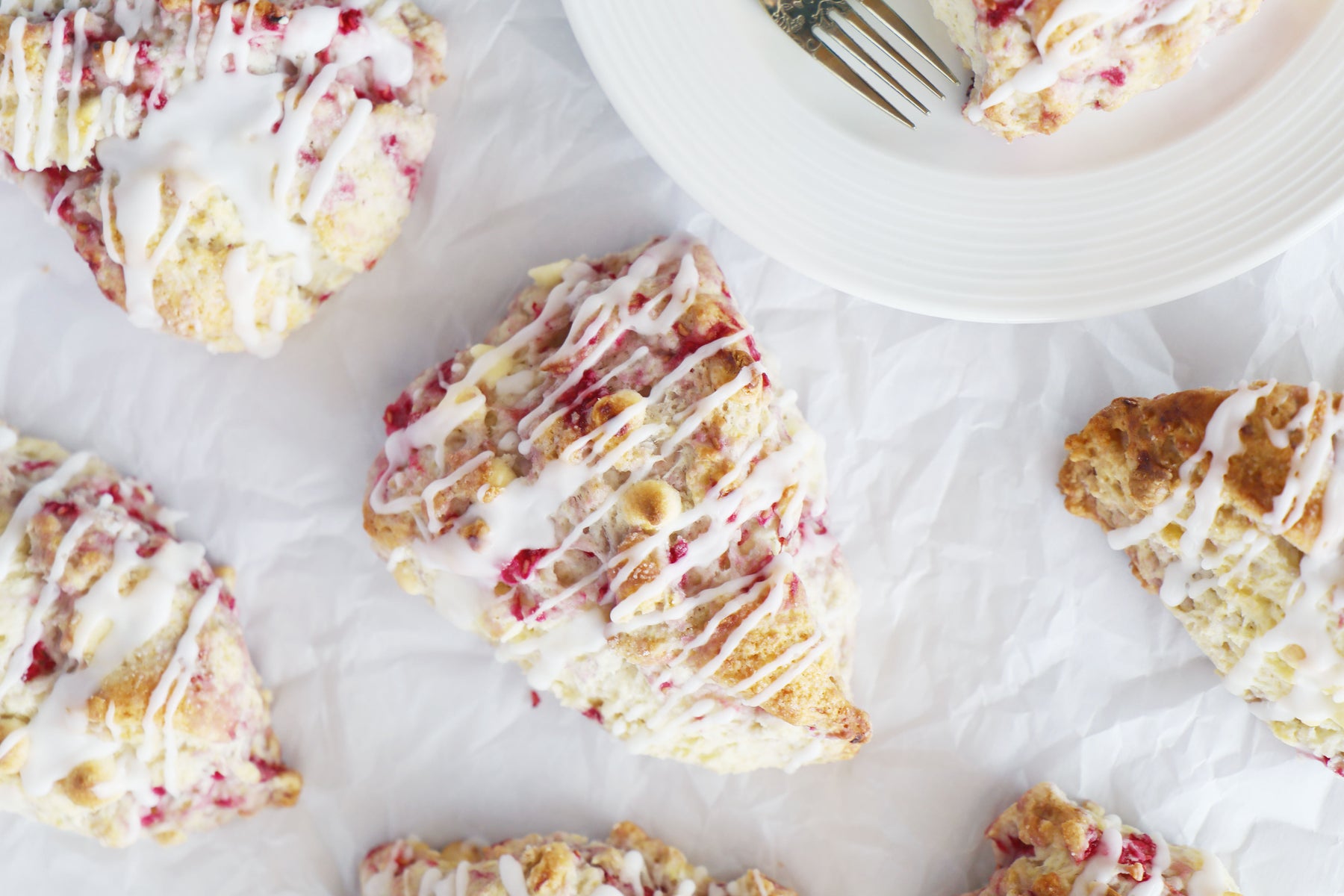 Raspberry White Chocolate Scones
8 scones

1 package Tea Biscuit Mix
1 egg
2/3 cup shortening
1 cup milk
½ tsp vanilla
½ pint fresh raspberries
½ cup white chocolate chips
3 Tbsp icing sugar
1 tsp water

- Preheat oven to 400° and line a baking sheet with parchment paper.
- In a bowl cream together the shortening, egg, and vanilla.
- In a separate bowl add in the biscuit mix. Pour your shortening mixture into the dry mixture and combine until the dough starts to come together. It will look crumbly. Make a well in the middle and add in ¾ cup of the milk. Mix with a wooden spoon or your hands. If the dough needs more milk add it in 1 Tbsp at a time. Once almost combined, add in your white chocolate chips and raspberries. Mix until completely combined. The dough may seem a little messy on behalf of the raspberries. This is okay!
- Sprinkle some flour on your counter and knead the dough gently. You do not want to over mix this, but you still want it to come together. Shape the dough into a disk approximately 8 inches wide. Cut the disk into 8 pieces, just as you would a pie. Place scones on the parchment lined baking sheet. Place baking sheet in the fridge for 10 minutes. Once chilled, brush each scone with milk and bake for 15-20 minutes or until slightly golden on the top. Cool scones for 10 minutes.

- In a small bowl mix together the icing sugar and 1 tsp water. You are drizzling this glaze on the scones, so you do not want it to be too thick. Add water until you get the desired consistency.
- Once scones are slightly cooled, you can drizzle the icing on top of them using either a spoon or piping bag.
- Scones will last 2-3 days in an airtight container. Scones can also be frozen for up to 3 months.