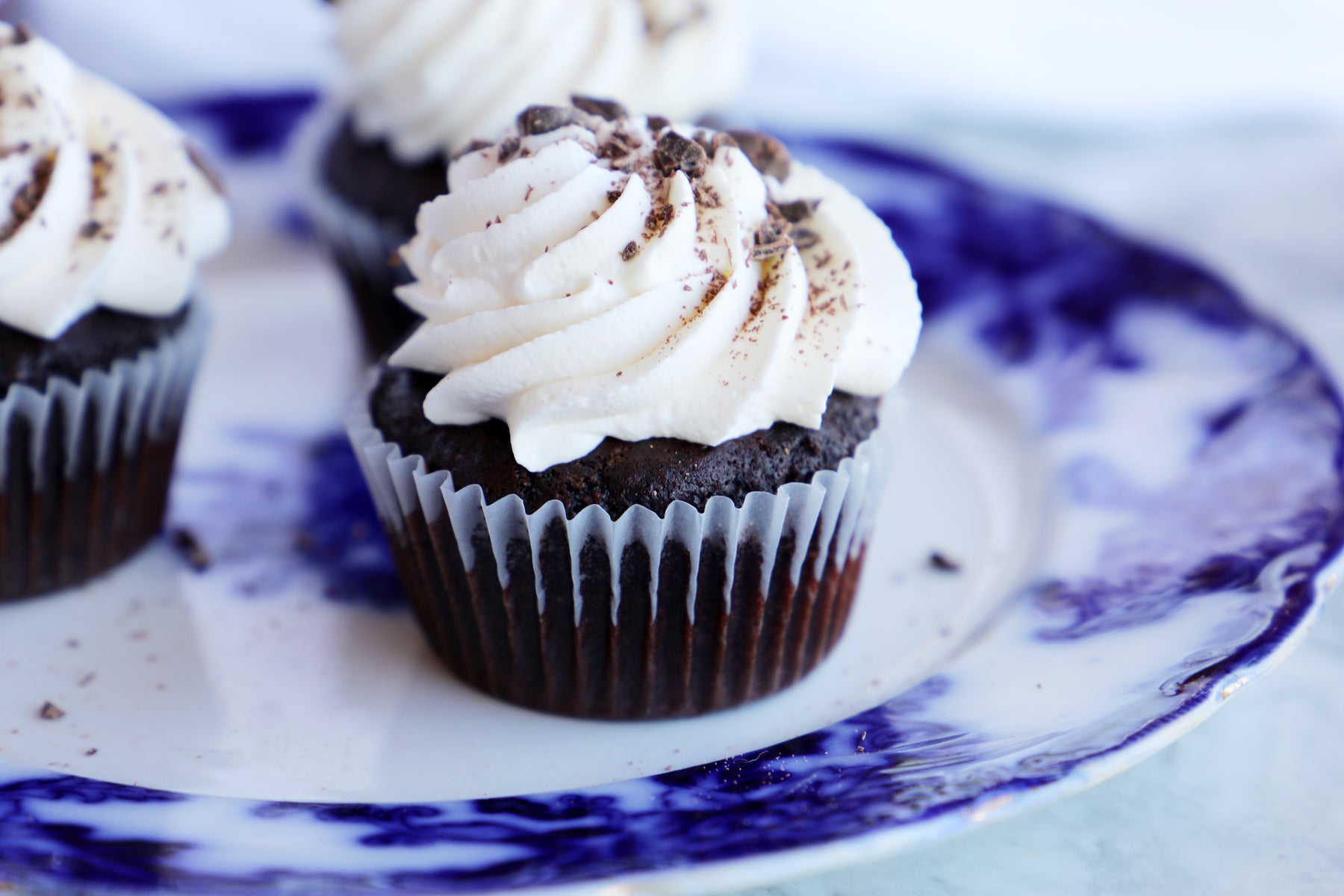 Black Forest Cupcakes with Cherries in Brandy Filling
18 cupcakes

Cupcakes:
1 ½ cups flour
2 cups sugar
½ cup cocoa powder
½ Tbsp baking soda
½ tsp salt
2 eggs
¾ cup canola oil
½ Tbsp vanilla
1 cups buttermilk

Cherry filling:
1 jar Cherries in Brandy
2 tsp cornstarch
2-4 tsp water

2 cups heavy whipping cream
2 tsp sugar
1 tsp vanilla
Chocolate shavings

- Preheat oven to 350°

- Line cupcake pans with 18 cupcake liners and set aside.

- In a big bowl sift together the flour, sugar, cocoa powder, baking soda, and salt. Set aside.

- In a separate bowl whisk together the eggs, canola oil, vanilla, and buttermilk.

- Mix your wet ingredients into your dry and incorporate completely. You do not want to over mix it, but you want to make sure there are no lumps. Pour the batter into the prepared cupcake pans, and place on the middle rack of the oven.

- Bake for 15-20 mins, or until a toothpick inserted in the cupcake comes out clean. Cool the cupcakes completely.

- To make cherry filling, pour Cherries in Brandy jar into a saucepan and bring to a simmer. In a small bowl, whisk together the cornstarch and water to make a slurry. You may need the 4 tsp water depending on how thick it is. Add the slurry slowly to simmering cherries 1 tsp at a time until it thickens. It will cook and look glossy when done. Because it is a small amount we are thickening, it doesn't take long, so keep stirring constantly once the slurry is added. Set filling aside to cool completely.

- Once cupcakes and cherries are completely cool, you can assemble the cupcakes. In each cupcake, you want to make a hole in the center. You can either push down the cake with the end of a wooden spoon or use a pairing knife to remove some of the cake in the middle.

- Using a spoon, fill each cupcake with the cherry filling.