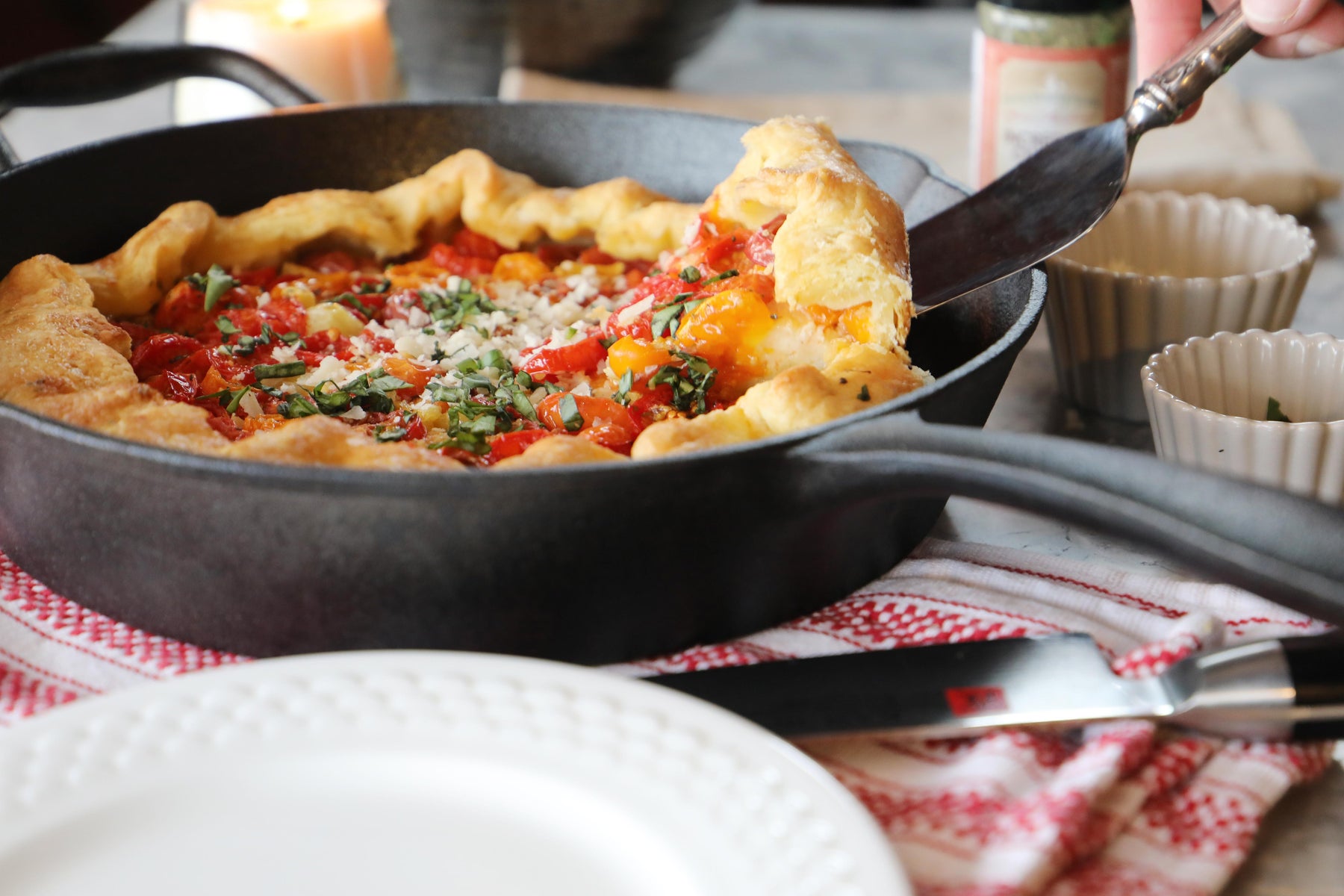 Herbed Tomato Galette
1, 10" round skillet

Crust:
2 ½ cups flour
1 tsp salt
½ tsp Incredible Chicken Seasoning
1 cup unsalted butter, cold
2 large eggs

Filling:
12 oz sliced tomatoes, I used Heirloom tomatoes
1 Tbsp olive oil
2 ½ tsp Incredible Chicken Seasoning
1 ½ cups shredded cheese, I used a combination of Asiago and Parmesan
Egg wash (1 egg + 1 tsp water)

Fresh basil
Extra Parmesan for garnish

- To make the crust, add your flour, salt, and seasonings to a food processor and pulse until combined. Cut the cold butter into cubes and add to the flour mixture. Pulse until it starts to look like wet sand. Whisk your eggs together and add that to the food processor. Mix until dough starts to form. I like to take it out of the food processor before its completely combined and knead it together by hand. Divide dough into two disks, and chill for at least 30 minutes. This recipe makes two crusts. You will only need one of the disks for the galette. The other on can be stored in the freezer for up to 3 months. Thaw dough overnight in the fridge before using from the freezer.
- Preheat oven to 400°.
- To prepare the filling add your sliced tomatoes, olive oil, and spices to a mixing bowl, and stir until combined. Shred you cheese and set it aside as well.
- Take dough from the fridge and roll it out. I used a 10 "cast iron pan, so I rolled it out to approximately 12 inches round. I placed the pan in the middle of the dough to make sure I had rolled it out enough. You want to be able to fit the dough in the pan, and still be able to have some dough to fold over on top of the tomatoes, about 1 ½ inch border.
- Once dough is placed into the pan sprinkle the cheese evenly on the bottom. Spoon tomatoes on the top of the cheese. Once all your filling is in the pan, take the 1 ½ inch border and fold it over the tomatoes. It does not have to look perfect; you want a rustic looking galette. Take your egg wash and brush it over the crust. Bake your galette for 30-35 minutes, or until the crust is golden brown and your tomatoes are roasted. Once baked, sprinkle over chopped basil and extra parmesan cheese. Serve right away.