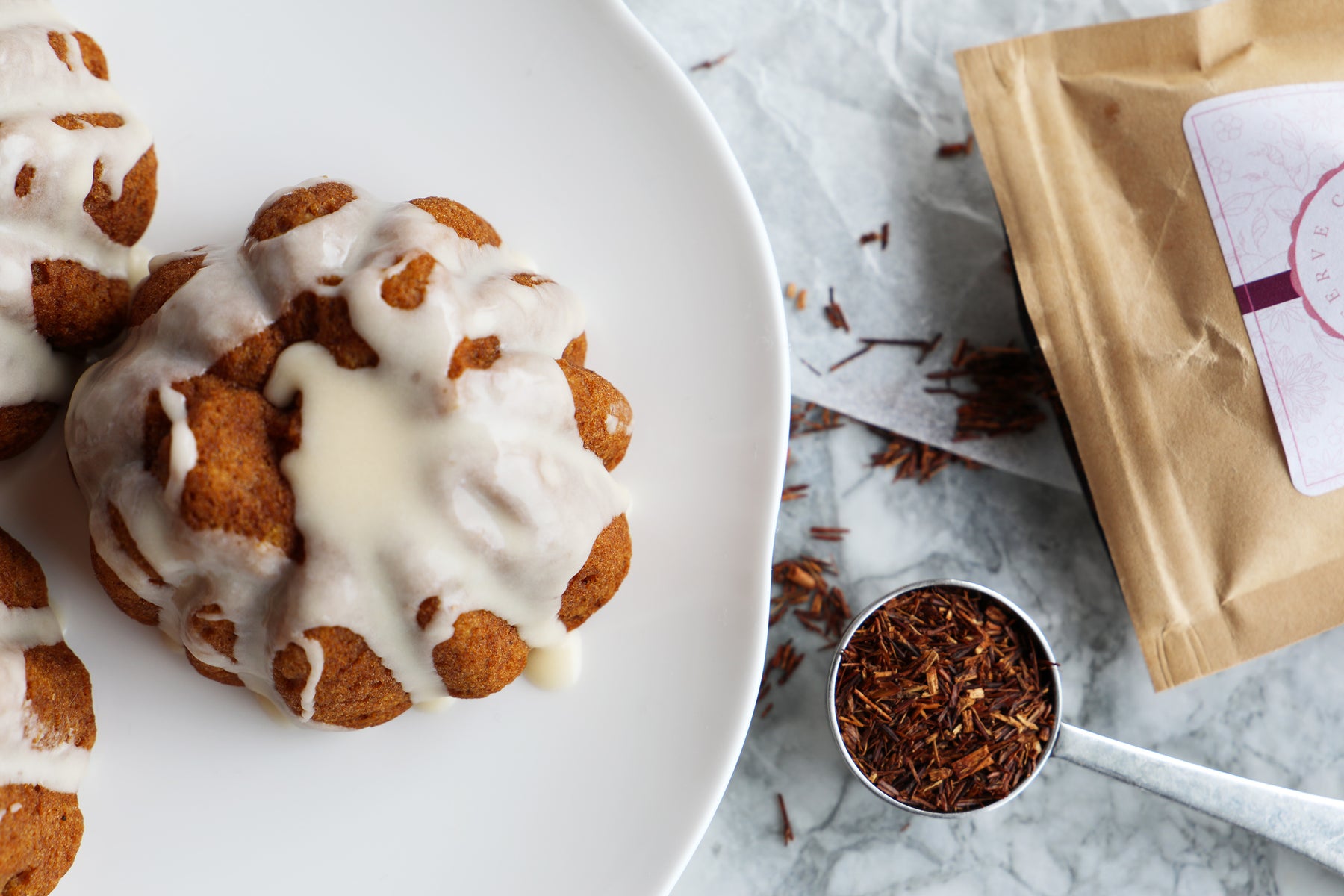 Preserve Company Pumpkin Cakes with Vanilla Bourbon Glaze
These are our perfectly spiced, rich, and super moist pumpkin cake topped with a smooth Roobios Vanilla Burbon glaze. A fun and cozy addition to the autumn baking list!  Enjoy!

9 Pumpkin Cakes (1 ½ cup each)
12 cupcakes

Cakes:
1 cup flour
1 tsp baking powder
½ tsp baking soda
½ tsp salt
¾ tsp cinnamon
1 tsp pumpkin pie spice
½ cup canola oil
2 large eggs
½ cup brown sugar
¼ cup white sugar
1 cup pumpkin puree
1 tsp vanilla

Glaze:
2 tsp Roobios Vanilla Bourbon Loose-Leaf Tea
¼ cup + 2 Tbsp warm milk
1 ½ cup icing sugar
Directions:
- Preheat oven to 350° and spray your pan with non-stick cooking spray.
- In a large bowl, whisk together the flour, baking powder, baking soda, salt, cinnamon, and pumpkin pie spice. In a separate bowl, whisk together the pumpkin puree, canola oil, eggs, vanilla, and both sugars.
- Stir the wet ingredients into the dry, making sure to just mix until combined. Scoop batter into prepared tins, and bake for 15-20 minutes, or until a toothpick inserted in the middle comes out clean. Set aside to cool as you make the glaze.
- To make the glaze start by heating up your milk to just below a simmer in a small saucepan. Remove from heat and add in your Rooibos Bourbon Vanilla Loose-Leaf. Steep the tea in the milk for 10-12 minutes with the lid on the pot. Strain tea out by pouring the milk through a fine mesh strainer over a separate bowl.

- Sift the icing sugar and pour in ¼ cup of the milk mixture. Add more milk 1 tsp at a time until you reach a pouring consistency. Pour glaze over each individual pumpkin cake.
- These can be kept at room temperature in an air-tight container for up to 4 days.