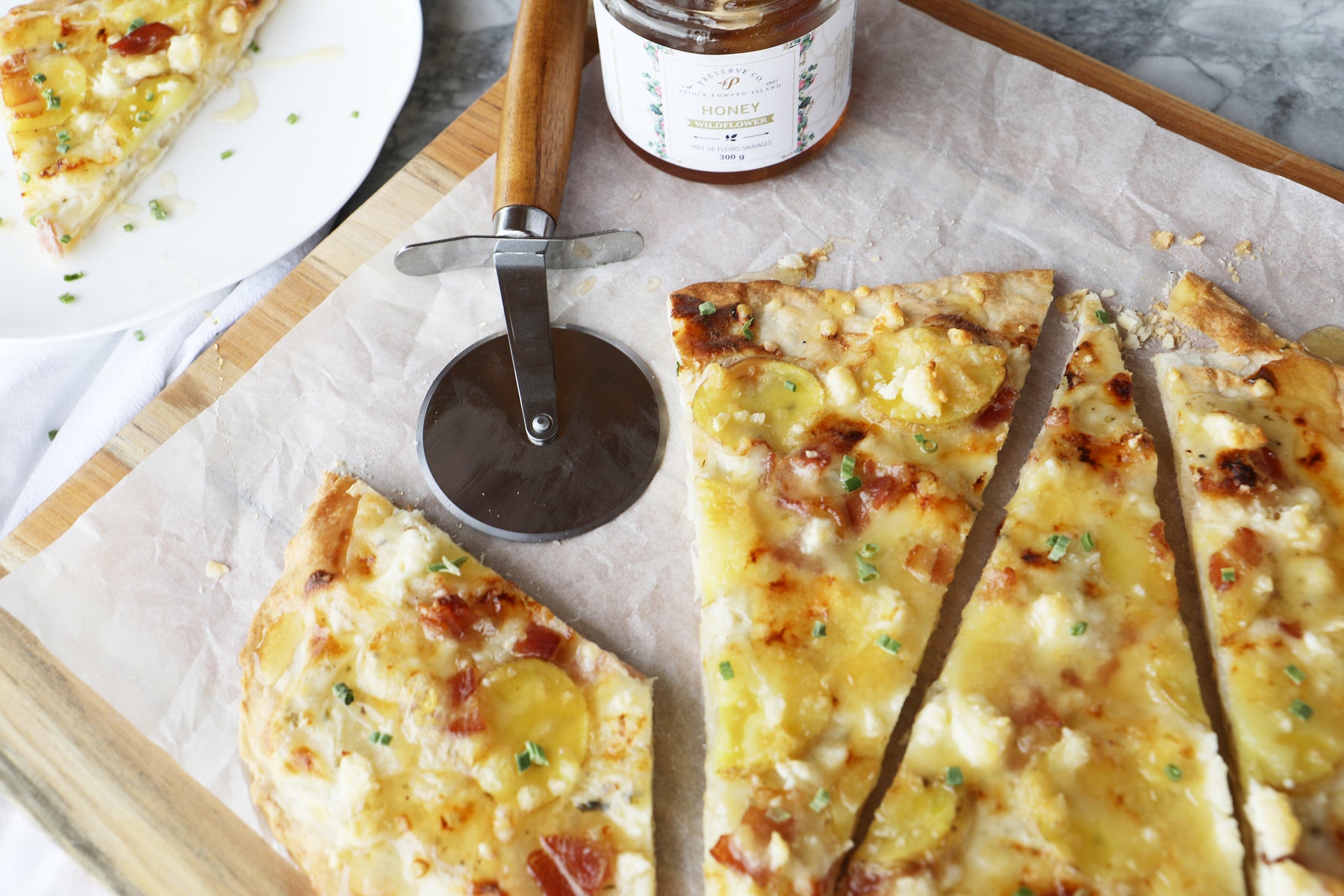 Potato and Honey Flatbread
1 flatbread
Drizzled with our Wildflower Honey, and sprinkled with feta cheese, this sweet and savory appetizer will fit in at any occasion.

Flatbread (makes two)
3 cups flour
1 tsp salt
1 cup warm water
3 tbsp olive oil (plus extra for brushing on the flatbread before putting in the oven)

Cream sauce:
3 Tbsp butter
2 large garlic cloves, minced
2 tsp flour
1 cup heavy cream
Salt and pepper to taste

6 slices of bacon, crumbled
½ lb. potatoes, sliced thinly
½ cup crumbled feta cheese
¼ cup Wildflower Honey
Chives, for garnish

- Preheat the oven to 500°
- In the bowl of a stand mixer add all your dry ingredients and stir until combined. Switch to the dough hook attachment and add in your water and olive oil. Knead mixture until it forms a ball.
Split dough in two and set aside for 10 minutes to rest.
- Roll out each dough into a rough oval and brush with olive oil. Dock your flatbread with a fork before baking, as this will help the dough not bubble up too much. Bake for 8-10 minutes. You do not want to bake it all the way through yet, so do not leave it in too long.
- Once flatbread has cooled, you can add your toppings and bake again.
- To make the cream sauce melt the butter in a small saucepan over medium heat. Add in the minced garlic and cook for 1 minute. Sprinkle the flour over the top and cook for 1-2 minutes.
Pour the heavy cream into the saucepan. Whisk together and bring to a slow simmer. Cook sauce until thickened. Season with salt and pepper to taste.
- Preheat oven to 450°
- On cooled flatbread, spoon the sauce to the edges leaving a ½ inch border around the edge. Place sliced potatoes over the cream sauce. They can overlap, just make sure that they are evenly placed as to cook properly. Sprinkle the crumbled bacon and feta cheese over top. Bake flatbread for 10-12 minutes, or until the edges are golden brown and potatoes are soft. Drizzle honey evenly over top of hot flatbread. Slice and serve. If you have any extra honey, drizzle a little bit more on each piece.