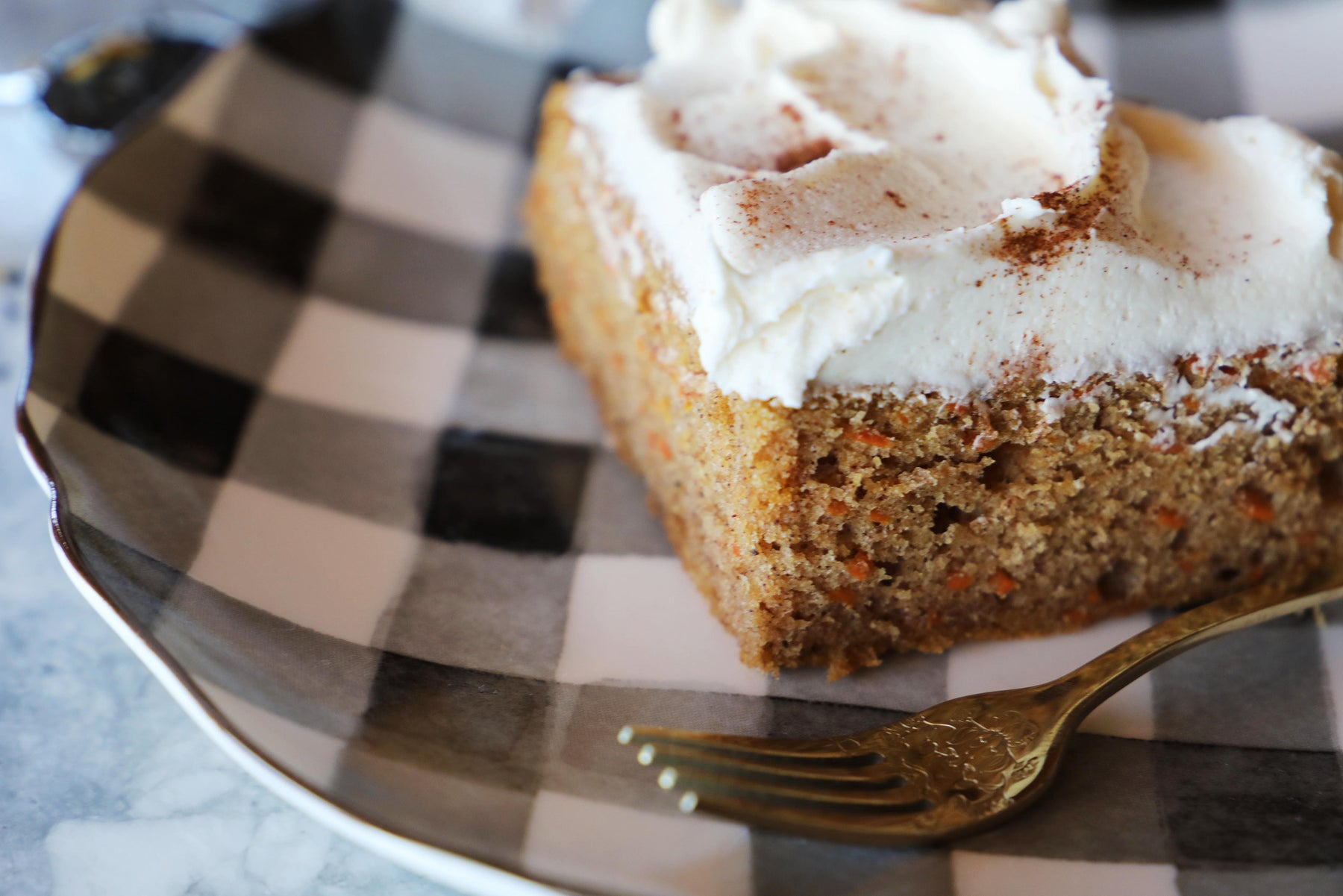 Carrot Sheet Cake with Sweet Honey and Orange simple syrup
9x13-inch cake
A classic favourite with a sweet twist, this carrot sheet cake is a pinch to make. We use our Sweet Honey and Orange tea to infuse the simple syrup to add some extra flavour to this already amazing cake. A perfect treat to enjoy with a nice hot cup of tea.

¾ cup canola oil
½ cup white sugar
½ cup brown sugar
3 large eggs
2 tsp vanilla extract
1 ¾ cup flour
2 tsp cinnamon
1 tsp baking soda
1 tsp salt
½ tsp baking powder
½ tsp nutmeg
¼ tsp cloves
1 ¼ cup shredded carrots

¼ cup water
¼ cup sugar
1 heaping tsp Sweet Honey and Orange loose leaf tea

¼ cup unsalted butter
¼ cup shortening
2 cups sifted icing sugar
2 Tbsp Sweet Honey and Orange tea  simple syrup

- Preheat oven to 350°, and line a 9x13-inch baking pan with parchment paper.
- In a medium sized mixing bowl sift together the flour, baking soda, salt, baking powder, cinnamon, nutmeg, and cloves.
- In the bowl of a stand mixer, or with a hand mixer, whisk together the white sugar, brown sugar, and eggs until it starts to lighten in colour. While the mixer is running, gradually pour in the oil and stir in the vanilla.
- Stir the dry ingredients into the wet until combined. Fold in the shredded carrots. Pour batter into the lined baking pan and bake for 30-35 minutes, or until a toothpick inserted in the center comes out clean. Cool completely before icing.
- While cake is baking, make the simple syrup. Bring the water and sugar to a slow simmer. Once the sugar is dissolved, remove from heat, and add in the loose-leaf tea. Steep the tea for 5-10 minutes, then strain through a fine mesh strainer. Set aside to cool.
- Once cake is baked and slightly cooled, remove it from the baking pan. Brush the top of the cake with the simple syrup.
- To make the frosting, beat the butter, shortening, and simple syrup together until light and fluffy. Add in icing sugar one cup at a time, beating after each addition. If you find the frosting is too stiff, you can either add more simple syrup or milk 1 tsp at a time until it you reach the consistency you want.
- Once cake is completely cooled, dollop the frosting in the top and spread it to the edges with either an offset spatula or a spoon. Sprinkle cinnamon on top of frosting for a final garnish.