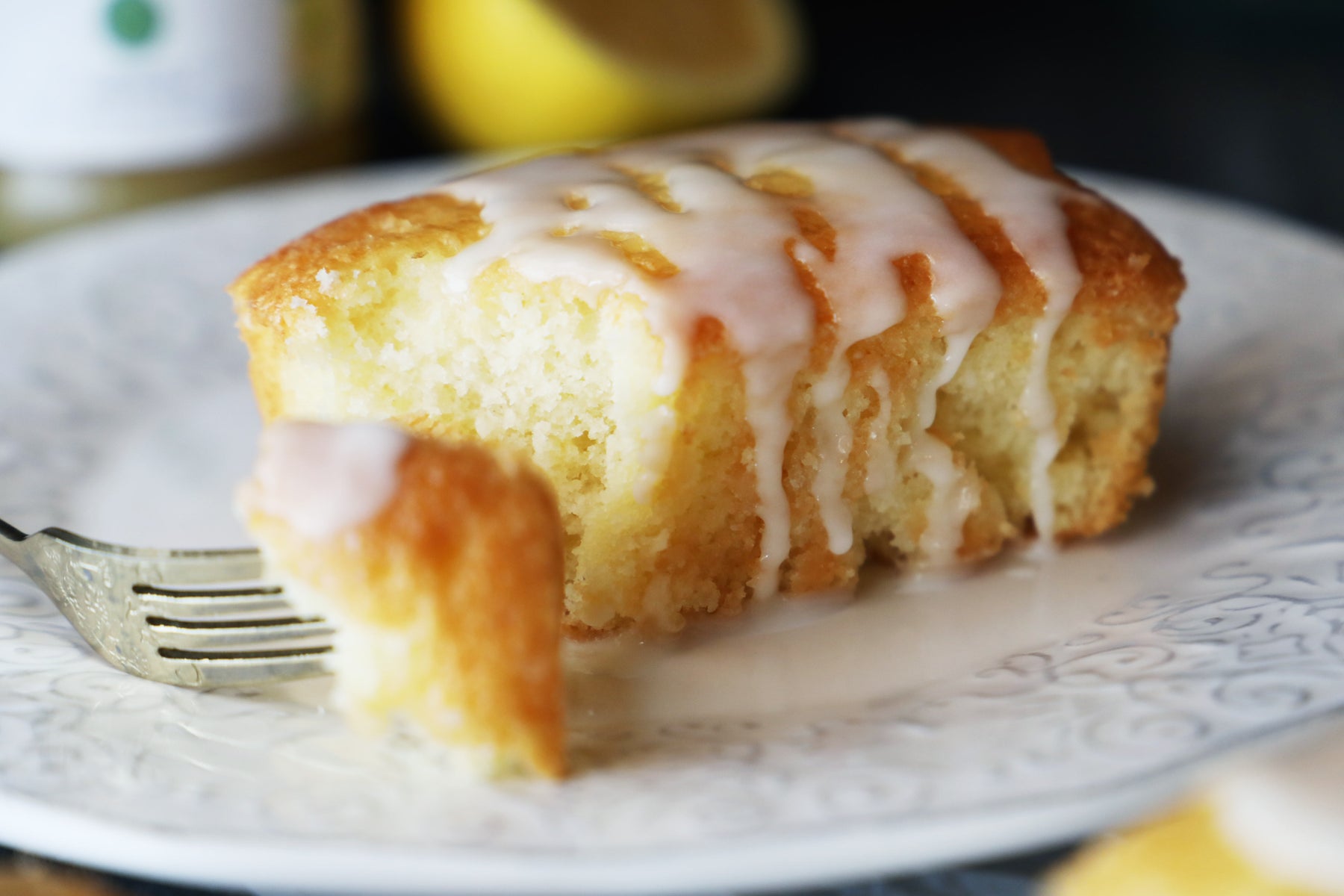 Mini Lemon Curd Loaves
14-16 mini loaves

These adorable mini loaves are packed with citrus-y goodness. Using Lemon Curd, fresh lemon zest, and freshly squeezed lemon juice, these treats are lip-puckering perfect. With a simple drizzle of icing to complete the loaf, you will be making these a must-have for any occasion.

4 eggs
1 cup unsalted butter
2 cups sugar
2 Tbsp fresh lemon zest
3 Tbsp Lemon Curd
¼ cup fresh lemon juice
1 tsp vanilla
¼ cup sour cream
2 ¾ cup flour
2 Tbsp cornstarch
2 tsp baking powder
1 tsp salt
½ cup buttermilk

2 Tbsp lemon juice
1 Tbsp Lemon Curd
½ cup sifted icing sugar
1-2 Tbsp milk

- Preheat oven to 350° and line mini loaf pans with parchment paper and spray with no stick cooking spray. If you do not have mini loaf pans, you can use 1-2 loaf pans, or a Bundt pan.
- In the bowl of a stand mixer, or with a hand mixer, beat the butter and sugar until light and fluffy. You want to incorporate lots of air in the butter. In a separate bowl sift the flour, cornstarch, baking powder, and salt together. Set aside.
- Once butter and sugar are light and fluffy, beat in eggs one at a time, scraping down the sides of the bowl after each egg. Stir together the vanilla, lemon zest, lemon juice, and lemon curd. Add that to your butter mixture. Add in 1 cup of your dry mixture as the stand mixer is stirring. Add ¼ cup of your buttermilk. Add another 1 cup of your dry mixture, and the rest of the buttermilk. Stir in the rest of your dry. Once combined, stir in your sour cream.
- Spoon batter into the mini loaf pans, or into the large/bundt pans. You only want to fill them a little less than ¾ of the way up to the top. They will rise, and if they are too full, the batter will seep out of the pans. Bake for 30-35 minutes, or until a toothpick inserted in the middle comes out clean. You may need to add more time depending on the size of your pans.
- Stir together the lemon juice and the Lemon Curd until combined. Once your loaves come out of the oven, brush each loaf with the lemon curd mixture you just made. There may be a little bit of this left over, but you want to make sure each loaf has lots of that lemon flavour in it. Set aside to cool for 10-15 minutes and remove from pans. Cool completely before drizzling the icing.
- To make icing mix together the sifted icing sugar and milk. Start with 1 Tbsp of milk and add more until you get the desired consistency. Drizzle over the cooled loaves. These will keep at room temperature for 3-5 days in a sealed container.