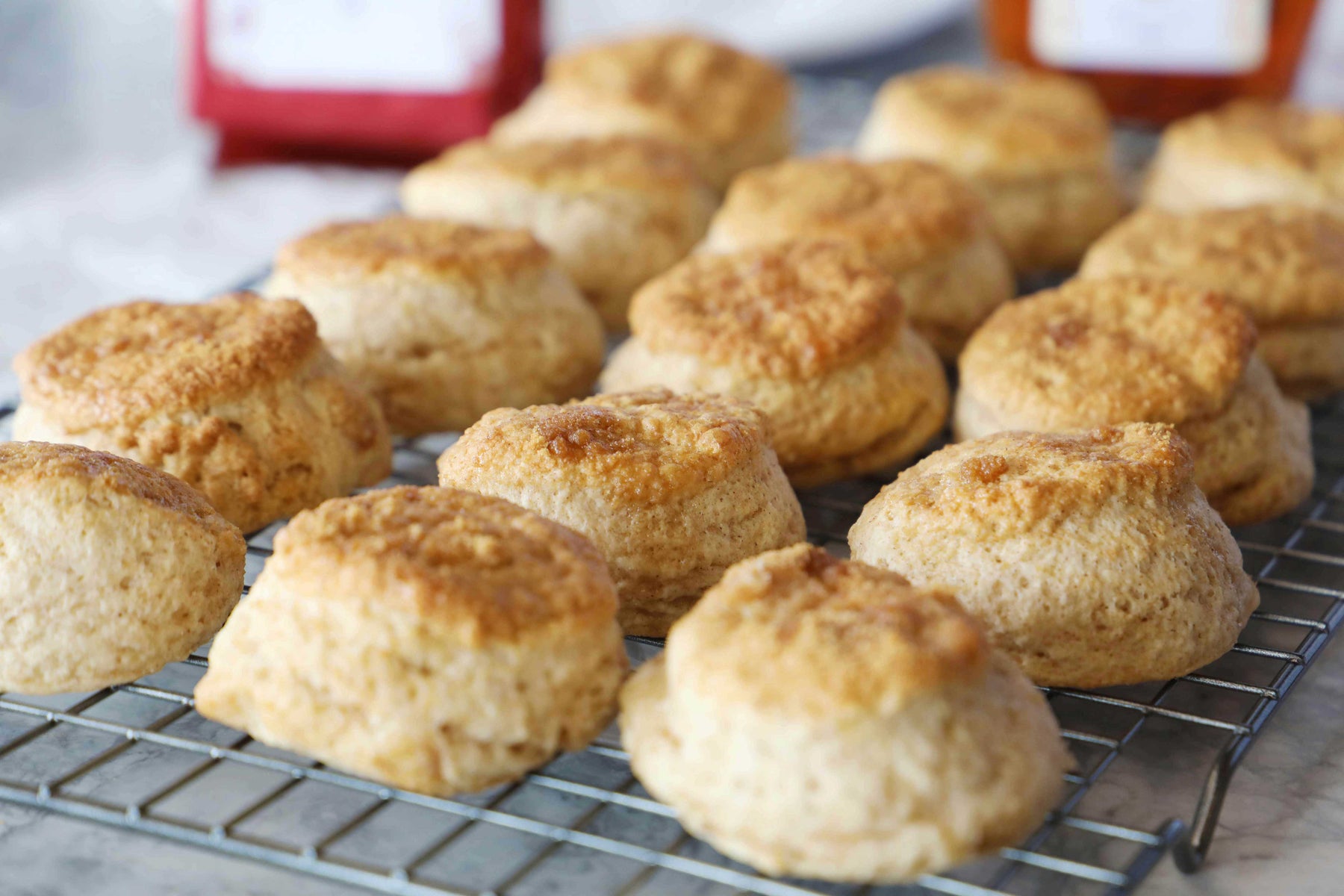 Maple Cinnamon Biscuits
18-20 biscuits (3 inch)
Maple and cinnamon were a match made in heaven! These biscuits are easy to whip up and even easier to finish off. Anyone with a sweet tooth is going to want to keep this recipe handy. You never know when you are going to need one (or three)!


1 bag Biscuit mix
1 large egg
2/3 cup softened unsalted butter
1 tsp vanilla
¾ cup + 2 Tbsp milk
¼ cup maple syrup
1 Tbsp cinnamon, divided
2 Tbsp maple sugar

- Preheat oven to 400°. Line a baking sheet with parchment paper
- In a mixing bowl combine the biscuit mix and 2 tsp cinnamon. In a separate bowl whisk together the softened butter, egg, and vanilla. It will not combine completely, so if it looks lumpy that is okay! Stir together ¾ milk and the maple syrup. Add the butter mixture into the dry and mix with either your hands or a wooden spoon. Once it starts to look like wet sand pour in the maple milk mixture. Knead gently in the bowl until it comes together. Place dough on a well floured surface and knead again a few times. Roll out dough to 1-inch thickness and cut out biscuits with a round cutter. I used a 3-inch cutter, but you can use whatever cutter you have on hand. Place cut out biscuits on parchment lined baking sheet. Cover with plastic wrap and place in fridge for 10 minutes. Stir together the maple sugar and 1 tsp cinnamon in a small bowl.
Once biscuits are chilled, poke each biscuit with a fork a few times and brush the tops with the 2 Tbsp milk. Dip each biscuit in the cinnamon maple sugar and bake biscuits for 15 minutes or until the tops are brown and they have risen. Drizzle maple syrup on the biscuits once they come out of the oven. Biscuits will last in a sealed container for up to 3 days or frozen for 2 months.