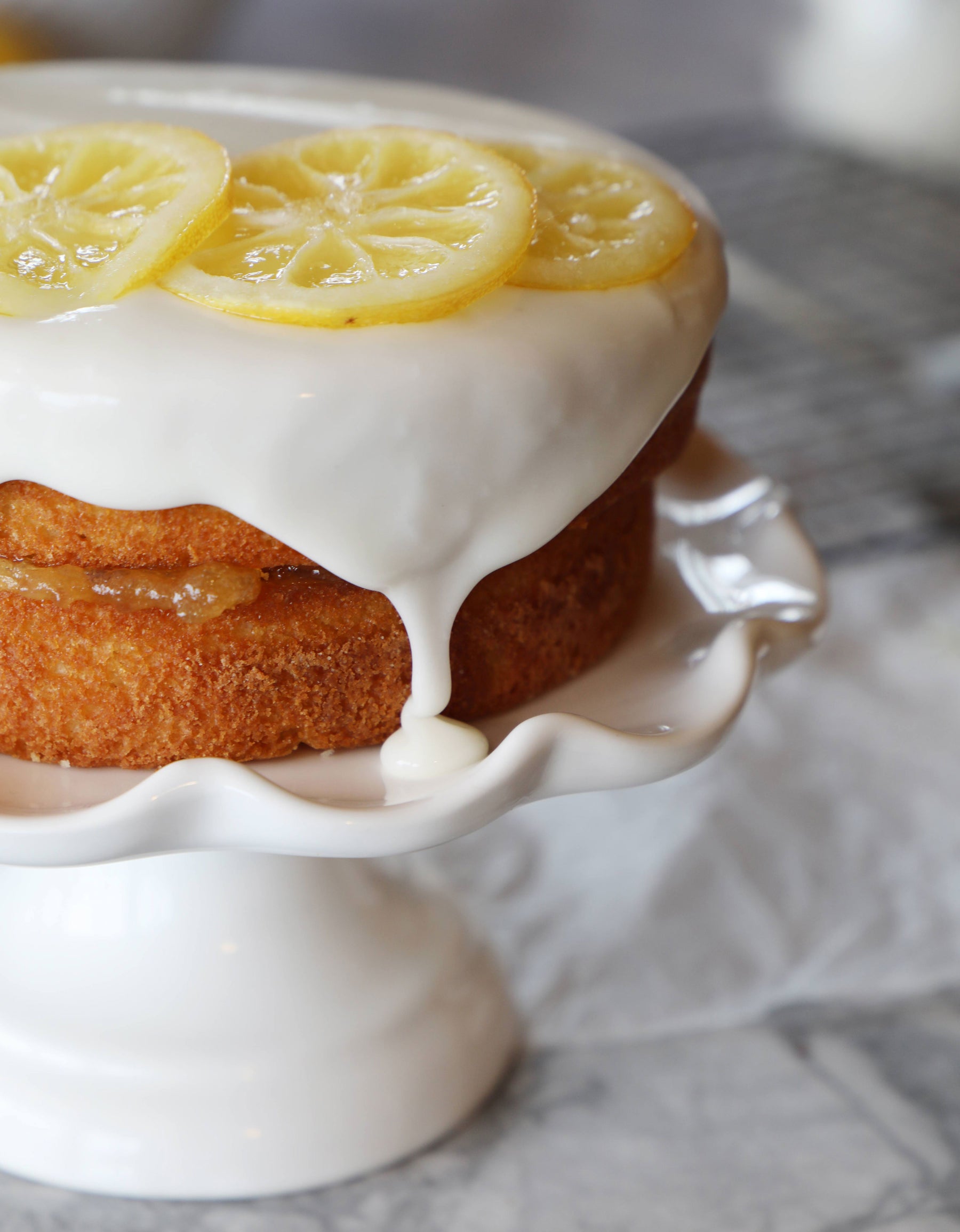 Lemon and Ginger Cake with Chamomile Icing
6-inch cake, 2 layers

This recipe takes lemon cake to a whole new level. A simple vanilla cake soaked with Lemon Chamomile Tea syrup and filled with our delicious Lemon and Ginger Marmalade with Amaretto.


Cake:
½ cup milk
2 Tbsp sour cream
1 cup + 2 Tbsp flour
2 Tbsp cornstarch
¾ cup sugar
1 ½ tsp baking powder
¼ tsp salt
½ cup unsalted butter
2 eggs
1 tsp vanilla
½ jar Lemon and Ginger Marmalade with Amaretto
Icing:
1 ¼ cup icing sugar, sifted
3 Tbsp lemon Chamomile syrup
1 Tbsp heavy cream

- Preheat oven to 350° and line 2 6-inch round baking pans with parchment paper, and spray with non-stick cooking spray.
- In a mixing bowl sift together the flour, cornstarch, baking powder, and salt. Set aside.
- In the bowl of a stand mixer, or in a bowl with a hand mixer, beat the butter and sugar together until light and fluffy. Add in eggs one at a time, beating after each egg and scraping down the sides of the bowl. Stir in the vanilla. stir in half of the dry ingredients and half of the milk. Scrape down the sides of the bowl and add in the rest of the dry ingredients and milk. Stir in the sour cream.
- Divide batter between the two pans, and bake for 30-35 minutes, or until a toothpick inserted in the center comes out clean. Cool cakes in the pan for 10 minutes, then remove cakes from pan to cool completely.
- To make Lemon Chamomile syrup bring ½ cup water, ½ cup sugar, and 1 Tbsp lemon juice to a boil. Boil for a few minutes to thicken then remove from heat. Add in 2 tsp Organic Chamomile Tea and steep for 15 minutes. Strain and store in a glass jar in the fridge until needed.
- To make the icing combine the icing sugar, lemon chamomile syrup, and heavy cream until smooth. If icing seems too thick, add in a little bit more heavy cream until you get the desired consistency. Cover with plastic wrap until ready to use.
- To assemble the cake: Level off each cake layer with a knife so each cake has a flat top. Brush chamomile syrup on each layer and allow to soak in for a few minutes. Place one layer on your cake stand/plate and top with half a jar of Lemon and Ginger Marmalade. Smooth this out to the edges. We are not icing the side of this cake, so it can go a little over the edge if you want. Place the next layer on the top and press lightly. Pour the lemon chamomile icing over the top of the cake. You can smooth it out to the edges with a spoon or offset spatula and let the icing drip over the edge. Top with candied lemon slices or lemon zest. Cake will last for up to 3 days, covered.