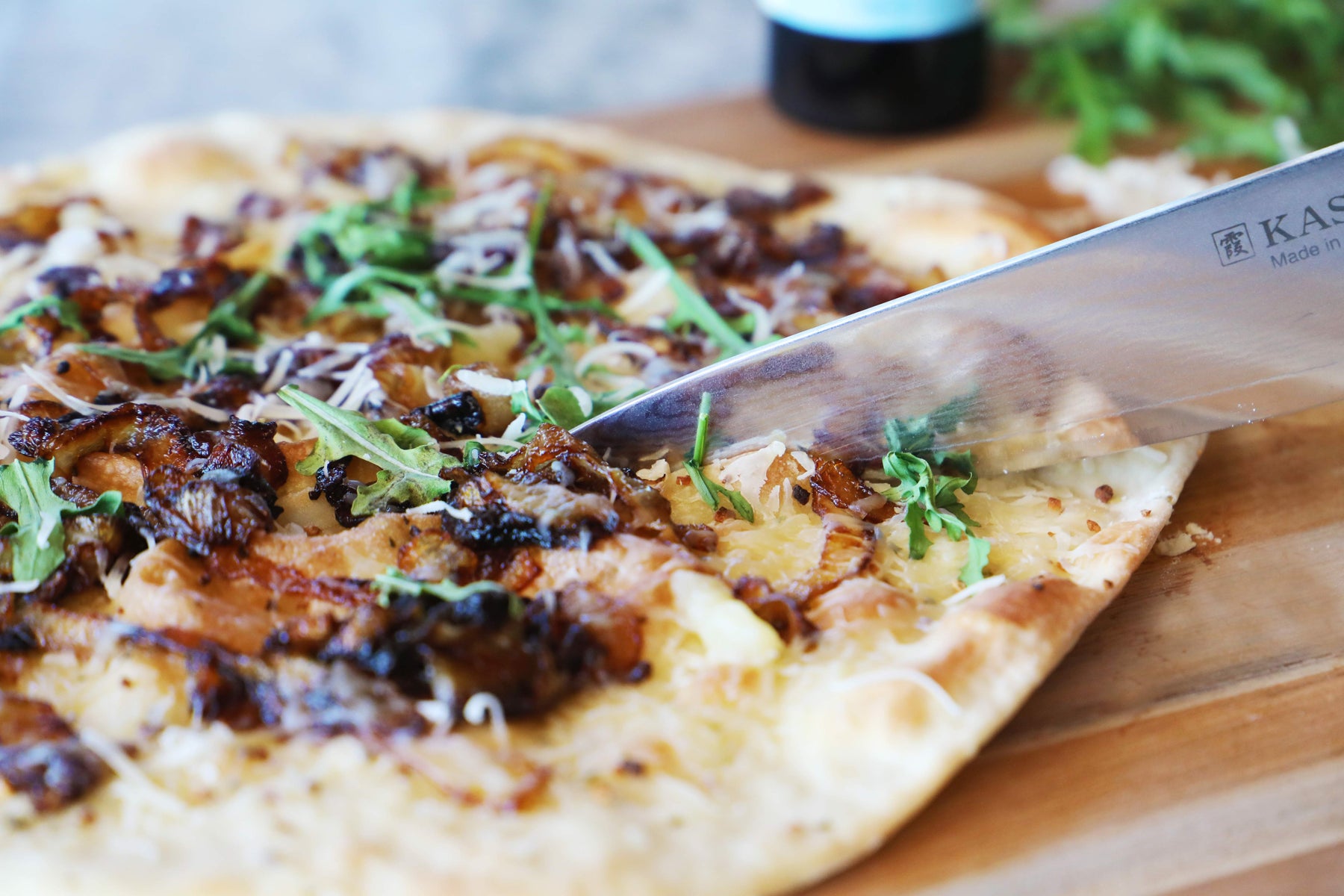 Balsamic Caramelized Onion Flatbread
10-inch flatbread

This simple flatbread recipe combines the sweetness of caramelized onions with the added flavour of garlic and balsamic vinegar. This can be used as an appetizer or even a main accompanied with a fresh salad. This is a recipe you will be visiting again and again!

Dough:
1 ½ cups flour
½ tsp sea salt
½ cup warm water
1 Tbsp olive oil, divided
2 tsp Roasted Garlic Potato Pizzazz

Topping:
1 large onion
2 Tbsp butter
1 Tbsp olive oil
1 ½ tbsp Balsamic Vinegar with Garlic
¾-1 cup grated sharp cheddar cheese
Handful of fresh arugula

- Preheat oven to 475° and line a baking sheet with parchment paper. You can also sprinkle cornmeal on the pan instead of parchment paper if you like. Its just to make sure the crust does not stick to the pan.
- To make the crust mix the flour and the sea salt in a mixing bowl. Drizzle in 2 tsp of the olive oil and water and stir until it just starts to come together into a ball. Turn out your dough to a floured countertop and knead gently for 1-2 minutes. Add extra flour if needed to the work surface.
- Cover dough with a damp tea towel and let rest for 20 mins.
- Once dough has rested, roll it out to approximately 10-inches making sure to roll it out evenly. Lift the dough onto your baking sheet and brush it with the remaining olive oil. Sprinkle the potato pizzazz seasoning over the top. Bake for 8-10 minutes or until lightly brown and bubbly. If the bubbles get too big, you can poke them down with a fork.
- Set flatbread aside while you make the toppings.
- To make the caramelized onions: Cut the large onion in half, and then cut each of those pieces in half. You want to slice those pieces into strips, so you have half moon-shaped pieces.
- Heat up the olive oil and butter in a large skillet over medium low heat. Add in all your onions. It may seem like a lot of onions, but they will cook down beautifully. Cook onions over the medium low heat for 25-45 minutes. You do not want to rush this process, so low and slow is key. Stir occasionally scraping the bottom as you go to get all those yummy brown bits. Once onions are caramelized to your liking, pour in the balsamic vinegar, and stir. Remove pan from heat.
- Preheat oven to 400°
- On your par-baked flatbread crust, sprinkle half of the cheese. Spread your caramelized onions on next, and then the rest of your cheese. Add on your arugula and bake for 5-7 minutes, or until all the cheese is melted. If you have extra cheese, you can sprinkle some extra on as soon as it comes out of the oven. Serve warm.