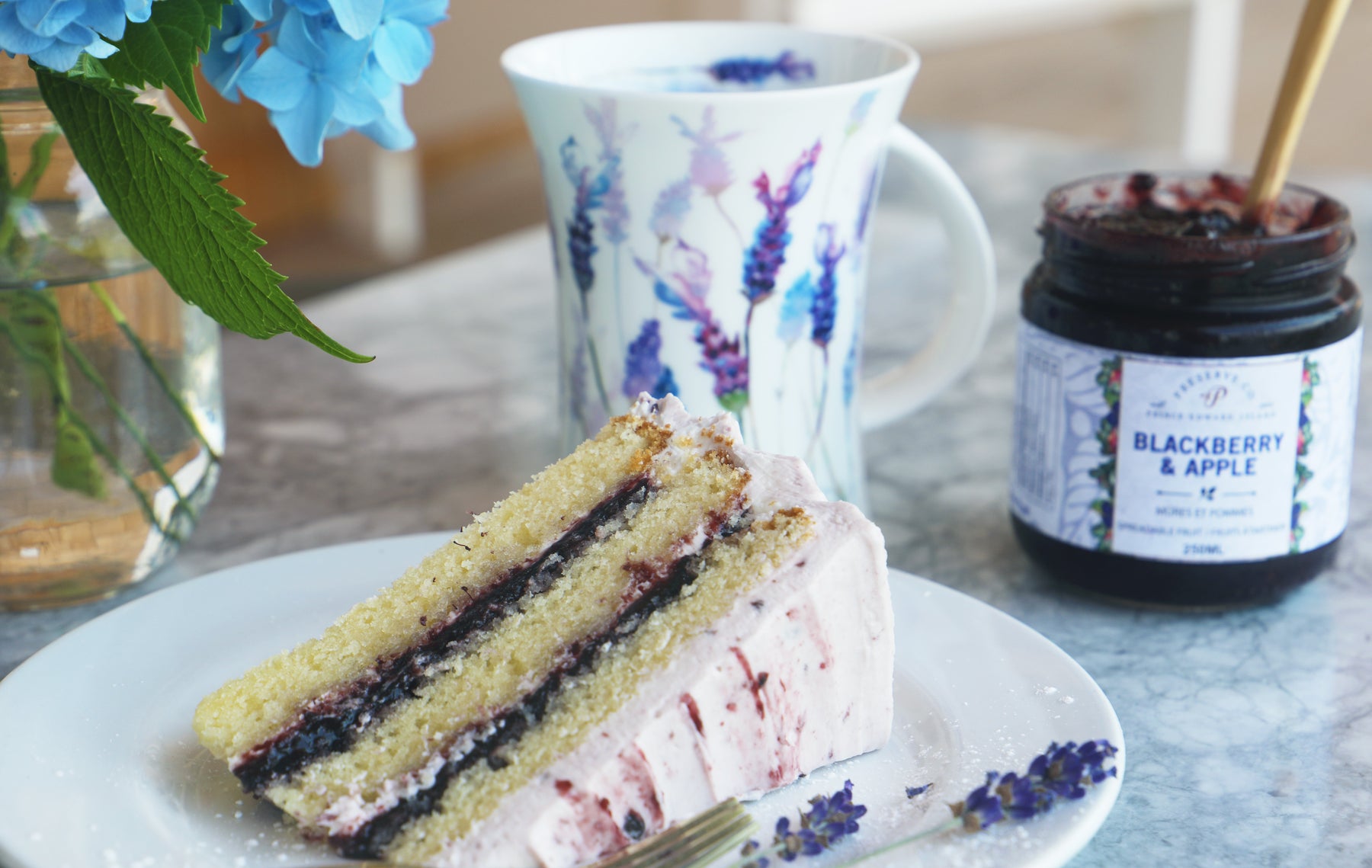 Preserve Company Lavender Infused Blackberry Apple Cake
If you enjoy experimenting with new cake flavours this one will excite you! We are big fans of our Handmade Blackberry Apple Preserves complementing freshly picked local Lavender in this deliciously moist cake.

Lavender Milk:
1 cup milk
2 tsp lavender buds

Lavender Simple Syrup:
½ cup sugar
½ cup water
2 tsp lavender buds

Cake:
1 cup butter, softened
1 ½ cup granulated sugar
4 eggs, room temperature
2 tsp vanilla bean paste
2 ½ cups flour
1 Tbsp baking powder
½ tsp salt
¼ cup sour cream
1 cup lavender milk

Frosting and filling:
1 cup unsalted butter
1 cup shortening
6-8 cups sifted icing sugar
milk
250 ml Blackberry Apple Preserves
Directions:
    •    Make the lavender milk and the lavender syrup ahead of time, preferably the night before, so they have time to cool.
    •    To make the lavender milk, bring the milk and lavender buds to a simmer for 5 minutes. Strain the lavender buds out of the milk, and set aside to cool
    •    To make the lavender simple syrup, bring the water, sugar, and lavender buds to a simmer over medium heat.  Simmer sugar syrup for 10 minutes, then strain the lavender buds out.  Set aside to cool.
    •    In the bowl of a stand mixer, beat the butter and sugar until light and fluffy. While butter is beating sift together your flour, baking powder, and salt. Set aside.
    •    Once mixture is fluffy, beat eggs in one at a time. Scrape down the bowl after each egg to make sure everything is incorporated. Stir in vanilla bean paste.
    •    Combine milk and sour cream together.
    •    Alternate adding milk mixture and flour mixture into the butter and mix until just combined.  
    •    Spread into 3 8" pans that are lined with parchment paper, and bake for 20-25 minutes, or until a toothpick inserted comes out clean. Set aside to cool completely before decorating.

    •    To make the buttercream, whip the butter and shortening together until light and fluffy.  Gradually add icing sugar and milk until it reaches desired consistency and sweetness.

    •    To assemble cake, level off the tops of the cake so they are flat.  Spread lavender syrup on layers, and let sit for 10 minutes to soak in.  Don't be afraid to use lots! Place the first layer on the cake board, or cake plate, and spread a thin layer of buttercream on it.  Spoon on preserves and spread to the edge. Place the second layer of cake on top and repeat with the buttercream and preserves. Frost the outside of the cake with remaining buttercream.