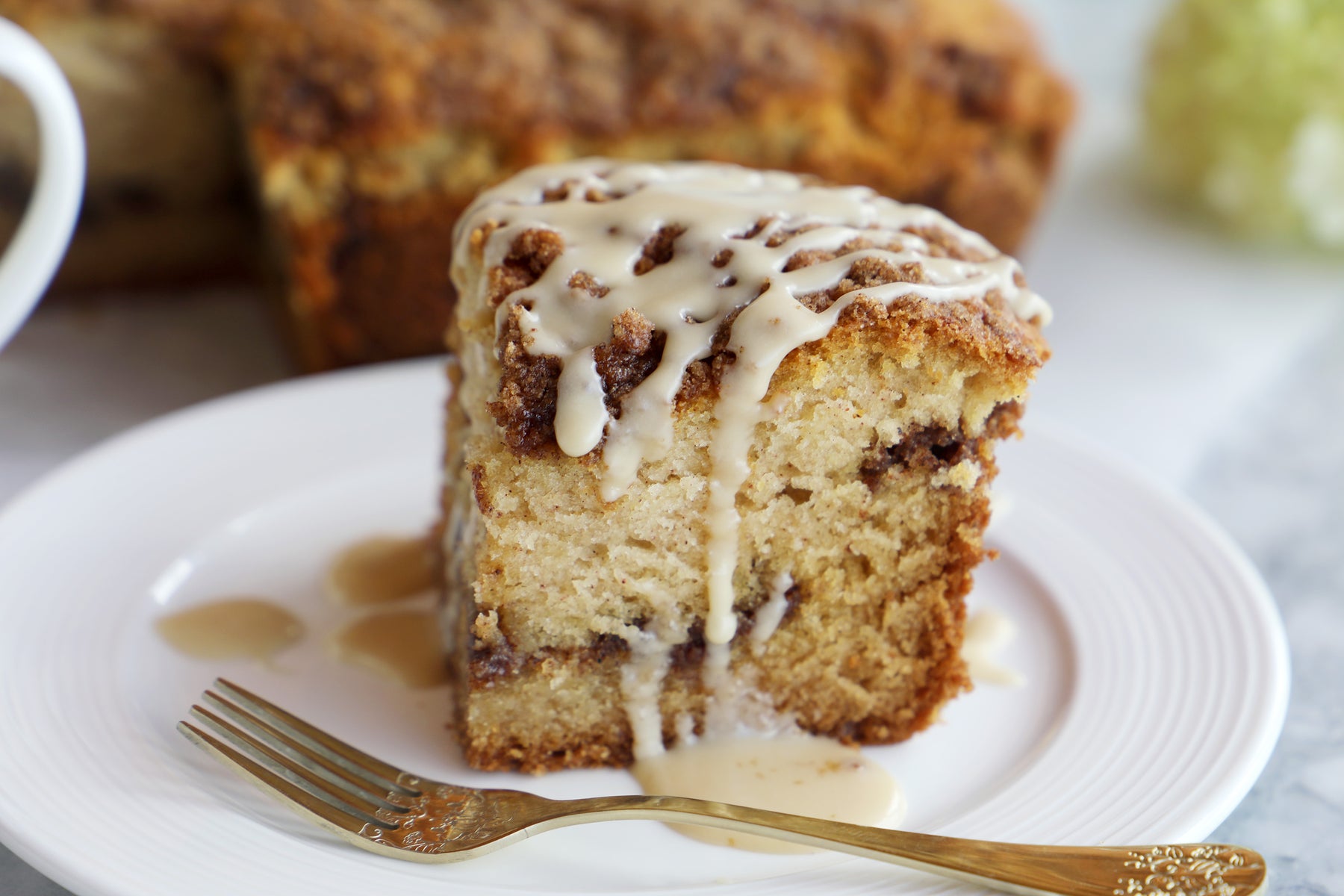 Cinnamon Coffee Cake with Maple Drizzle
 9x9 square pan

Cake:
¾ cup butter, softened
1 cup sugar
2 eggs
2 ½ cups flour
2 tsp baking soda
½ tsp cinnamon
¼ tsp salt
¼ tsp nutmeg
1 cup whole milk
1 cup sour cream

Streusel filling:
½ cup brown sugar
6 Tbsp flour
2 tsp cinnamon
1 tsp nutmeg
1 tsp cloves
½ cup butter, cold

Drizzle:
1 ½ cup icing sugar
4 Tbsp Maple Syrup
2 tsp milk

- Preheat oven to 350°
- Prepare the 9x9 pan by spraying it with non-stick baking spray and lining it with parchment paper.
- Prepare the streusel topping first. In a small bowl, stir together the brown sugar, flour, cinnamon, nutmeg, and cloves. Cut up the cold butter into cubes, and work into the flour mixture with your hands or a fork. You want there to still be tiny bits of butter the size of peas.
Set in fridge until needed.
- Sift together the flour, baking soda, cinnamon, salt, and nutmeg. Set aside.
- In the bowl of a stand mixer, beat the butter and sugar together until light and fluffy. Add each egg one at a time, scraping down the bowl after each egg. Alternately add in the flour and milk to the butter mixture until just combined. Stir in the sour cream.
- Spread half of the batter in the prepared 9x9 pan. Sprinkle half of the streusel topping onto batter and gently press down. Spoon the rest of the batter on the top and spread until smooth.
Sprinkle remaining streusel on the top and bake for 40-50 minutes. It will be done when a toothpick inserted in the center comes out clean. Set aside to cool and make the drizzle.
- Sift the icing sugar into a bowl and pour in the maple syrup and milk. Whisk until smooth and pour over cooled cake. Cake can be stored at room temperature, covered, for up to 4 days.