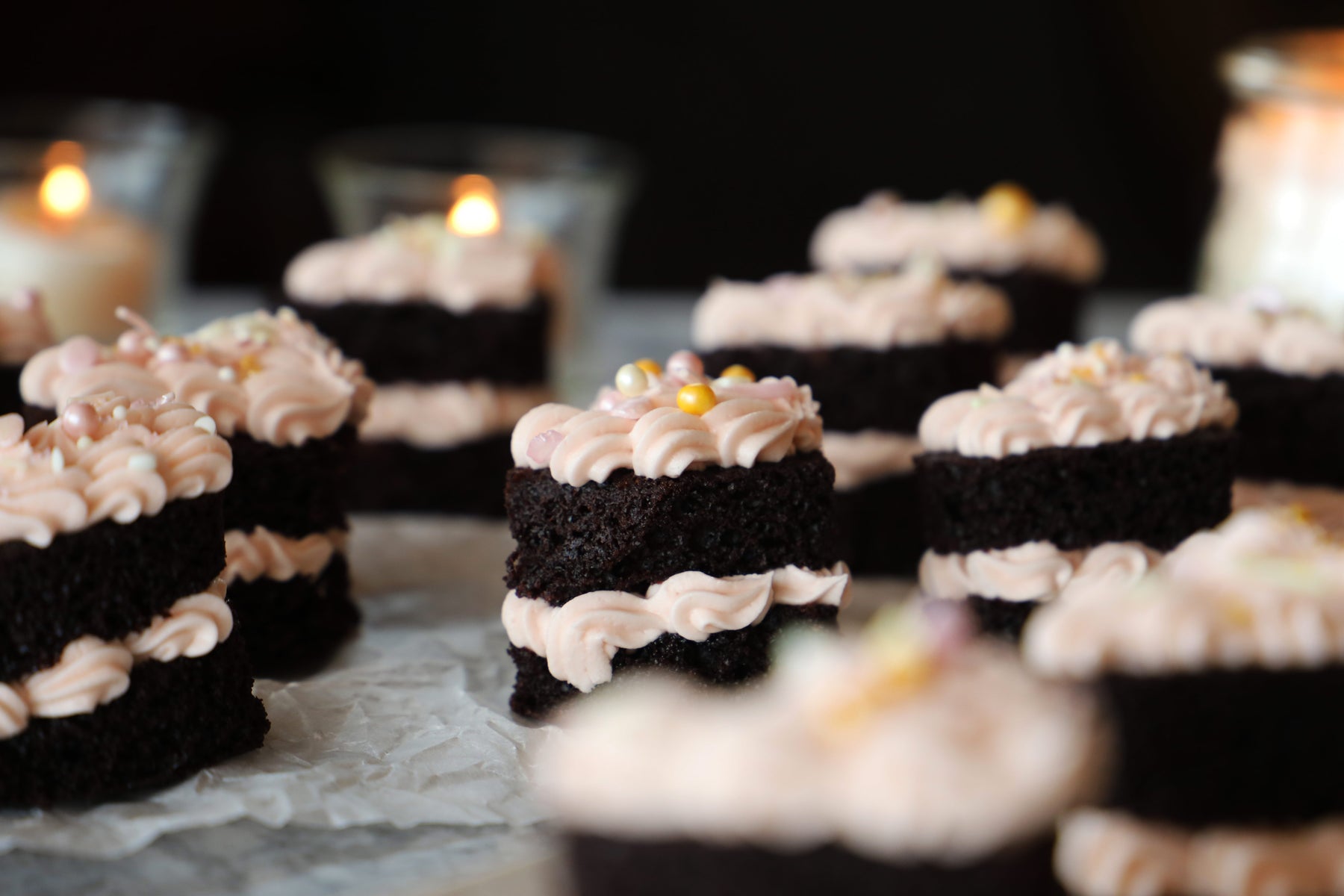 Chocolate Heart Cakes with Almond Marzipan Frosting
20 mini cakes

1 ½ cup flour
1 cup sugar
½ cup cocoa powder
½ tbsp baking soda
½ tsp salt
2 eggs
¾ cup canola oil

½ Tbsp vanilla
1 cup buttermilk (or sour milk)

¼ cup sugar
¼ cup water
1 tsp Almond Marzipan Loose Leaf Tea

½ cup unsalted butter, softened
½ cup shortening
4 cups icing sugar
3 Tbsp Almond Marzipan syrup
Pink food colouring (optional)
Sprinkles (optional)

To make Almond Marzipan Syrup:
-Combine the sugar and water in a small saucepan. Bring the mixture to a simmer, and let it simmer for 5 minutes. Remove saucepan from heat and stir in the tea. Let the tea syrup steep for 10 minutes, strain, then chill the syrup until needed.
- Preheat oven to 350°, and line a 9x13 inch baking pan with parchment paper.
- In a mixing bowl, sift together the flour, sugar, cocoa powder, baking soda, and salt. Stir together to combine. In a separate bowl whisk together your eggs, canola oil, vanilla, and buttermilk. Add your wet ingredients to your dry and stir together until combined.
- Pour batter into the 9x13 parchment lined baking sheet and bake for 20-30 minutes or until cake is completely baked. You can stick a toothpick in the center of the cake, and if it comes out clean, the cake is done. As soon as the cake comes out of the oven, brush a layer of almond marzipan syrup on the cake. Cool cake completely.
To make the frosting:
- In the bowl of a stand mixer, or with a hand mixer, beat the butter and shortening until light and fluffy. Beat in 2 Tbsp of the Almond Marzipan syrup. Add in the icing sugar one cup at a time, beating after each cup. If the frosting is too thick, add in another Tbsp of the almond marzipan syrup. If desired, add in pink food colouring and whisk together. You want the frosting to be light and fluffy, and able to be piped onto the cakes.
- When you cake is completely cool, cut out heart shapes with a heart shaped cookie cutter. Depending on the size of your cookie cutter, you should be able to get 20 mini cakes out of the pan. There will be some cake scraps left over. You can use those to snack on or freeze them
and use as a sundae topping!
- Cut each cake in half horizontally, so you have a top and bottom for your cakes. Brush each cake with the almond marzipan syrup and let sit for 10 minutes.

- Fill a piping bag, fitted with a small star tip, with the frosting. Pipe frosting in stars, or a shell boarder all around on of the cakes. Place the other cake on top of this one. Pipe some more stars on the top and add sprinkles if you want. Repeat process with each heart cake. Cakes can be stored in an airtight container for up to 4 days. If you want to make this ahead of time, the cakes can be frozen, if they are not decorated yet. Remove cakes from freezer a few hours
before you want to decorate them.