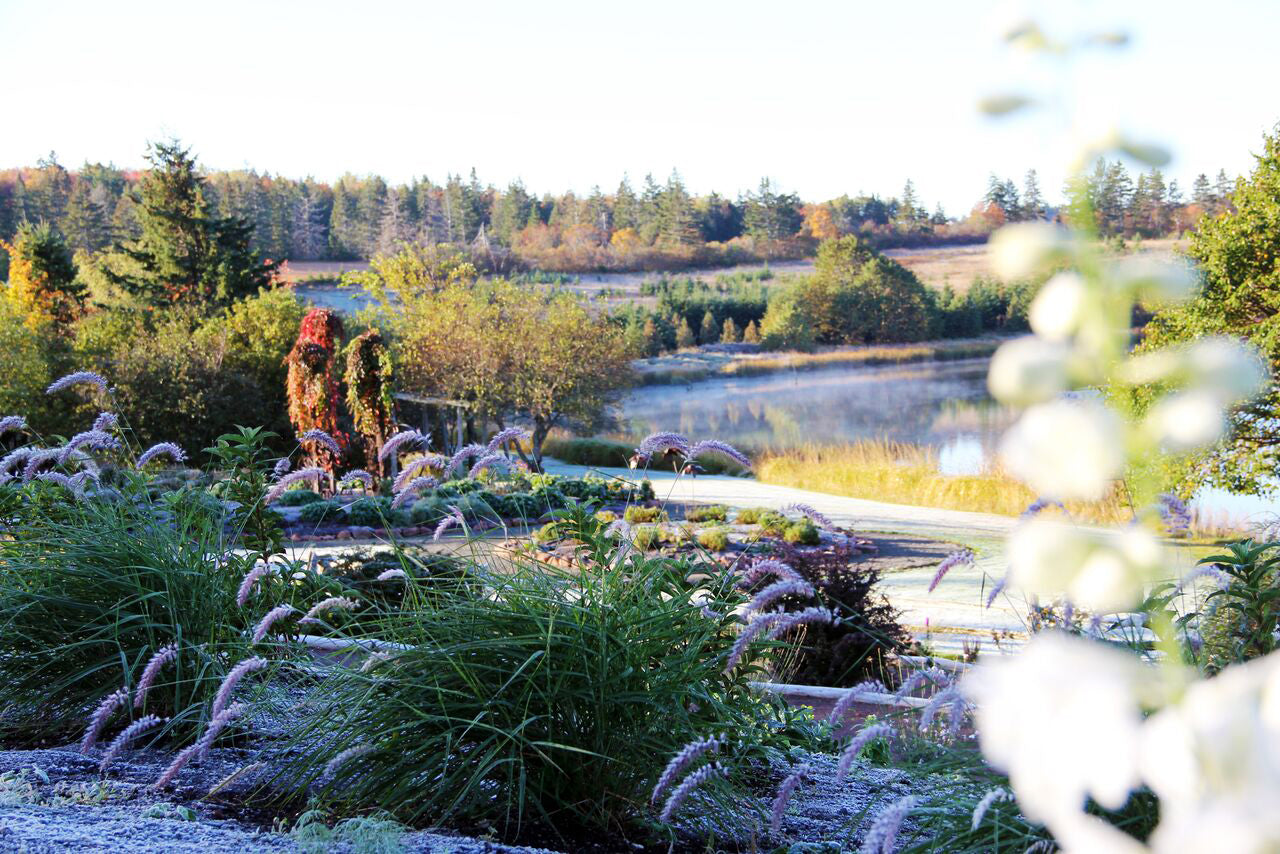 Rebellious Tartans and Thanksgiving just keeps giving!
Thank you for another successful season!

This was a busy week at the Preserve Company, as we greeted more tour buses and closed down the restaurant for the season (our shop stays open year-round, but the café is seasonal). It's always sad for us to see another season come to an end, as we'll miss those staff members we spend so much time with, and of course the guests we have the privilege of serving.

We have been waiting for the cooler air to arrive so that we can start baking our famous shortbreads, oatcakes, fruitcakes for the Christmas season. Good news is the smell of this baking has arrived in the building, the bad news is I can't stop eating the pecan shortbreads and the oatcakes. The photo was taken by Katherine MacLaine, on the 13th of October and as you can see the air has changed. Frost! 

Thanks to those of you who took the time to leave a comment on my blog last week. I love reading your comments from around the world. Technology certainly has made the world seem smaller!

The New Glasgow Christian Church had their annual fundraiser this year which involves dozens of locals getting together to cook Thanksgiving Dinner for over 800 people. It is true community spirit that enables this to happen with the New Glasgow Lobster Suppers allowing their facilities to be used at no cost, farmers and turkey farmers donating product, local men, women, and children all volunteer to make it happen. The funds are used to support locals who are in serious need during the winter months. 
The compassionate life is the life in which we believe that strength is hidden in weakness and that true community is a fellowship of the weak. Henri Nouwen
Shirley and I had a lovely Thanksgiving dinner last weekend. It fills my heart up when I get to spend time with my girls, and while we dearly missed having our other daughter home with us for the holiday, we know she'll be back around our table again soon. 
Speaking of girls, this past week (October 10) the world celebrated the International Day of the Girl. The important day is dedicated to championing girls' rights around the world. The federal government launched an initiative to encourage Canadians to share stories on Facebook, Instagram, and Twitter about the amazing girls in their lives who are making a difference. Use the hashtag #ClaimYourSpace to see what's being shared, and/or to share a story about an amazing girl in your life! 
Also, here is a neat story why "tartan" is a symbol of both rebellion and sophistication. Many of you know that I started wearing my kilt every day here at the shop when we opened in New Glasgow in 1988, I am wearing it less this days but sure am taking a ribbing for not. LOL I am justing being a rebel! Click here to read
Wishing you and yours a wonderful weekend and may next week bring you everything you hope for. 
With love from Prince Edward Island.
Sincerely,
Bruce