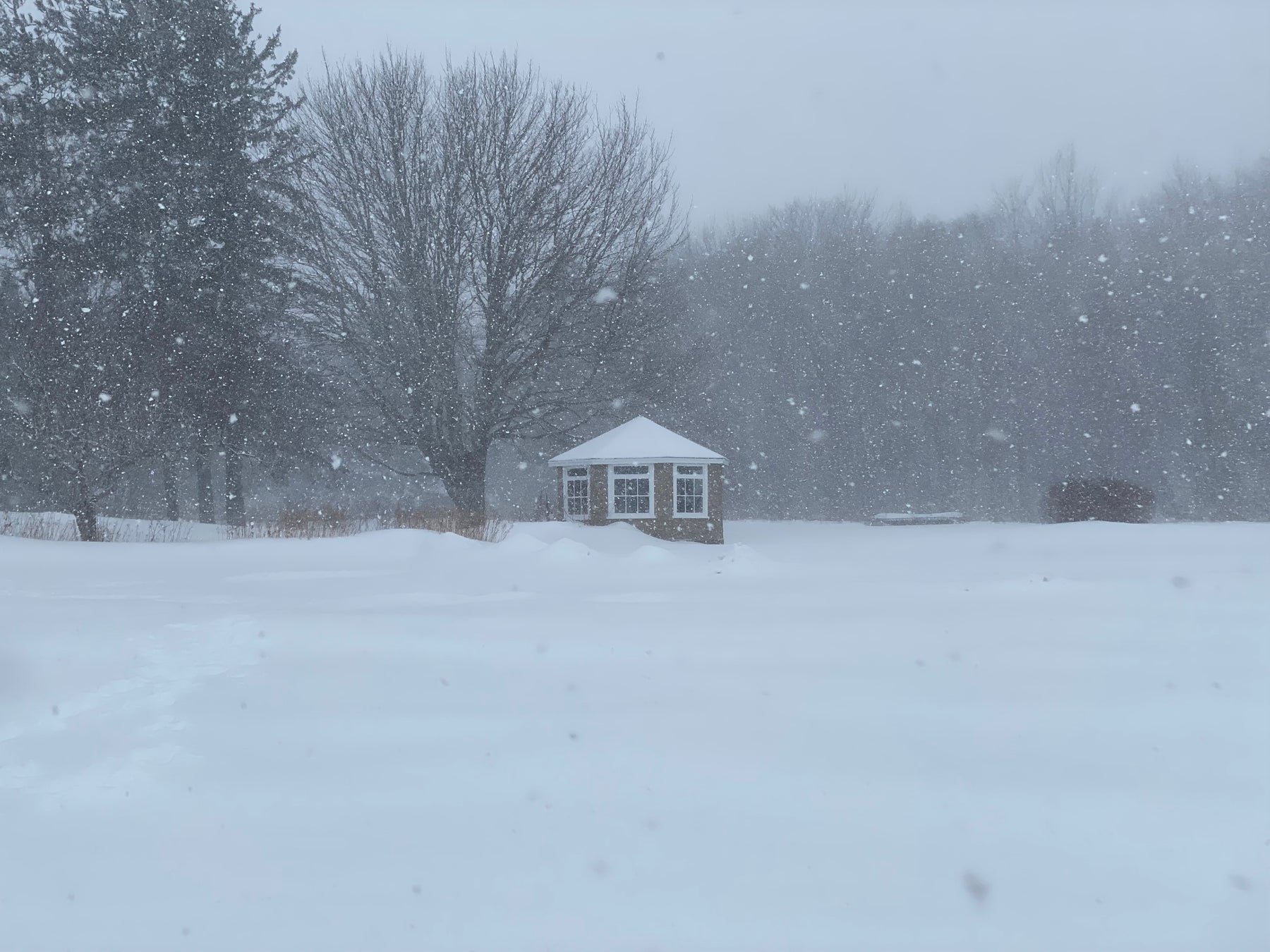 Wind Woke Me + Knee Deep in It + If I Have to Honest
Good Morning from Snowbound Warren Grove, Prince Edward Island
The winds are howling me awake to get up and write.
Put the kettle on, it is going to be a many cups day.
The snow carried in by the wind is the most this season and is to continue for a few more hours.
And walking out with Mille I was quickly up to my mid-thigh is some spots. 
The way our winter is starting reminds me of the 2015 winter.
Dr. Adam Fenech writing on UPEI's website in 2015 states it so well.
"Islanders love their weather. Islanders are defined by the weather – we live by it. We are at the whims of Nature and the weather it brings. It keeps us at home, keeps us from work, keeps our kids from school yet it brings communities together. While tragic at times, our weather brings out our great spirit of humanity, sense of community and commitment to always look out for each other. From North Cape to East Point, West Point to Murray Head – and all points in-between – weather shapes who we are. Happy Christmas to all.
It was a winter for the record books – one to tell the grandchildren about. A late April snowstorm helped the winter of 2015 break the record for the most snowfall recorded in one year on Prince Edward Island – a new record of 551 centimetres (cm) or 12 cm more than the previous record set in 1972. In any "normal" winter season from October to May, Prince Edward Island receives about 290 cm of snow. (9.5 Feet for our US readers)
This winter started with lots of snow in November (three times more than normal), hardly any in December, and then about the normal amount in January. February was brutal with four times the normal amount of snowfall, and March was not much better with three times the normal amount. April was relatively snow-free but one final storm on April 28 clinched the record."
I went into my computer files and found a couple of items to share from 2015.
This week we had to self-isolate at home and it was a great time to read.
I managed to start and finish reading, No Cure for Being Human by Kate Bowler from cover to cover in one day. I enjoyed her writing style. Kate was a new mother, diagnosed with a type of cancer that offers a low survival rate as something else to live with. She shares her journey with the reader in an honest and humorous way at times.
She is a Canadian academic and writer from Winnipeg, Manitoba. And is currently an associate professor of the history of Christianity in North America at Duke Divinity School. 
She is the author of Blessed: A History of the American Prosperity Gospel. As well as Everything Happens for a Reason (and Other Lies I've Loved), a New York Times hardcover nonfiction best-seller.
Book Description from online booksellers…
It's hard to give up on the feeling that the life you really want is just out of reach. A beach body by summer. A trip to Disneyland around the corner. A promotion on the horizon. Everyone wants to believe that they are headed toward good, better, best. But what happens when the life you hoped for is put on hold indefinitely?
Kate Bowler believed that life was a series of unlimited choices, until she discovered, at age 35, that her body was wracked with cancer. In No Cure for Being Human, she searches for a way forward as she mines the wisdom (and absurdity) of today's "best life now" advice industry, which insists on exhausting positivity and on trying to convince us that we can out-eat, out-learn, and out-perform our humanness. We are, she finds, as fragile as the day we were born.
With dry wit and unflinching honesty, Kate Bowler grapples with her diagnosis, her ambition, and her faith as she tries to come to terms with her limitations in a culture that says anything is possible. She finds that we need one another if we're going to tell the truth: Life is beautiful and terrible, full of hope and despair and everything in between—and there's no cure for being human.
I enjoyed the book. A couple of quotes that stuck with me.
Our lives are not problems to be solved. We can have meaning and beauty and love, but nothing even close to resolution. ~ Kate Bowler
Moments like these feel transcendent, the past and the future experienced together in moments where I can see a flicker of eternity. Time is not an arrow anymore, and heaven is not tomorrow. It's here, for a second, when I could drown in the beauty of what I have but also what may never be. ~ Kate Bowler
Harness your mind to change your circumstances. The salvation of health and wealth and happiness is only a decision away. ~ Kate Bowler
I was excited to find this week a used hardcover copy of one of my favourite books, Anam Cara by John O'Donahue.
Between cups of hot tea and shovelling, I plan to do a reread this weekend.
Ok, it's time to jiggle, giggle and wiggle.
Thank you for being here with me. 
Have a wonderful weekend and stay safe.
With Love from Prince Edward Island,
Bruce + Millie
ps. Your Morning Smile
A guy goes in for a job interview and sits down with the boss.
The boss asks him, "What do you think is your worst quality?"
The man says, "I'm probably too honest."
The boss says, "That's not a bad thing, I think being honest is a good quality."
The man replies, "I don't care about what you think!"