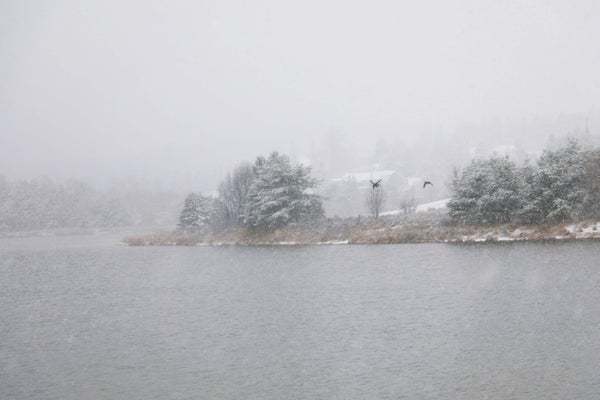 Cultivating Hope + Great News + Off to Grandmas
Good Morning from Snowy Warren Grove, Prince Edward Island
We prepared as a lot of Islanders do when a snowstorm is pending.
We fill the bathtub, and several pots on the propane stove with water, line up the flashlights, candles, matches, firewood and storm chips; Miss Vickies is my weakness
.
Here is a photo from 6 o'clock last night and the other at 8:30 am this morning—the difference a few hours can make.
I am aware heading into a new year this virus affects life in so many ways. It can be stress inducing. But I need to be remind myself to be grateful and stay positive. There have been many accomplishments made
locally
and globally.
COVID-19 vaccines are the most successful global health initiative ever undertaken.
Nine billion doses
were administered
across 184 countries, and almost 60% of the planet has received at least one dose
. In less than two years, we came up with a way to overcome a new disease and rolled it out to more than half of humanity.
In environmental news, the only way to stop a runaway train is for us to jump on board and pump the brakes. Great news out of Europe.
A report shows that renewables overtook fossil fuels as the number one power source in the EU for the first time in 2020
. Renewables generated 38% of electricity, compared to 37% for fossil fuels.
To date, 9 EU Member States have phased out coal, 13 others have committed to a phase-out date, and four are considering possible timelines
. Also, compared to 2019, EU27 greenhouse gas emissions in 2020 fell by almost 10%. An unprecedented drop in emissions due to the COVID-19 pandemic.
I recently purchased Ten Global Trends Every Smart Person Should Know by Ronald Bailey and Marian L. Tupy
.
"Since journalism focuses on dramatic things and events that go wrong, the nature of news thus tends to mislead readers and viewers into thinking that the world is in worse shape than it

really

is

."
The authors' liner notes above align with my thoughts about commercial media channels. The channels need to attract viewership to keep advertisers paying.
And commercial media understands the human propensity for the negative; so they continue to feed it
. Or at least until we stop falling for it one by one.
"A society with too few independent thinkers is vulnerable to control by disturbed and opportunistic leaders

.

A society which wants to create and maintain a free and democratic social system must create responsible independence of thought among its young

." ~ John Dewey
It is the mark of an educated mind to be able to entertain a thought
without accepting it. Aristotle
Reading the chapter outlines of all 78 trends in the book is inspiring:
The Great Enrichment — world economic growth on a steady upward trajectory.

 

The End of Poverty — only 8.6% — and falling — of humanity now live in poverty.

 

Are We Running Out of Resources? — spoiler alert; NO. They're more abundant than ever.

 

Peak Population — world population growth is

rapidly

slowing and projected to peak this century

.

 

The End of Famine — famines have

virtually

disappeared outside of war zones.

 

More Land for Nature — huge gains in the global tree canopy are offsetting declines in the tropics.

 

Planet City — 55% of humanity now live in cities with higher wealth and lower environmental impact

.

 

Democracy on the March — democracies are increasing as autocracies decline

 

The Long Peace — war between countries has become a rare event

 

A Safer World — death by natural disaster has dropped 99% in the past 100 years

 
People Trends
Life options are expanding
Global happiness is rising
Global income inequality is falling
Choosing smaller families
Achieving universal literacy
IQ scores rising

massively
Global free press progress, with setbacks
Life expectancy is rising
Health Trends
The global death rate is falling
Vastly

fewer children die young
Mothers are living longer
Vaccines are saving lives
Winning the war on cancer
Accelerating vaccine discoveries
Violence Trends
The global murder rate is falling
Capital punishment plummets
Battle death rate is declining
Genocides are disappearing
The military spending ratio is falling
Armies shrink as a proportion of the population
Work Trends
Service sector work is

rapidly

increasing
The wage gap between men and women is narrowing
Natural Resources Trends
Conserving more land and sea
Decarbonizing the economy
Rising natural gas reserves

 
Using water more

efficiently
Farm Trends
Farming and eating more fish
Tech Trends
Increasing global access to electricity
Lighting costs near nothing now
More access to clean drinking water
Vastly

cheaper computation
Global tourism rises (pre-pandemic)
U.S. Trends
Share of spending on household basics declines
Lower cost and higher adaption of new technologies
Violent crimes are falling

steeply
Declining racist attitudes
Air pollution is falling

steeply
Bigger and better housing
Raising vaccination and plunging infectious disease.
Air travel is getting cheaper
Cancer incidence and death rates at 26 year low
The authors write, "You can't fix what is wrong in the world if you don't know what's actually happening…the dark view of the prospects for humanity and the natural world is, in large part,
badly
mistaken…of course, some global trends are negative…
however
, many of the global trends we describe are already helping redress such problems…the nature of news thus tends to mislead readers and viewers into thinking that the world is in worse shape than it
really
is…most of us attend far more to bad rather than to good news
."
"A lot of what is most beautiful about the world arises from struggle." ~ Malcolm Gladwell
On the community front, there were wins for Indigenous groups, too.
Indigenous people continued to face persecution in many parts of the world in 2021, but there were some signs of progress
.
Elsewhere, Indigenous politicians rose to prominent leadership roles.
For example, Canada appointed its first indigenous governor-general (Mary Simon); and New Zealand (Dame Cindy Kiro)
. And Deb Haaland became the first indigenous US cabinet secretary.
Keep HOPE alive.
"Hope is sweet. Hope is illumining. Hope is fulfilling. Hope can be everlasting. Therefore, do not give up hope, even in the sunset of your life." ~ Sri Chinmoy 
Music I Enjoyed This Week:
I wish you a wonderful and safe weekend.
With love from Prince Edward Island,
My three-year-old son, Jack, was as excited as he could be to visit his grandma and grandpa in Florida, especially since it meant taking his first trip on an airplane
.
We'd
just
boarded and got buckled in when Jack looked around the plane and frowned. "What is it?" I asked, wondering if he was nervous.
He then asked me, a bit worried, "Are ALL these people going to Grandma's house too?"