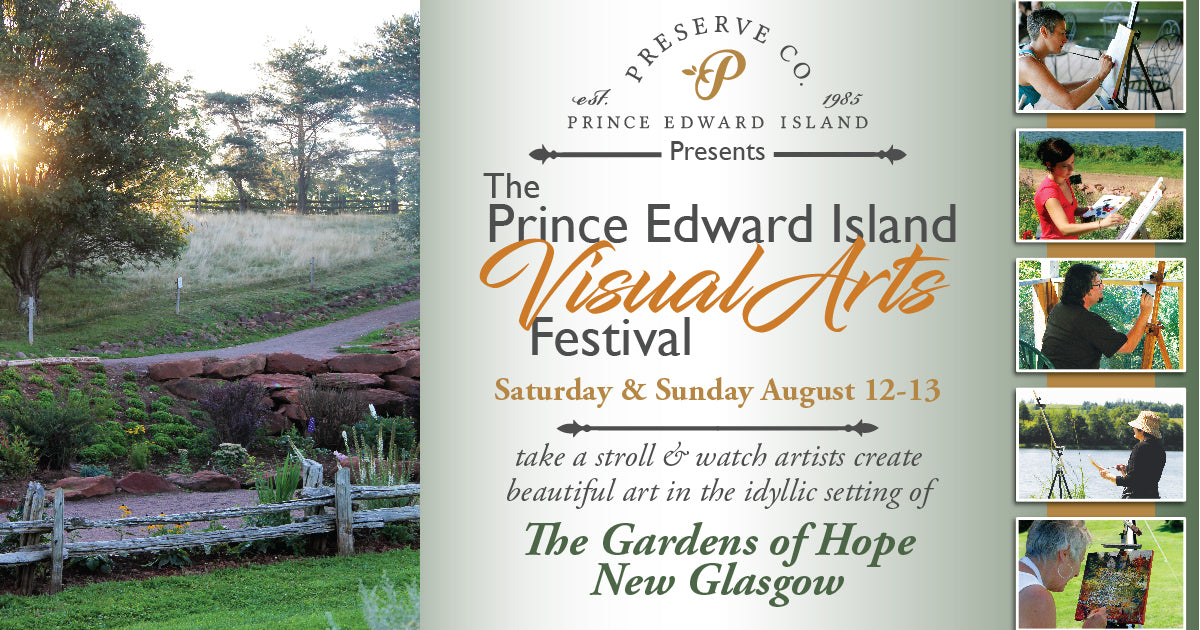 What a Wonderful World We Live In!
What a world! Talent and creativity abound! 
Please join us next weekend on August 12-13

It is proving to be a very busy summer at the Preserve Company. Our visitors are all enjoying the stretch of hot, sunny weather we've been experiencing on the Island. The scant amount of rain we've received has mostly been at night which is a bonus for us, but perhaps not so great for the farmers; we would love to see more rain for them and the plants. 

This weather is perfect for the big event we're hosting next weekend. The Prince Edward Island Visual Arts Festival happens Saturday & Sunday, August 12-13 and Shirley and I are thrilled that so many of the Island's premier artists are participating. The Gardens of Hope is the home for this festival weekend of creativity and beauty, every year during the second weekend of August.

The generous artists who will be donating their time to create art in our Gardens of Hope include:

• Henry Purdy
• Lindsay Walker
• Nan Ferrier
• John Cox
• Greg Garand
• Scott O'Neil
• Karl MacKeeman
• Julia Purcell
• Susan Christensen
• Audrey Bunt
• Kim Jabbour
• Grace Curtis
• Lorraine Vatcher
• Debbie Misener
• Emily Howard
• June Ellis
• Lisa Genova

There is no cost to attend, and as usual, the Gardens of Hope are free to enjoy. However, we do graciously accept donations as we hope to raise funds to build a new sunroom for the Gardens of Hope Respite Cottage. 
Once visitors arrive they we will be greeted by hosts at either the upper or lower entrances, who will accept donations while visitors come and go. There will also be a raffle. Guests will walk the gardens and find artists tucked away in a beautiful spot chosen by the artists, here the artist will replicate their heart's eye through brush, paint, and canvas.   
There is no pressure on the artist to complete the paintings, but if they do and it has not been spoken for, (people have been known to purchase paintings right off the easel!) guests will find paintings for sale in our theatre.  
A little poetry to end off the blog...hope you enjoy.
We are shaped and fashioned by what we love. Goethe