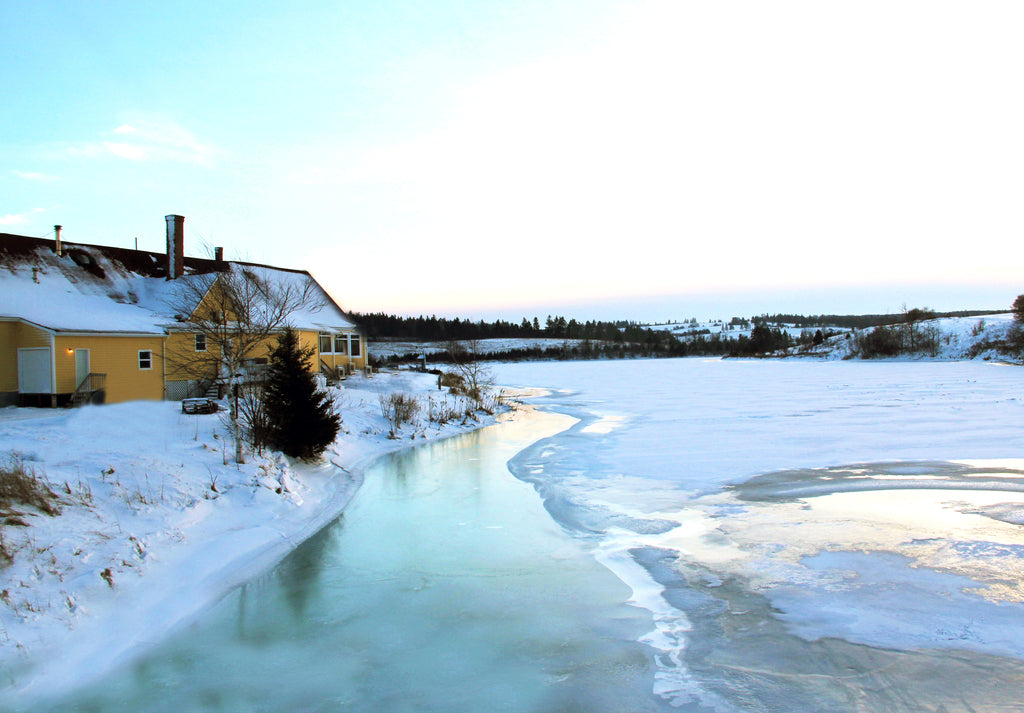 Rebellion, Being Intentional, and Free Water
Outside, a rich covering of white blankets itself upon the fields and trees. What beauty and delight it gives. The opportunity to enjoy natures awesomeness is such a wonderful gift. I am grateful. 
Well, winter arrived in Prince Edward Island, a couple of days after the calendar told us it was spring. (Mother Nature must have missed the memo that's ok, beauty abound!)
The school children and teachers are grateful. They enjoy an extra long vacation as Monday marks the start of March Break on Prince Edward Island.
Shirley has been on vacation with some girlfriends and Monday marks her return, can't wait to see her. Misses the Mrs.  I just arrived home Thursday after visiting with our eldest daughter, Lauren, in Vancouver.  
I have never seen a city with so many artisan coffee shops! We especially enjoyed Small Victory in Yaletown and Timbertrain Coffee Roasters in Gastown. I don't drink coffee but certainly, enjoy the vibe these spaces provide.
Managed to visit a garden at UBC on Wednesday, a few images captured me.
Branches are reaching for summer. 
The following image captured me as well during my Thursday arrival in Halifax. Mother Natures Maritime Rebellion! 
I will admit it was a bit of shock to the system, but it did make me laugh.
Reading was good time spent this winter, and I certainly look forward to doing more. In Health Benefits of Tears, Laughter and Choices blog post, a number of you left book suggestions to read, thank you. I have expanded the "to read" list. 
I have come to understand that if I am going to write, then I am going to need to read. More and More. I plan to do both. 
We are busy preparing a new location for our expanding blog. One area of the community will be called Read & Reflect. This neighbourhood within the new blog will host an online book club for readers, highlighting both Prince Edward Island and Canadian literature. Hope you join us there. Will you? Let me know what you think of the idea. Please. 
Intentionality is living on purpose for a purpose. Happiness is a by-product.
So, I have decided to work towards reducing my environmental footprint and that of the company.
Researching how to replace plastic bags, plastic bottles, plastic containers, and plastic cutlery. 
I am challenging myself first, and we will see where it leads. The journey will be documented and shared with you as well in the coming weeks and months. 
Also, selling bottled water has always bothered me, so no more. Water is a life source and should be readily available and free.
A quote I am contemplating this week, "it's possible for us as individuals to redefine greatness by changing how we measure success—by replacing our winner-takes-more worldview with one that requires us to ask if we're doing work we're proud of. We each get to decide what it means to be great. Moment to moment and day by day, we can deliberately choose to do only the things we'll be proud to have done and to create the future we want to see. We start by deciding who we are—what philosophy and values will guide us and our companies—and by investing the time to reflect on the unique contribution we can make. If we want to prioritize people over profits and impact over dividends, we need to choose carefully what we will measure each day." - Story Driven, you don't have to compete when you know who you are by Bernadette Jiwa
Write this blog listening to a wonderful album called, Blue Maqams, if you like light, easy listening jazz. This is five stars. Listen Here.
Have a great weekend. 
With love from Prince Edward Island,
Bruce
Don't forget Saturdays Silly. Derek Edwards is the funniest man in Canada. Love his clean sense of humour.