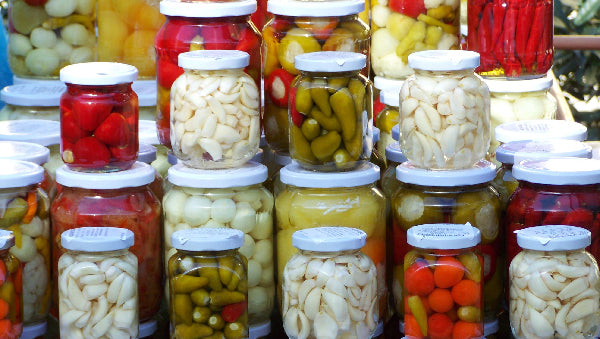 Pickles, Bicycles and Anne of Green Gables
Greeting friends, 
Last week I mentioned I was enjoying some fresh local cauliflower in a curried soup recipe that Shirley and I love. This week, I noticed the pickling displays are out and about in all your regular go to shopping places. This time of year with cucumbers, peppers, onions, carrots, tomatoes etc. being harvested all over the Island folks are busy bottling up their yearly batch of mustard, bread and butter pickles, and chow chow. Do you recall how wonderful the house smells when mustard pickles are being prepared? If not it is one to be cherished for sure. At this point, we are not in the business of making pickles, but it is on our "want to do" list, perhaps 2018. 

I expect it is not only Islanders preserving cucumbers this week. Do you enjoy making and eating mustard pickles? They're a standard on our table through the autumn and winter. We know many a family whose children come home from away and raid the pantry and often leave with jars of mustard pickles for a taste of home.

Other things happening in PEI this week, besides pickling things… Anne of Green Gables, the world's longest-running annual musical production, performed in front of a live theater audience in Charlottetown for the 2500th time! What an achievement for a show hosted in Canada's smallest province. If you've never seen this wonderful musical, you really should, if you're in town. The talent in this province never ceases to amaze me!
Are you an Anne fan? I would love to hear about your fond memories of reading Lucy Maud's novels, watching the movies, or enjoying the live musical.

And besides pickles and musicals, we have bicycles on the island this week. Lots of them, with the GranFondo cycling event. Drivers, please be mindful of cyclists this weekend and every weekend. http://granfondo-pei.ca/
I captured this photo a few of the enthusiastic riders Saturday morning as they rode through New Glasgow. 
Do you cycle? 
GranFondo-Pei.ca
Three days of cycling... August 28-30th, 2017. Three breathtaking rides through an iconic landscape. Experience amazing culinary delights, heritage and cultural traditions.
All I have written today represents joy and passion and all that can come from being enthusiastically engaged in what we are able to celebrate. Take any one of your senses and imagine all the things that you enjoy because of it. Too often we forget to celebrate all that we have. Love is a verb, act it out. 
Joy is not in things, it is in us. ~ Richard Wagner
Have a great week!
With love from Prince Edward Island, 
Bruce