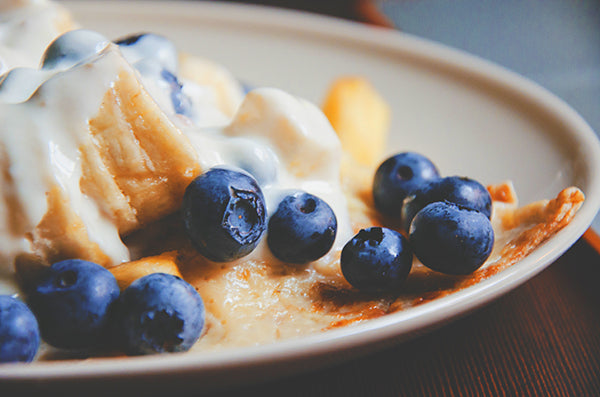 Old Ships and Wild Blueberries!
I can hardly keep up with all that's coming out of our garden these days! It is so delightful to enjoy salads that you cut yourself! Do you have a garden? How's it growing this year? One thing I do not grow that I've been enjoying lots of lately… blueberries.

We freeze enough berries to keep us going all winter, and of course we eat our wild blueberries in preserve form, but oh when they're fresh from the fields, there's just nothing like them. I add them to yogurt, pancakes, salads, desserts, and anywhere else I can. They're so delicious and good for you.

This weekend is going to be a special one for us at the Preserve Company as we'll be hosting the Prince Edward Island Visual Arts Festival.

If you're on the Island, I hope we'll see you. If you're not here, you can visit our Facebook Page and Instagram account for highlights of this fundraising event for the Gardens of Hope respite cottage.
Lindsay Walker, one of the talented artists who will joining us this weekend has a blog that is interesting and certainly speaks to the artist at heart. Take a read here.

Oh and one more thing before I leave you! I heard a great story on the news about a mysterious sighting on a Prince Edward Island beach. A woman out for a walk on the beach in western PEI came across an odd collection of wood. She went to social media with a photo to see if anyone could help identify what it was that she found. Some think it's an old ship; others think it's remnants of a wharf.

Take a look at the story and see for yourself!

I love the idea that it is an ancient old ship with lots of stories behind it and here it now lays at the bottom of the sea. How much fun is that? I love our Island. So much beauty and so much history. 

What do you think? Wharf, ship, or something else?
Photo by Ellen MacLeod

http://www.cbc.ca/news/canada/prince-edward-island/pei-alberton-mysterious-debris-1.4242804
This week, we heard of Glenn Campbell's passing. We recently watched a documentary on this man sharing his and his wife's story of dealing with Alzheimer's; it was very touching.  
Here is a tribute that was given a few nights ago by John Mayer. 
Have a great weekend!
Leave you with a quote I liked this week.
May you never miss a rainbow or a sunset because you are looking down.
With Love from Prince Edward Island!
Bruce