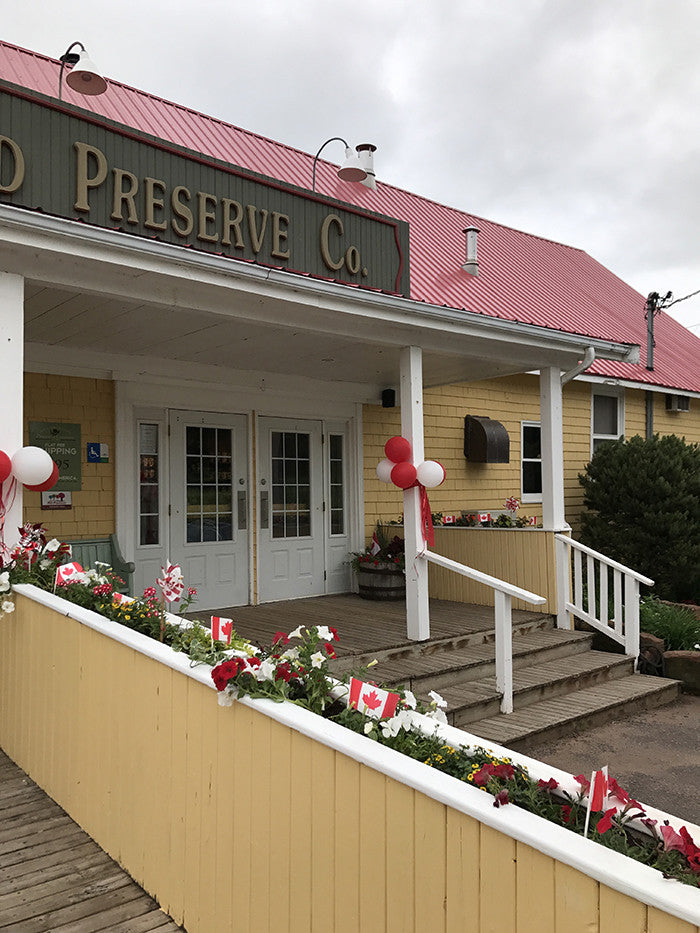 OH, Canada!
Dear Friends of The Preserve Company,
Best long weekend wishes to all of our Canadian readers. And to those of you in the United States, we extend warm wishes for your Independence Day celebrations, as well!

Communities across Canada are decked out in red and white today to celebrate our great nation. One of the biggest of these celebrations here in PEI happens in our neighbouring community of Rustico. Rustico is small in numbers, but huge in spirit!
Thank you goes out to Judy Clark, who decorates our building every year for Canada Day! 

Shirley and I are hoping the weather cooperates so we can have a barbeque this evening and later, venture out to watch the fireworks and take a tour of the tall ships in the harbour.

Our store, the restaurant and Butterfly House will be closing at 4 pm today to allow staff to celebrate this day with family and friends.   
Tomorrow (Sunday), many will drive to Montague the Beautiful, located in Eastern Prince Edward Island to check out their new year-round Farmer's Market in the Down East Mall. If you're in PEI, check it out Sundays 10-3!
On a fun note, after I watched this cute video, I wondered if I could find a helper like this for the Gardens of Hope. It is amazing to watch this swan do the chores. 


I would love to hear about what you'll be doing to celebrate Canada Day and/or Independence Day this year!
Wishing all a great week and take care of each other! 
Sincerely, 
Bruce MacNaughton