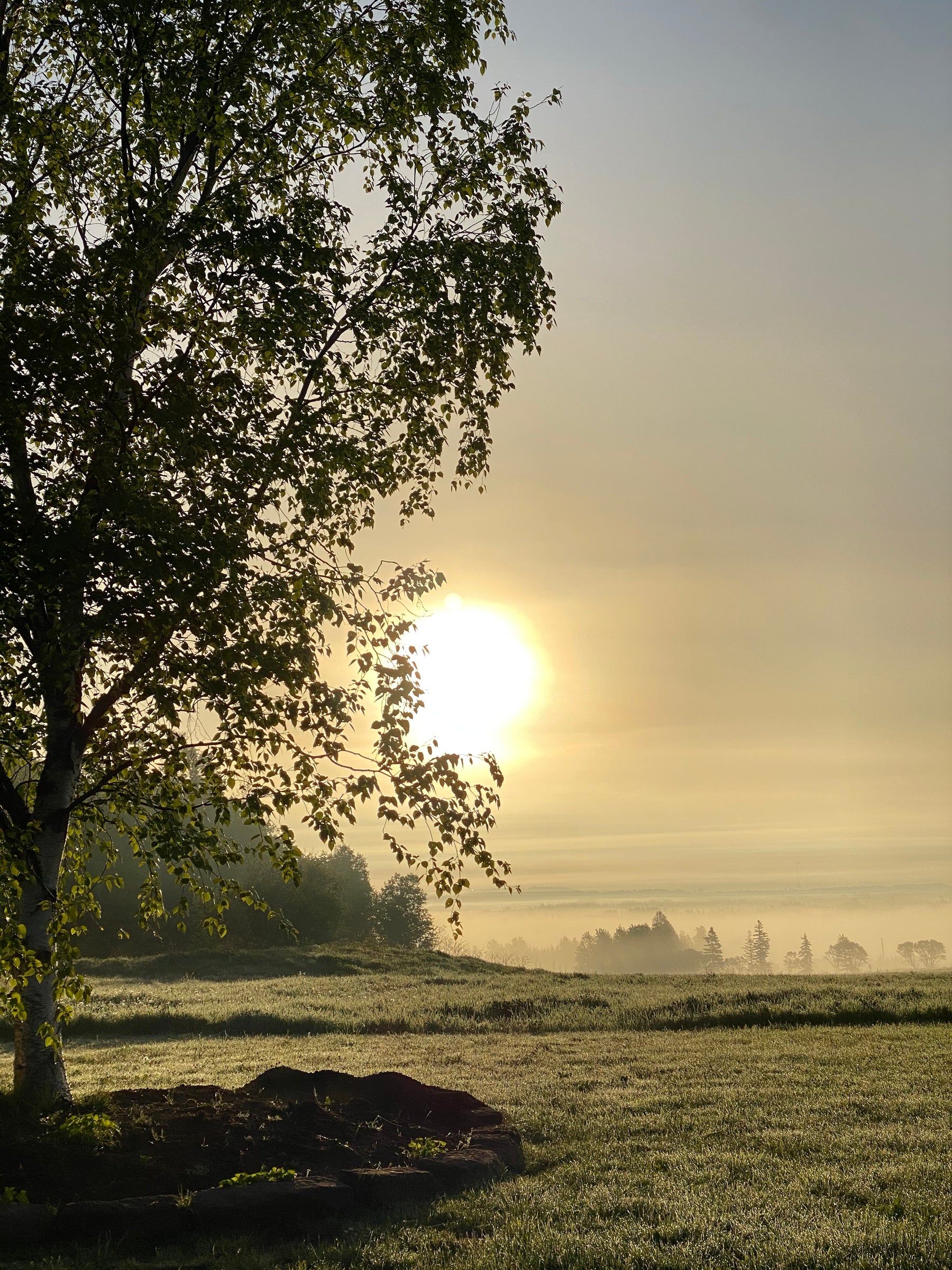 Musicians Move Us, How Fragile We Are, We Wear the Mask
Good Morning from Prince Edward Island,
Leaving the house and heading for a walk with Millie this past Thursday morning, I managed to capture this phone photo.
This is the beginning of a new day. You have

been given

this to use as you will. You can waste it or use it for good. What you do today is important because you are exchanging a day of your life for it. When tomorrow comes, the day will be gone forever; in its place is something you left behind. Let it be something good. ~ anonymous
With the sun rising earlier every day and going down later every evening, lots happening on Prince Edward Island
.
The Island is showing off its many shades of green, the national parks have their annual passes on for half price, and the campgrounds are opening up
. Staycation planning is underway, and summer is almost here.
Our staff are doing a fantastic job of preparing the store and restaurant for the season. The store is open, and the restaurant will be on Father's Day, June 21st. Reserve Your Table now, you are able to reserve up to 90 days in advance.
Last night a friend sent a music video that inspired me to write about artists, especially musicians
. Thank you, John.
This pandemic is wreaking havoc on those thousands of musicians.
They make their living from pouring their passion into not their art, but they also entertain us, educate us, and inspire us
. My heart goes out to them and their families today.
Here are two organizations set up to help musicians and their families. 
Unison Benevolent Fund
 a non-profit organization, provides counselling, emergency relief, and benefit programs for those in the Canadian music community who face personal or professional challenges due to hardship, illness, unemployment or economic difficulties
.
Today I choose to let the words & music tell the story.
"Musicians want to be the loud voice for so many quiet hearts." – Billy Joel
This song by Sting and performed below by Stevie Wonder and Sting is a reminder.
If blood will flow when flesh and steel are one
Drying in the colour of the evening sun
Tomorrow's rain will wash the stains away
But something in our minds will always stay
Perhaps
this final act
was meant
To clinch a lifetime's argument
That nothing comes from violence and nothing ever could
For all those born beneath an angry star
Lest we forget how fragile we are
On and on the rain will fall
On and on the rain will say
On and on the rain will fall
On and on the rain will say
Whether you are a fan of Bob Dylan or not, reading this interview and giving a full listen to Murder Most Foul, will provide further support to his Nobel Prize for Literature.
He is not one to give interviews so this is a coup by New York Times writer, Douglas Brinkley.  A wonderful read. Read, Bob Dylan Has a Lot on His Mind. 
Bob Dylan Murder Most Foul Lyric Video. This comment by Gene Miller says it well. Absolutely genius. Only Dylan could make a 17-minute song about Kennedy's death using the starkest of words and melody.
Life is Poetry.
"There is no poet, black or nonblack, who measures his achievement," she declared. "Even today. He wanted to be a writer and he wrote." ~ Nikki Giovanni, speaking of Paul Laurence Dunbar
by Paul Laurence Dunbar 1872-1906
We wear the mask that grins and lies,
It hides our cheeks and shades our eyes,—
This debt we pay to human guile;
With torn and bleeding hearts we smile,
And mouth with myriad subtleties.
Why should the world be over-wise,
In counting all our tears and sighs?
Nay, let them only see us, while
We smile, but, O great Christ, our cries
To thee from tortured souls arise.
We sing, but oh the clay is vile
Beneath our feet, and long the mile;
But let the world dream otherwise,
Prince Edward Island's esteemed singer-songwriters Catherine MacLennan and Tara MacLean combine their talents writing this song together and performing on this video. THANK YOU. 
When the world is spinning round and round
Ashes ashes we all fall down
When we wake up in a scary dream
And all we want is to go back to sleep
I love you more than ever
I know it will be alright
It's
just
gonna take some time
So hold on through this storm
When the only way to hold you near
Is to call you on the phone from here
And you tell me that you're feeling scared
Know that I am with you everywhere
I love you more than ever
I know it will be alright
It's
just
gonna take some time
With Love from Prince Edward Island, I hope you have a great safe and healthy week ahead. Take care of each other. 
A Ponder-ism: Why do people pay to go up tall buildings and then put money in binoculars to look at things on the ground?
Three weeks ago, I sent my hearing aid in for repair...
I've heard nothing since.