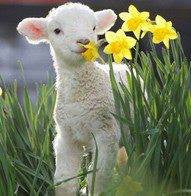 Happy Easter
Warm Easter weekend greetings from our family to yours.
What a beautiful day this is. The sun is shining, and as soon as I finish writing this post, we will be off to the gardens at our shop in New Glasgow.
We are busy making plans for a large project this spring as we strip away all the old plant material and soil from what used to be our "Prarie Hill."  Over the years the area got ahead of our weeding capabilities and became something that sooner or later would need reestablishing. Now is the time! Over 500 plants will be getting a new view of the River Clyde. This bed is almost a quarter acre of land, and I certainly cannot expect to have a full looking bed for a few years. An old gardener saying, "first-year sleep, second-year creep, third-year leap!", will be top of mind every time I look at the hill. 
This winter and spring saw upgrades and renovations to the gift shop area, restaurant kitchen, and theatre. Can't wait to see the reaction from our returning staff, to which is over 90% return rate.  We are also in the thick of our menu planning, looking forward to trying out some dishes this year. Also, getting excited to introduce a new "no sugar added" preserves, which has been two years of testing.
In reading over what I have written, it makes me think that I am always amused when asked by visitors, "what do you do all winter?" 
This summer we are also bringing back the Prince Edward Island Visual Arts Festival to the Gardens of Hope, August 12 and 13th. 
Some of the Island's top artists will be in attendance displaying their talents and showing their skills to those fortunate enough to attend. Funds raised are to go towards the building of a sunroom on the Respite Cottage.
Long gone are the days that our daughters excitedly awaited a visit from the Easter Bunny, we are mindful of this weekend for a few reasons, family time and for those who are believers, this is one of the favourite weekends of the year. 
Shirley and I will be enjoying the weekend with family. And I'm looking forward to getting in the kitchen and preparing a traditional Easter meal.
I think this Raspberry Crumble will be perfect for dessert: https://preservecompany.com/blogs/recipes/14263125-raspberry-crumble
How do you celebrate the Easter holiday?
I would love to hear your stories in the comments.