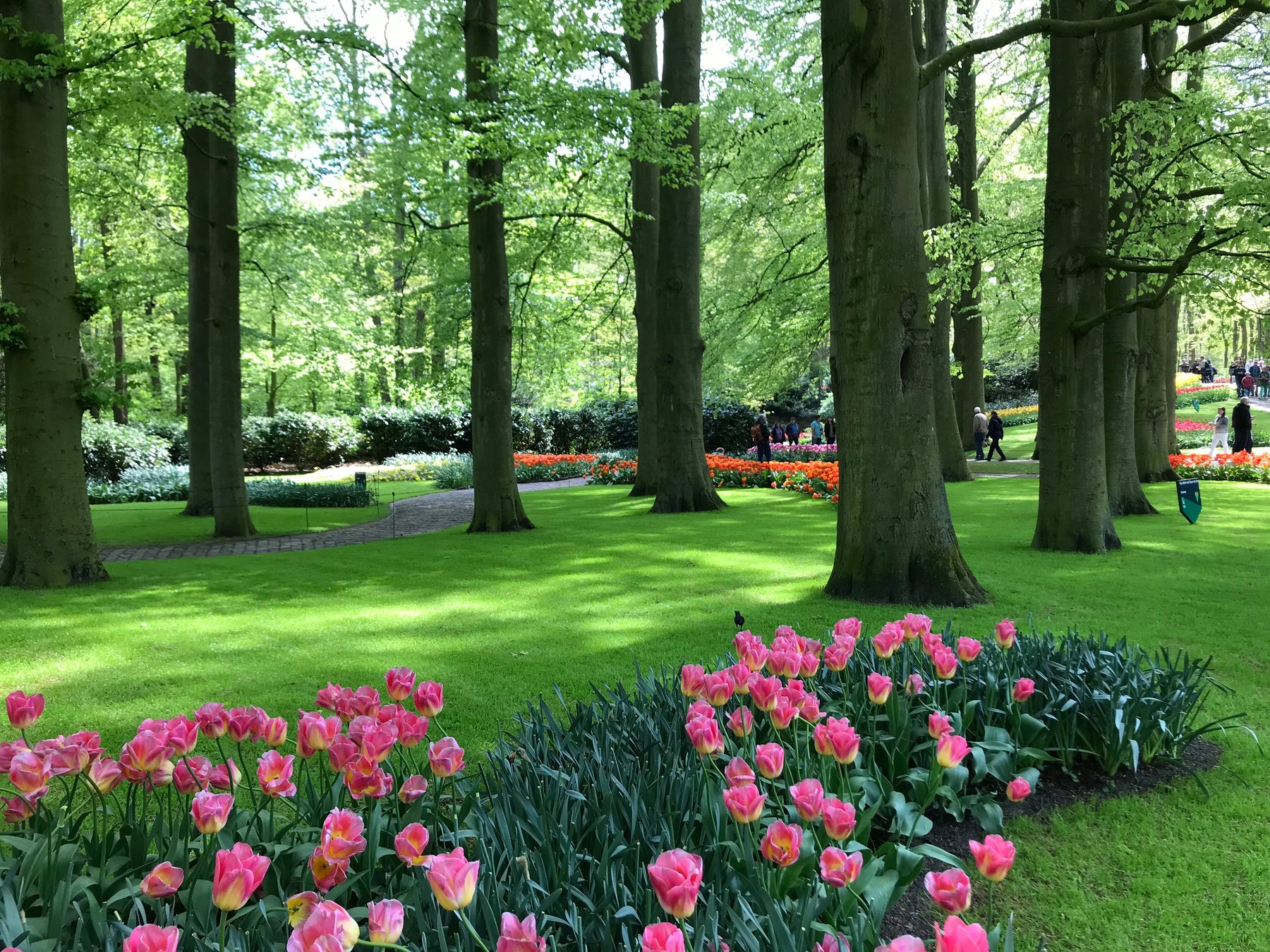 Dutch Bulbs, Mona Lisa and Matchstick Fries
Greetings from Prince Edward Island. At least, that's where I think I am! Shirley and I have just returned home following 24 hours of straight travel from overseas, feeling a bit wiped out. We spent 17 days travelling the beautiful country of Israel, and the cities of Paris and Amsterdam.
There were many highlights on this trip but one that stands out was going to the Keukenhof in the Netherlands. What is the Keukenhof? Take a quick look at this video below.
We went early, and the place had signs of busyness already, by the time we left, I counted over 100 motorcoaches and I couldn't possibly count all the cars.
Below are three phone photos I took on Wednesday this week. 
#2
#3
Paris, we didn't have the best weather, but what a city. We certainly got a small taste of what it is famous for, the architecture, the restaurants, small coffee shops, tea shops, bakeries, small specialty shops, I absolutely loved it. Definitely going back.
The language was not a barrier at all, most people understood English and were helpful even if they didn't. We had lots of laughter and good humour with each other and those we met along the way.
We found by happenstance an amazing 80 seat bistro near where we were staying. The very busy Relais de l'Entrecôte owes its reputation to a unique formula: a green salad with walnuts, followed by an extra-tender beef tenderloin and its famous secret sauce accompanied by delicious homemade matchstick potatoes. Crazy to think that they have been doing only one menu item for lunch and dinner for 60 years. They have four locations. and is like a neighbourhood restaurant where everyone goes, young and old, families. 
Our server, Isabelle, told us that their fries were the best in Paris and continued to share one the secrets to their delicious fries. The potatoes are peeled, sliced, and stored in water overnight to remove the starch. I must admit they were some of the best fries I have ever tasted. We shared that Prince Edward Island is Canada's leading potato growing area and becoming the country's Food Island and should consider visiting and tasting some wonderful potato products as well. She took my card. Who knows, Isabelle and family might stop in and try our Potato Pie!
We managed to visit the Louvre and see Mona Lisa, that was an experience. You enter the huge hall, gather with an unorderly group of good people pushing each other to the front of the line to have 30 seconds of face time with Mona before being ushered quickly to move on. I managed to get this photo.
We had a wonderful time, but it sure is nice to be home.
There are buds on the trees which weren't here when we left! Tulips and crocuses are popping up everywhere, and lobsters are being sold from the backs of trucks in parking lots across the Island. Spring is here!  
Our loyal readers know that I love to share unique bits of news from our fair Island, and so that's why I wish to tell you about an event happening on Saturday, May 12th. It's the 45th annual Women's Institute Roadside Cleanup. 
The Women's Institute provides bags and encourages Islanders to do their part by picking up litter from the ditches surrounding our homes. It really is a wonderful initiative and one of the events that help make our Island so special.
Do you have anything similar in your community?
Mother's Day is May 13, we will be open from 11:30 till 4 that day. Our season starts officially May 18th this year a week earlier than usual. If you wish and are able to join us, we are taking reservations. Contact us customerservice@preservecompany.com or call us 9029644300 next week. The shop is closed this weekend, but opening 7 days a week starting next week.
Today, I wrote this while listening to: Alkan 12 Etudes Op. 35 by Mark Viner Listen here: https://apple.co/2HSIEE0
One last comment regarding our trip. 
One of the many wonderful things I will remember about Israel is the humour shared with us by our guides. Totally self-deprecating and very quick witted. I never laughed so hard. Susan, our tour guide wished us to refer to her as our Jewish mother, and over the course of the week told us many Jewish mother jokes, that I still laugh out loud when I think of them. I will try and share one her as told to us by her but it is hard to replicate without the vocal Jewish mother inflections, but here it goes. Try and imagine. 
Haven't Eaten in 38 Days
After not speaking to his Mom for some time, Herschel called his mother.
Son: Hi, Mom how are you?
Mom: I feel very weak son.
Son: What is going on, Mom?
Mom: Well, I haven't eaten in 38 days.
Son: Why Mom, what's going on?
Mom: Sounding very weak states, I am sorry Herschel I hadn't heard from you for 38 days and I didn't want my mouth filled with food in case you called.
Wishing you and yours a wonderful weekend and a great week ahead.
Sincerely, 
Bruce