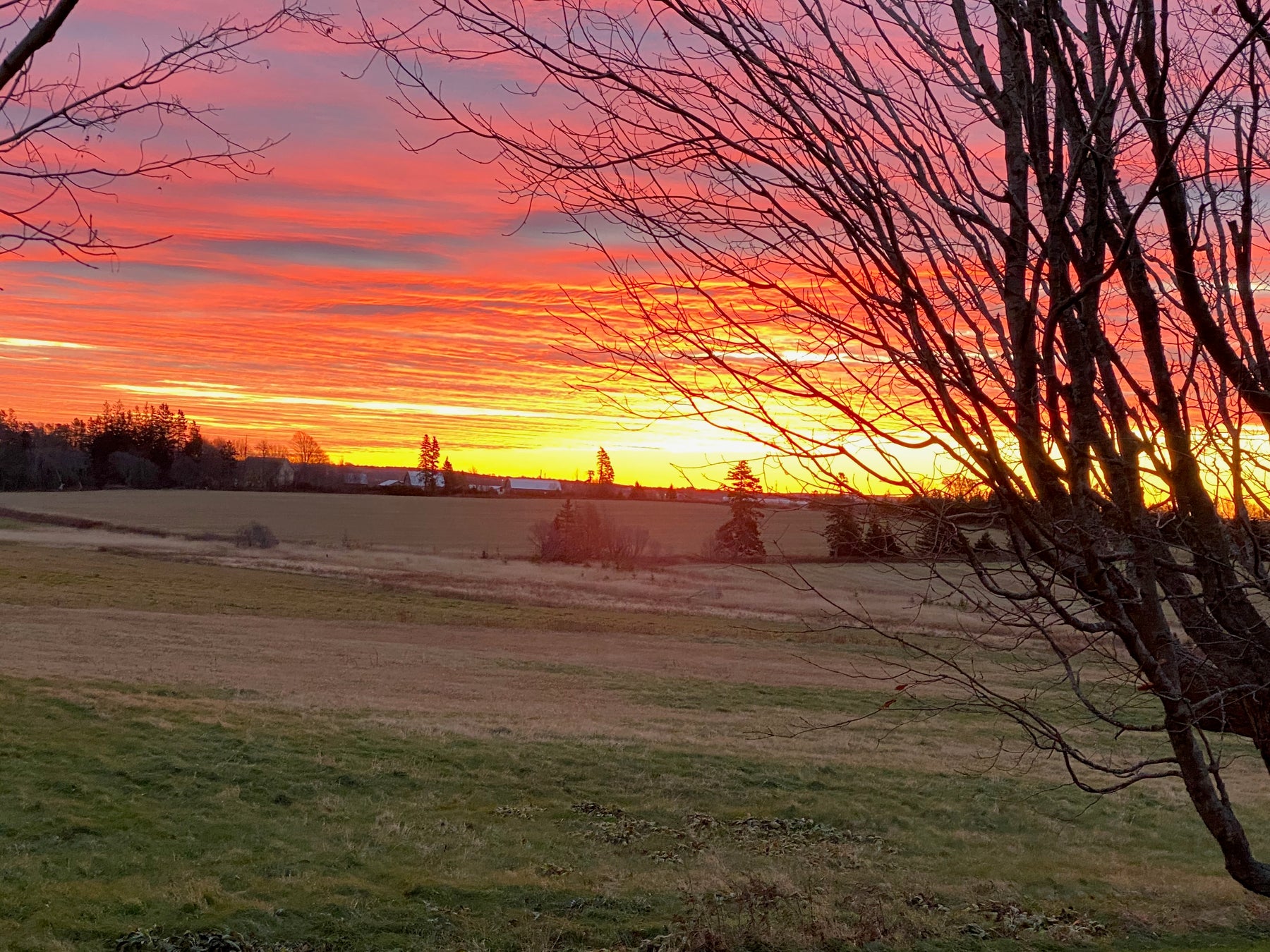 Date Night, What Breaks Your Heart, and I Don't Need a License
Sunrise and Good Morning from our front deck at home in Prince Edward Island,
Put the kettle on, I'd love to share a cuppa with ya. 
Another Saturday morning already. Where is the time going
It is Remembrance Day weekend. I wrote a blog called, Emotional about it. 
What Breaks Your Heart
The TED talk, "The Art of Being a Couple", these principles apply to couples for sure but I would title it, "The Art of Being Human."
I find Theodore Zeldin's talk so inspiring.
Dubbed the 'most popular Englishman in France', Oxford-based Zeldin is a leading world expert on France and what it means to be French
.
Renowned for his studies on happiness, asking pressing questions like 'where can a person look to find more inspiring ways to spend each day?'
Earlier this year I had read, "Do what you can for what breaks your heart." It resonated deeply.  And the resonation stuck with me for the last few months.
So, I had to think about it and ask myself, what breaks my heart?
My heart breaks for the 14 to 17 years olds.
Who by no fault of their own end up in a place of hopelessness, a place of hurt and pain, culminating into a rolling sense of frustration and anger
. My heart breaks for the elderly who are lonely.
Now, how can I get these two groups together to help each other? Throwing down the gauntlet, this is my challenge in 2020.
Empathy is seeing with the eyes of another, listening with the ears of another and feeling with the heart of another. ~ Alfred Adler 
Earlier this week I had the pleasure of speaking with twenty high school alternative education students
. It was reminiscent of my time in high school. Being with them tough in a lot of ways but wonderful in many more. We needed more time, as some students started to share.
There was a young Inuit man who shared a bit about moving from foster home to foster home. And the abuse he experienced.
Date Night 
Friday night is date night for us, not set in stone, but we try and do something with ourselves and or with friends.
Last evening we went to a wonderful film. "The Sound of My Voice", a biopic of Linda Ronstadt and her career. It opened my eyes to the talent she was. So happy to see her life story shared in this manner. She was a trailblazer and a phenomenal singing talent through many genres. Go see the film.
Taking Care of Business
T'is the season where family and friends consider sending a gift to each other. To be honest, this is how we make our living. It enables us to
employ
about 15 people full time for a few months. We love responding to inquiries, customer service, baking, picking, handwriting cards, packing, shipping. Read some of our testimonials by our customers. 
For the next month only, we will be increasing our newsletter mailings to twice a week. Once on Saturday and once on Wednesday.
Some items that may interest you are:
Let us know if you have any questions. 
I have been listening to child prodigy, 
Alma Deutscher. She is an extraordinary talent. Born in 2005, she had already composed a piano sonata by the age of six, an opera by seven and a full-scale violin concerto by nine. Musical ideas have been percolating in Deutscher's mind since 2009, and in this touching album, she brings several of them to life in mostly brand-new, sophisticated piano works.
Wishing you a wonderful weekend and a great week ahead.
With love from Prince Edward Island.
ps. What breaks your heart?
A friend of a friend of mine was sitting on a lawn sunning and reading when he
was startled by
a
fairly
late model car crashing through a hedge and coming to rest on his lawn
. He helped the elderly driver out and sat him on a lawn chair.
"My goodness," he exclaimed. "You are quite old to be driving!"
"Yes," he replied. "I am old enough that I don't need a license anymore. The last time I went to my doctor he examined me and asked if I had a driving license. I told him yes and handed it to him."
"He took scissors out of a drawer, cut the license into pieces and threw them in the wastebasket. 'You won't be needing this anymore,' he said."
"So I thanked him and left."