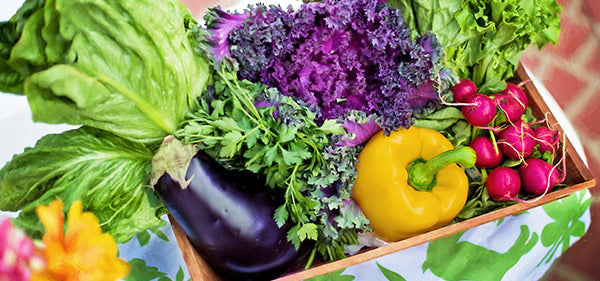 If you ate today, thank a farmer!
It's officially mid-September, and we've been enjoying a beautiful stretch of hot, sunny days here in Prince Edward Island. We're spending as much time outside as we possibly can, soaking up the summer that remains.
Many of our guests this month are visiting the Island for the Fall Flavours Festival. (We hear this every September!) The Fall Flavours features an entire month of culinary events with celebrity and local chefs, shining a spotlight on the bounty of wonderful food grown here in Prince Edward Island, now being referred to as "Canada's Food Island!"
Here is a photo of Chef Michael Smith and his team preparing food at one of the many flavour events happening on the Island. 
Here is a link to what is going on. http://fallflavours.ca/

Speaking of fall flavours… we've been enjoying quite a bounty from our restaurant garden! We have been harvesting from our garden snap peas, yellow and green beans, cucumbers, cherry tomatoes, green peppers, squash and zucchini, and even eggplant for our vegetable lasagna.

Today, Sunday, is Open Farm Day here on the Island, where many farms will open their doors to the public, so we can see what goes on in the growing and harvesting of the foods we eat.
PEI Open Farm Day is an annual event that sees over 20 farms open their doors to the public, providing fun and interactive ways to learn about life on a farm.
If you're able, plan on this for next year I highly suggest checking this out! http://www.peiagsc.ca/openfarmday/

Shirley and I live very close the stretch of the world's longest trail and we enjoy walking this trail from time to time. If you are in the planning stages of what to do in 2018, take a peek here, perhaps this may inspire you to come back to Prince Edward Island do some our trail. https://thegreattrail.ca/
And now for the quirk of the week. If you like cats, you will like this story about a cat train in Japan. 
http://www.atlasobscura.com/articles/cat-train-japan
Wishing you and yours all the best in the week ahead. 
With love from Prince Edward Island,
Bruce