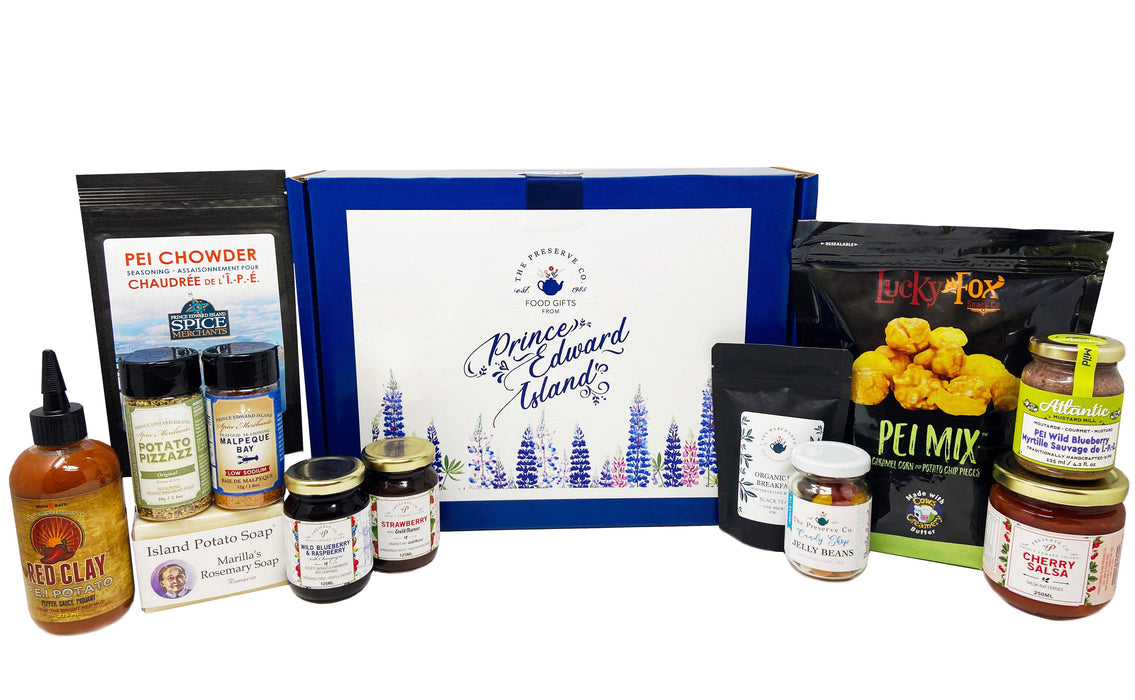 The PEI Sampler - FREE SHIPPING**
Sold out
Original price
$100.00 CAD
-
Original price
$100.00 CAD
$100.00 CAD
-
$100.00 CAD
Current price
$100.00 CAD
**FREE SHIPPING on this Gift Box to Continental North America excluding Hawaii,  Alaska and Northern Territories of Canada (All Orders over $100 CAD receive Free Shipping the same terms and conditions, as our listed shipping rates). 
A little taste of everything that reminds you of HOME. This Sampler Gift Box features some of our absolute favourite handmade Prince Edward Island goodies!

This gift box includes: 
Loose Leaf Organic PEI Breakfast Tea,
Wild Blueberry & Raspberry with Champagne and Strawberry with Grand Marnier Preserves
All-Natural Jelly Beans
Lucky Fox PEI Mix
PEI Hot Sauce
PEI Wild Blueberry Mustard
Malpeque Bay Seasoning
Potato Pizzazz Seasoning
PEI Chowder Mix GF
Preserve Company Fruit Salsa
Locally Made Soap
all snuggled up in a gift box with label and ribbon
* Color of gift box may vary. 
*Substitutions may be required. The items in the photo may not be exactly what arrives if substitutions are necessary.