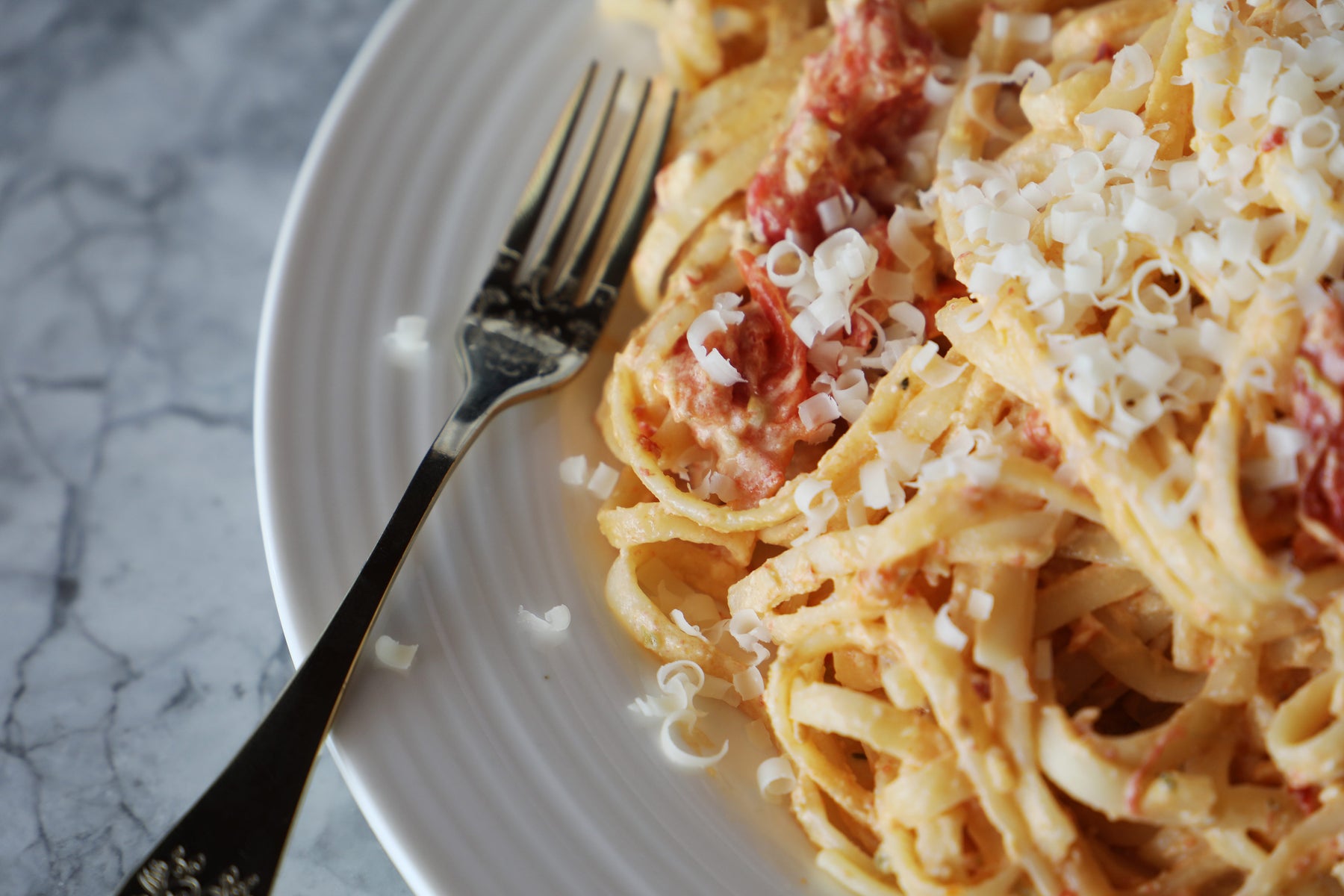 Tomato Feta Pasta
6 servings
The pasta that everyone is talking about, Preserve Company style! Using cherry tomatoes, salty feta cheese, and our Potato Pizzazz seasoning, this pasta dish will cross off all the elements for a perfect evening meal.

¾ box of 450 gram / 16oz box of fettuccine, or your favourite pasta
1 block feta cheese, 250g / 8oz. in brine
255g container cherry tomatoes
3 Tbsp olive oil
1 Tbsp Roasted Red Pepper Potato Pizzazz
4 large cloves garlic, minced
¼ cup pasta water (reserve once the pasta is cooked and before it is drained)
Grated cheese, optional

- Preheat oven to 400°.
- In a square baking dish stir together the cherry tomatoes, olive oil, Potato Pizzazz, and minced garlic. Take the block of feta out of the brine and place in the middle of the dish nestling it in the tomatoes. Bake for 30-35 minutes, or until feta cheese is softened and slightly brown, and the tomatoes have burst.
- While that is baking prepare the pasta. Bring a pot of water to a boil, add a good pinch of salt to the water, and add in your pasta. Follow the directions on the box for how long to cook your pasta. You want to try and time this so that your pasta is not sitting long before the feta is done baking. If you do have to let the pasta sit, make sure to drain it (saving ¼ cup pasta water) and drizzle with a little bit of olive oil to keep it from sticking together.
- Once feta is baked, you want to smash down the tomatoes a little bit and mix  everything together. The feta cheese will melt, and everything will combine to a nice sauce. In a large bowl, or in the same baking dish, combine the pasta and the cheese mixture. You can use the extra pasta water while mixing everything together. You may not need the full ¼ cup, just mix it up to however thick you want your sauce. Serve with grated cheese and some fresh cracked pepper. Best served immediately but will also stay in the fridge for up to 3 days. When it is heated back up, the pasta sauce will not be as smooth, so it is better to eat it fresh.