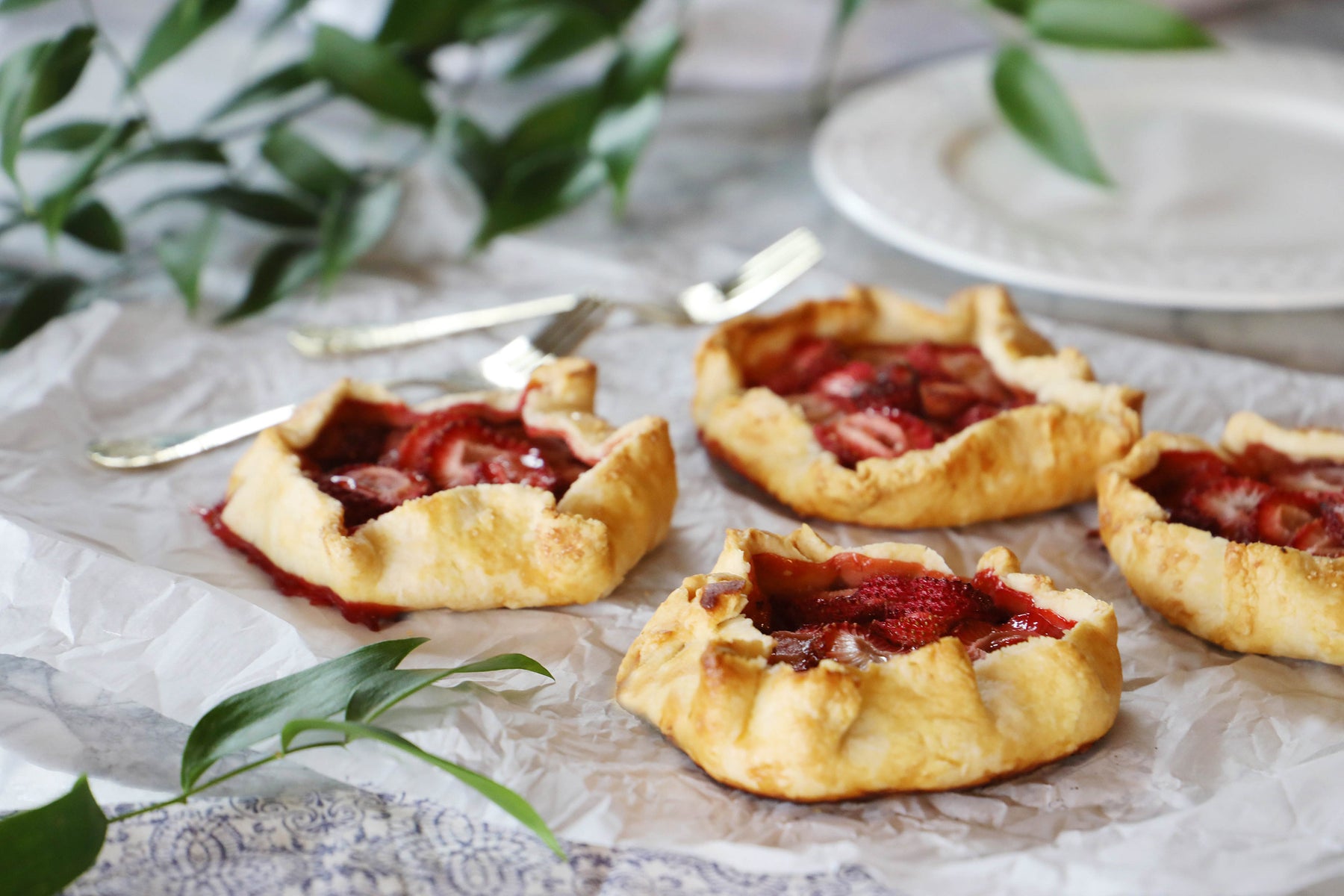 Strawberry Galettes with Peppermint Tea Syrup
6 galettes

Dough:
2 ¾ cup flour
½ cup unsalted butter, cubed
½ cup shortening, cubed
½ tsp salt
1 Tbsp sugar
1 egg yolk
½ cup water
1 tsp vinegar
Turbinado sugar for sprinkling on crust before baking, optional

Filling:
1 lb. strawberries, 454g
¼ cup sugar
3 Tbsp peppermint syrup
2 tsp cornstarch

Peppermint syrup:
¼ cup water
¼ cup sugar
1 tsp Organic Peppermint Tea

1 egg
2 Tbsp water

- To make the peppermint syrup bring the water and sugar to a simmer and remove from heat. Add in the Peppermint Tea and set aside for 10 minutes. Strain the syrup and let it chill.
- Preheat oven to 400°, and line two baking sheets with parchment paper.
- To make the dough for the galettes, stir together the flour, salt, and sugar together in a mixing bowl. Stir together the water, egg yolk, and vinegar. Add the butter and shortening to the dry mixture and using either a fork or your fingers mix it together until it looks like wet sand. Add in the water mixture and knead until it comes together. Divide dough into two disks and wrap in plastic wrap. You only need one disk of dough for this recipe. You can chill or freeze the other disk until you need it. It can be frozen for up to 3 months, or a week in the fridge.
- Roll out dough to 1/8-inch thickness. Cut out 6-inch circles using either a cookie cutter, or a glass bowl. You may need to knead the dough together and roll it out again to get enough dough rounds. Place 3 disks on each pan, or if your pan is large enough you can place them all on the same one. Set aside.
- Cut the stems off each strawberry and slice each strawberry into even pieces. Stir the peppermint syrup, sugar, and cornstarch with the strawberries. Divide the filling in 6, and spoon into the middle of each dough disk. (If you find there is too much filling, do not add it all to the dough. When you crimp the edges up you can add in more strawberries to the middle. They will not spill out as easy.) You want to make sure there is 1-inch space around the edge of the dough. Crimp the 1-inch edge over top the of the filling, folding it over as you go around the galette. Mix the egg and the water together to create an egg wash and brush the edges of the galettes. Sprinkle the turbinado sugar over the crust. Bake galettes for 25-30 minutes, or until the crust is golden brown. Once baked, drizzle a little bit more peppermint syrup in the middle of each galette. Serve warm.