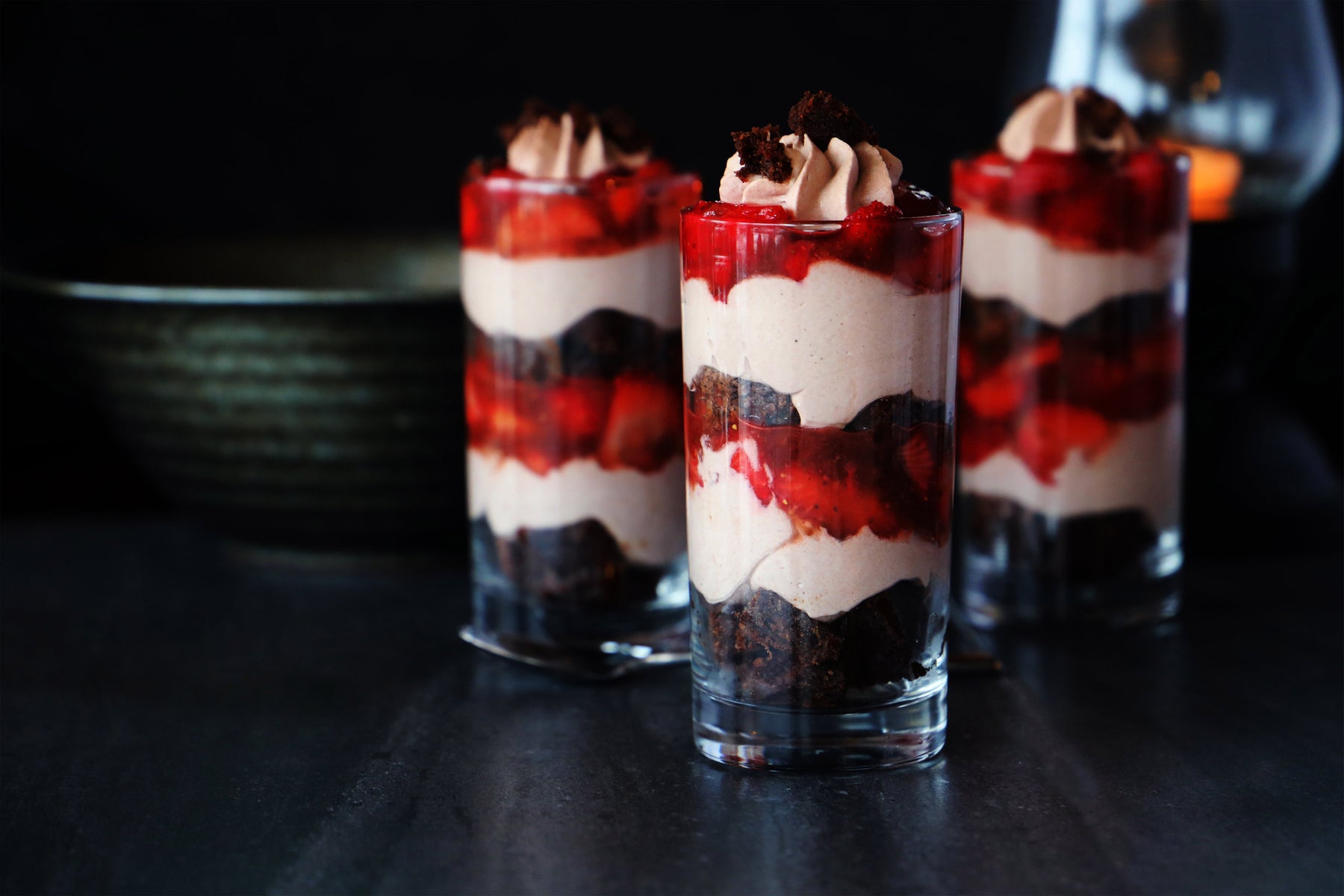 Strawberry Brownie Trifles
4-6 tall glasses

Brownie:
¾ cup unsalted butter
8 ¼ oz. chopped chocolate
3 large eggs
2 tsp vanilla
¾ cup sugar
½ cup flour
1 tsp espresso powder
1 ½ tsp baking powder
½ tsp salt

Mascarpone cream:
275g mascarpone cheese
1 cup whipping cream
2 heaping tbsp cocoa powder
2 heaping tbsp icing sugar

Strawberries:
1 16oz container fresh strawberries
½ cup Strawberry with Grand Marnier preserves
Preheat oven to 350°.
- Melt the unsalted butter and semi sweet chocolate in a bowl over simmering water. Set aside to cool slightly, about 5 minutes.
- Sift together your flour, espresso powder, baking powder, and salt in a separate bowl. Stir the sugar and vanilla in your chocolate mixture. Whisk in the eggs one at a time, making sure to completely mix in the egg before adding the next.
- Stir your dry ingredients into the chocolate mixture and pour into a parchment lined 9x13 baking pan. Bake brownie for 25-25 minutes, or until the middle is just set. The brownie will continue to cook when you take it out of the oven, so make sure not to over bake it. Chill brownies completely before cutting.
- When brownies are chilled, cut into small squares approximately 1-inch pieces. Place brownies back in fridge until ready to assemble your trifles.
- Cut the strawberries into medium sized pieces and place in a mixing bowl. Mix the ½ cup of Strawberry with Grand Marnier Preserves with the pieces of strawberries. Chill until ready to use.
- To make the mascarpone whipped cream Scoop out the mascarpone cheese into a mixing bowl. Stir it a little bit to make it smooth. Sift your cocoa powder and icing sugar into the cheese and whisk together. Taste your mixture and add more icing sugar if needed.
- Whip the whipping cream to soft peaks and fold the mascarpone mixture into the whipped cream gently.
- To assemble the trifles, start with a layer of brownie pieces on the bottom. Spoon or pipe mascarpone whipped cream on top of the brownies. Spoon strawberries on top of the whipped cream. Repeat with brownies, whipped cream, and strawberries until you are at the top of your glass. Top with extra whipped cream if desired.
- These trifles will last for up to 3 days in the fridge.