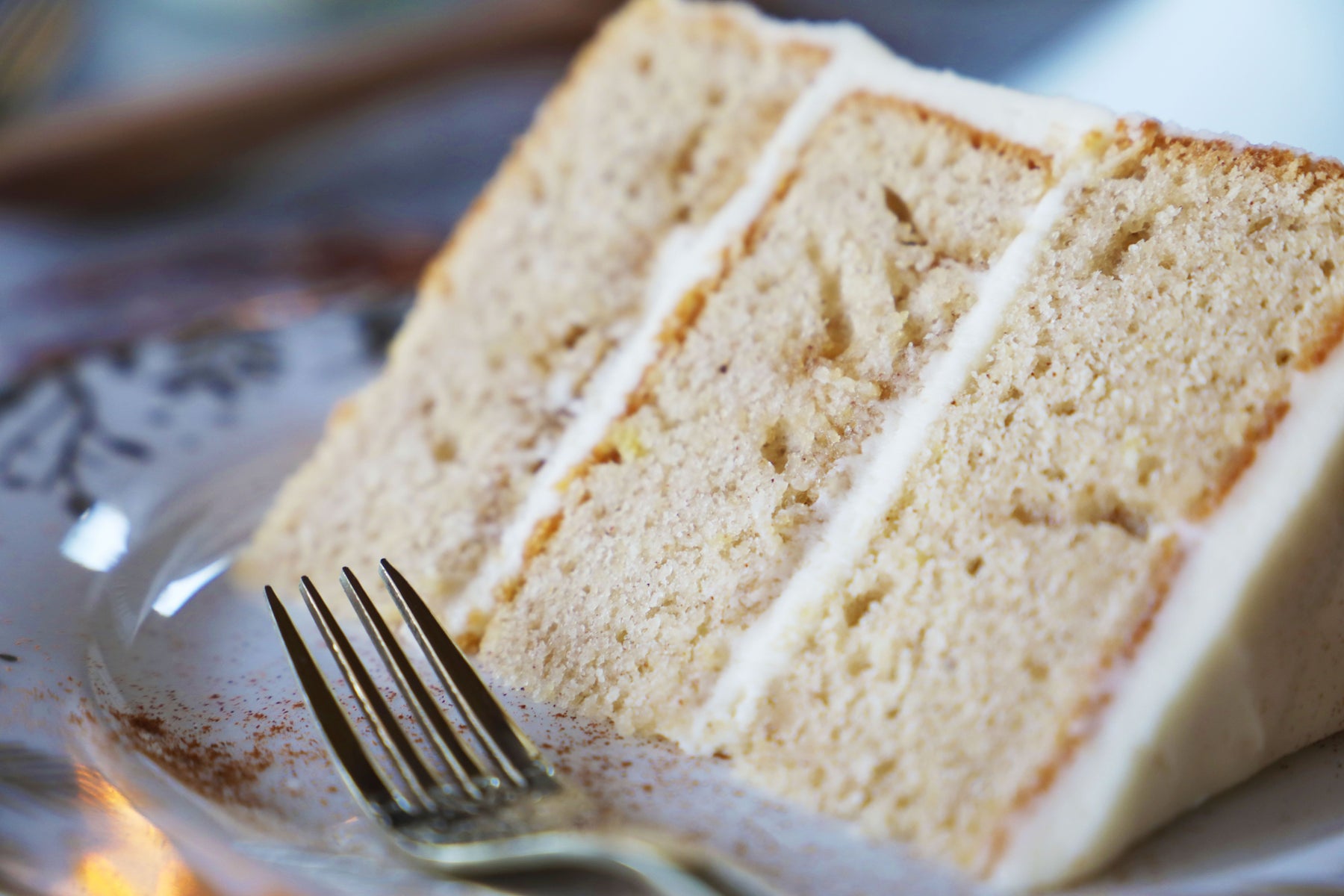 Rooibos Chai Tea Cake with Cream Cheese Frosting
6" layer cake


Cake:
1 cup Rooibos Red Chai Tea infused milk
¼ cup sour cream
2 ¼ cup flour
¼ cup cornstarch
1 tsp cinnamon
½ tsp nutmeg
½ tsp cloves
1 cup white sugar
½ cup brown sugar
1 tbsp baking powder
½ tsp salt
1 cup unsalted butter, softened, cubed
4 large eggs
1 ½ tsp vanilla

Chai syrup:
¼ cup water
¼ cup brown sugar
2 tsp Rooibos Red Chai Tea

Cream cheese frosting:
1 cup cream cheese, softened
¼ cup unsalted butter, softened
4 cups icing sugar, sifted
1 tsp vanilla

- To make the Chai tea infused milk, heat up the milk and 2 tsp of Chai tea on the stove. Once almost at a simmer, remove from heat, and steep for 10 minutes. Strain through a fine mesh strainer and set aside to cool.
- To make the Chai tea simple syrup, bring the sugar, water, and tea to a simmer. Simmer for 10 minutes, strain through a fine mesh strainer, and set aside to cool.
- Preheat oven to 350°, and line 3 6" pans with parchment paper.
- In the bowl of a stand mixer (or a bowl and hand mixer) sift together the flour, cornstarch, sugar, baking powder, salt, cinnamon, cloves, and nutmeg. With the mixer running, add in the cubed butter one piece at a time until combined. It will look a little like wet sand. Add in eggs one at a time, making sure each egg is combined before adding another. Stir in the vanilla and sour cream. Slowly pour in the tea infused milk until its all combined and smooth. Divide batter between the 3 parchment lined pans. Bake for 30-35 minutes, or until a toothpick inserted in
the middle comes out clean. Cool cakes for 10 minutes in the pans, then remove from pans and cool completely. Once cooled, cut the top of the cake layers off to make sure that they are smooth for when you assemble the cake.
- To make cream cheese frosting beat the cream cheese and softened butter together until light and fluffy. Add in icing sugar one cup at a time, beating after each addition. Stir in the vanilla. Whip the frosting until light and fluffy. Set aside until ready to put cake together.
- To assemble the cake, start with the first layer on your cake stand/plate. Brush the cake with the chai syrup liberally. Spread about ½ cup of the frosting on the cake layer. You want the icing to go all the way to the end. If you use more than ½ a cup, that's okay too! Just make sure that you have enough icing left to cover the outside of the cake. If you put too much icing in the layers, it can also make it harder to stack the other layers on the top.
- Once icing is spread, add the next layer of cake and repeat. Once you have the final layer of cake on the top, you can start spreading icing on the sides of the cake. I chose to spread icing very lightly on the outside of this cake, to make it have a "naked" cake look. I decorated the top with a sprinkle of cinnamon, some star anise, and some cinnamon sticks. Cake will last for up to 3 days.
Make sure to cover exposed cake with plastic wrap to help the cake from drying out.