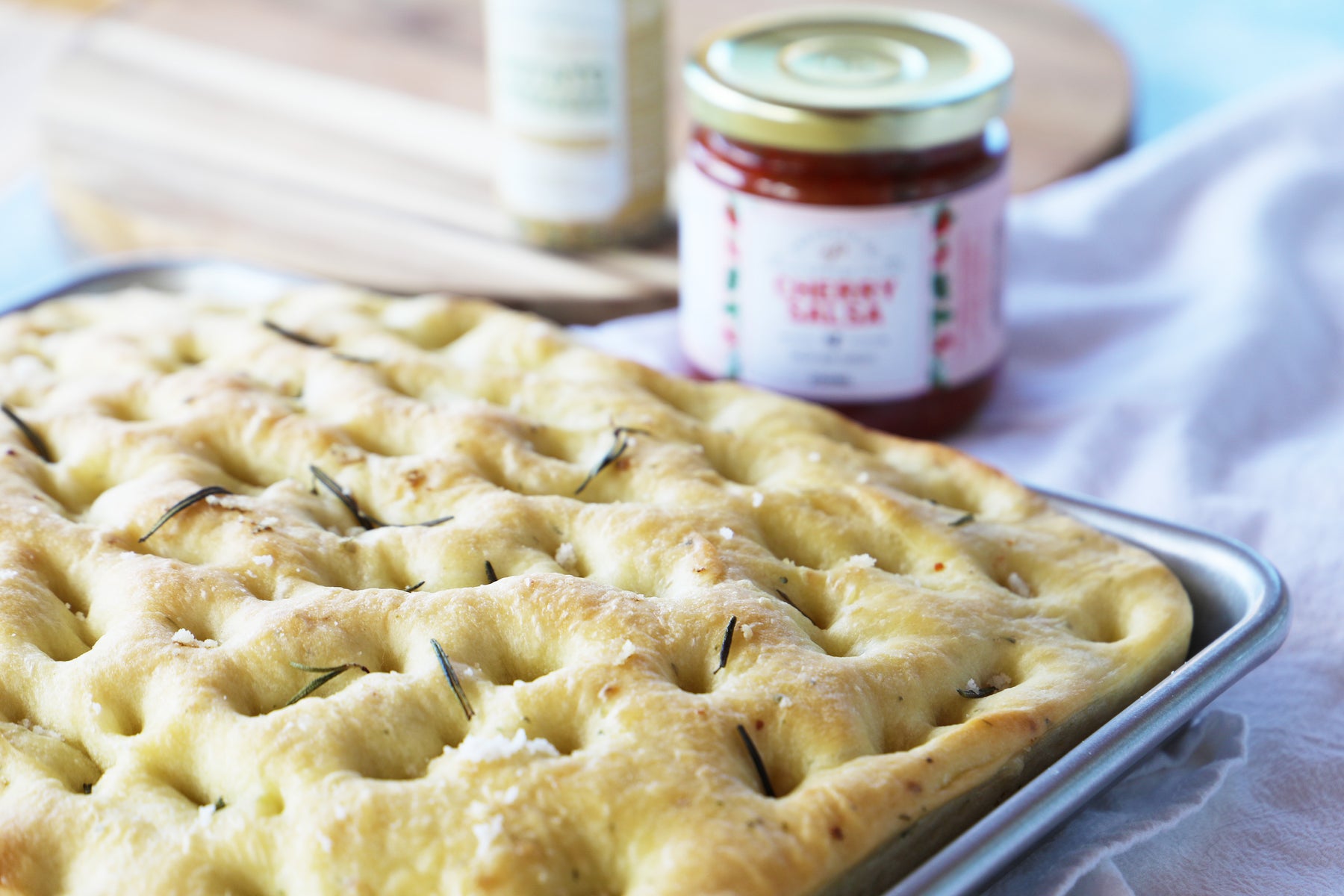 Roasted Garlic Focaccia Bread
9x13 pan
1 1/3 cup warm water (not hot)
2 tsp sugar
1 package active dry yeast (2 ¼ tsp)
3 ¾ cup all purpose flour
2 tsp flaked salt
½ cup olive oil
Flaked sea salt for garnish
A few sprigs of rosemary for garnish (optional)

- In a glass measuring cup, add sugar and yeast to the warm water. Stir together and set aside for 10-15 minutes, or until foamy. (If the yeast does not foam, your yeast may be expired, or the water may have been too hot. Make sure to add the sugar in this step as the yeast needs something to help it grow. Instant yeast will not foam up as it does not need to be activated in water. It is not ideal for this recipe.)
- While the yeast is activating, add your flour, salt, Roasted Garlic Potato Pizzazz, and ¼ cup of the olive oil to the bowl of a stand mixer. Using your dough hook attachment, mix these all together. With the mixer still stirring, add in the water/yeast mixture. Knead dough on low until all brought together. Turn the mixer up a notch and knead on medium speed for 5-7 minutes. Place kneaded dough in a bowl greased with 1 tbsp olive oil. Make sure to oil the top of the dough as well. Cover with plastic wrap and a tea towel. Set in warm area to rise for 1 ½ hours, or until doubled in size.
- When dough is doubled in size, place in a 9x13 pan with 2 Tbsp olive oil and spread dough to the edges using your fingers. Set aside to proof for another 20 minutes.
- Preheat oven to 400°
- Once the 20 minutes is up, take 1 Tbsp of olive oil and drizzle over the top of the dough. Using your fingers, poke holes throughout the dough. Sprinkle dough with flaked sea salt and rosemary. Bake for 20-25 minutes or until lightly golden brown. (Another sign to know if it is baked through, is if you tap the top of the bread and it sounds hollow inside.) Brush remaining olive oil on the focaccia and sprinkle with additional sea salt. Serve warm with Cherry Salsa or your favourite soup!