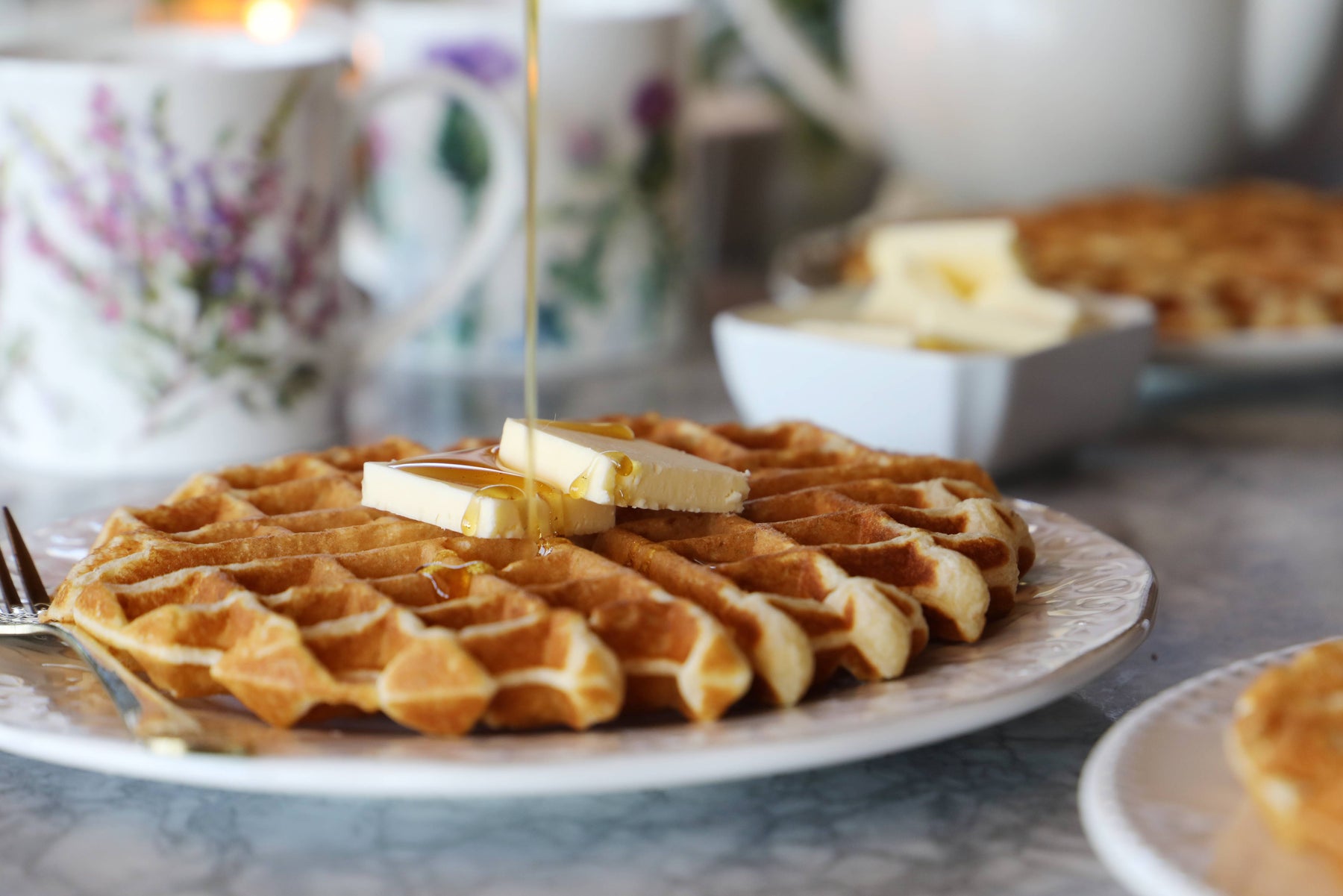 Preserve Company Waffles
6-8 waffles (8-inch)
Whether it is for breakfast, brunch, or even supper, these waffles will be a crowd pleaser. Using our versatile pancake mix, you can create delicious crispy waffles that you can top with lots of butter, Organic Maple Syrup, Fresh Fruit Sauces, seasonal fruit, or whipped cream (or all the above!)

1 package insert pancake mix
1 egg + 1 egg yolk
¼ cup unsalted butter, melted (oil works as well)
2 tsp vanilla
1 ¼ cup milk

- To make these waffles, you first want to preheat the waffle iron and make sure its nice and hot.
- In a small bowl whisk together the eggs, unsalted butter, vanilla, and milk. Empty the pancake mix into a separate bowl and pour the wet ingredients over the top. Whisk together until all the lumps are gone.
- I am using an 8-inch round waffle iron in this recipe. You can use any kind of waffle iron you have; you may just have to adjust the amount of batter you put in your waffle iron. If your waffle iron is not non-stick, make sure to spray it with a little bit of cooking spray before scooping your batter in.
- Using a large ice cream scoop, or a ¼ cup measure, scoop batter into the center of your waffle iron, and place the lid down. The waffles will steam up a little bit. Once there is no longer any steam, open the waffle iron and remove your waffle. It will be crispy and golden brown. Serve waffles hot. You can keep your waffles in a warm oven on a cooling rack until serving to keep them nice and crispy. Top with Organic Maple Syrup, Fruit Sauces, fresh fruit, and whipped cream.
- Check the instructions on your waffle iron to make sure you have the correct amount of batter, and cooking time.