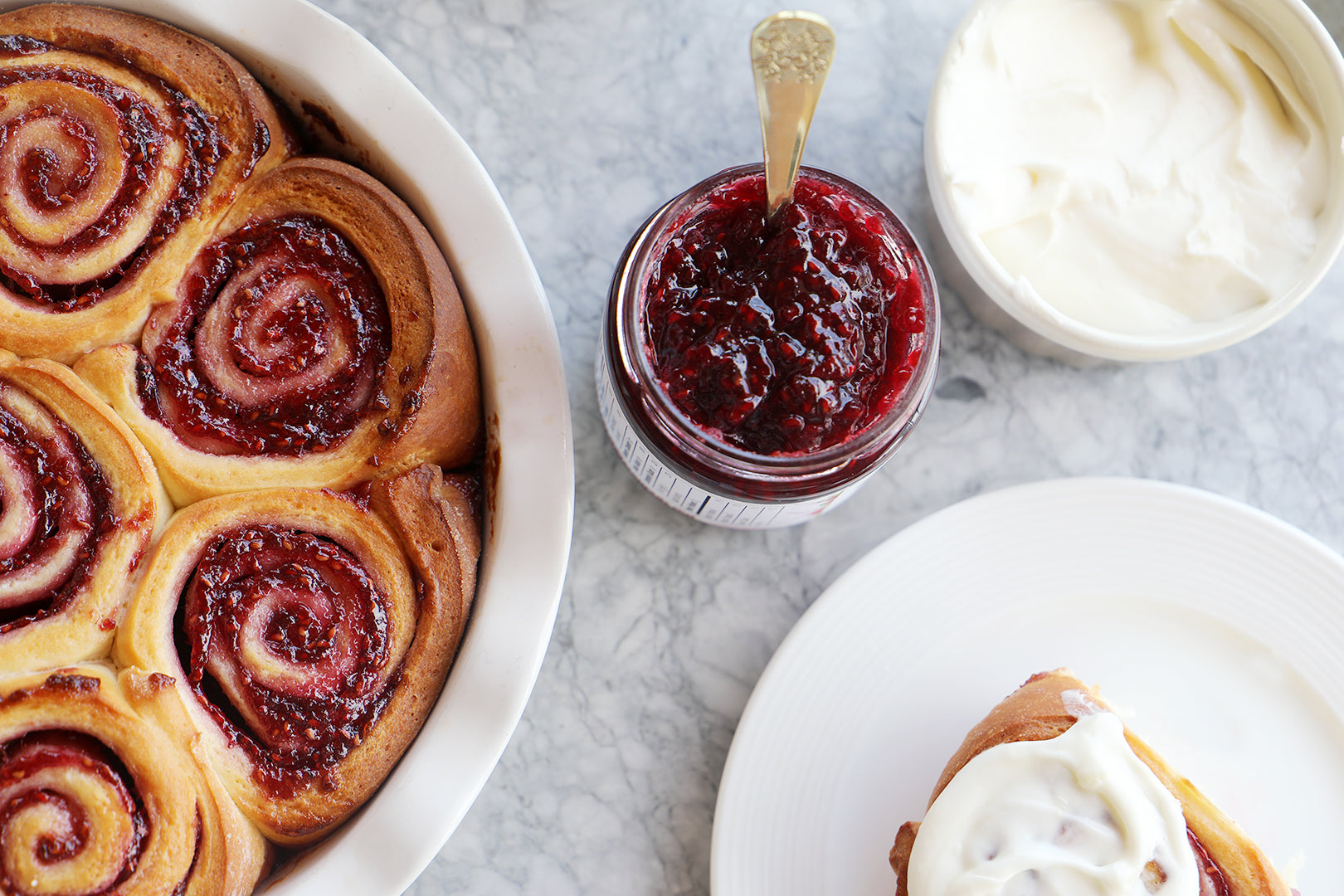 Preserve Company Raspberry Rolls with Cream Cheese Frosting
Dough:
1 cup milk
1/2 cup butter, melted
3 1/2 cups flour 
1/2 cup granulated sugar
1/2 tsp salt
1 package active dry yeast (2 1/4 tsp)
1 egg 
Filling:
1/4 cup butter, softened 
1/4 cup granulated sugar 
Cream Cheese Icing: 
240g cream cheese, softened 
1/2 cup softened butter 
4 cups icing sugar 
1 tsp vanilla extract
Method: 
- In a small sauce pan, heat up the milk until warm, but not simmering. Stir in 2 tbsp of your sugar, and your dry yeast. Set this aside for 10-15 minutes, or until bubbly. 
- In the bowl of a stand mixer, stir together the melted butter, the rest of your sugar, salt, and egg. Pour your yeast mixture into this, and stir together. 
- Add 3 cups of your flour to your wet mixture, and using the dough hook attachment, knead the dough for 5 minutes. If the dough is looking too wet, add in remaining flour a little bit at a time, until your dough is formed. 
- once your dough is smooth, transfer it to a greased bowl, and cover with plastic wrap, or a damp towel. Set aside in a warm place to rise for 1 hour, or until doubled. 
- Once your dough is ready, give it a small punch to knock some of the air out of your dough. Roll out the dough into a rectangular shape, approximately 1/4 inch thick. 
- Spread softened butter all over the surface of the dough, and sprinkle sugar over top. Spread your
preserves
on top of the dough with a spoon. It may look messy, but it's supposed to be like that! 
- starting at the long end of your rectangle, roll up your dough, pinching the dough once you get to the end, to seal the edges.  
- using a serrated knife, cut dough into 1 1/2 inch pieces, and place into greased pie dishes, or a sheet pan. Cover the rolls with plastic wrap or a damp towel, and set aside to rise for 20-30 more minutes. 
-Preheat oven to 375°
- Once your rolls are done rising, place them in the oven on the middle rack, for 15-20 minutes, or until golden brown on the top, and the middle of the rolls have cooked. If the top gets too brown, cover the rolls with tin foil for remainder of cooking. 
- Let rolls cool for 10 minutes, then spread the cream cheese frosting on top. Serve warm. The rolls will keep in a covered container on the counter for 3 days. 
Cream Cheese Icing: 
- Beat your cream cheese and butter until light and fluffy. Put icing sugar in one cup at a time, mixing well after each addition. Stir in vanilla.