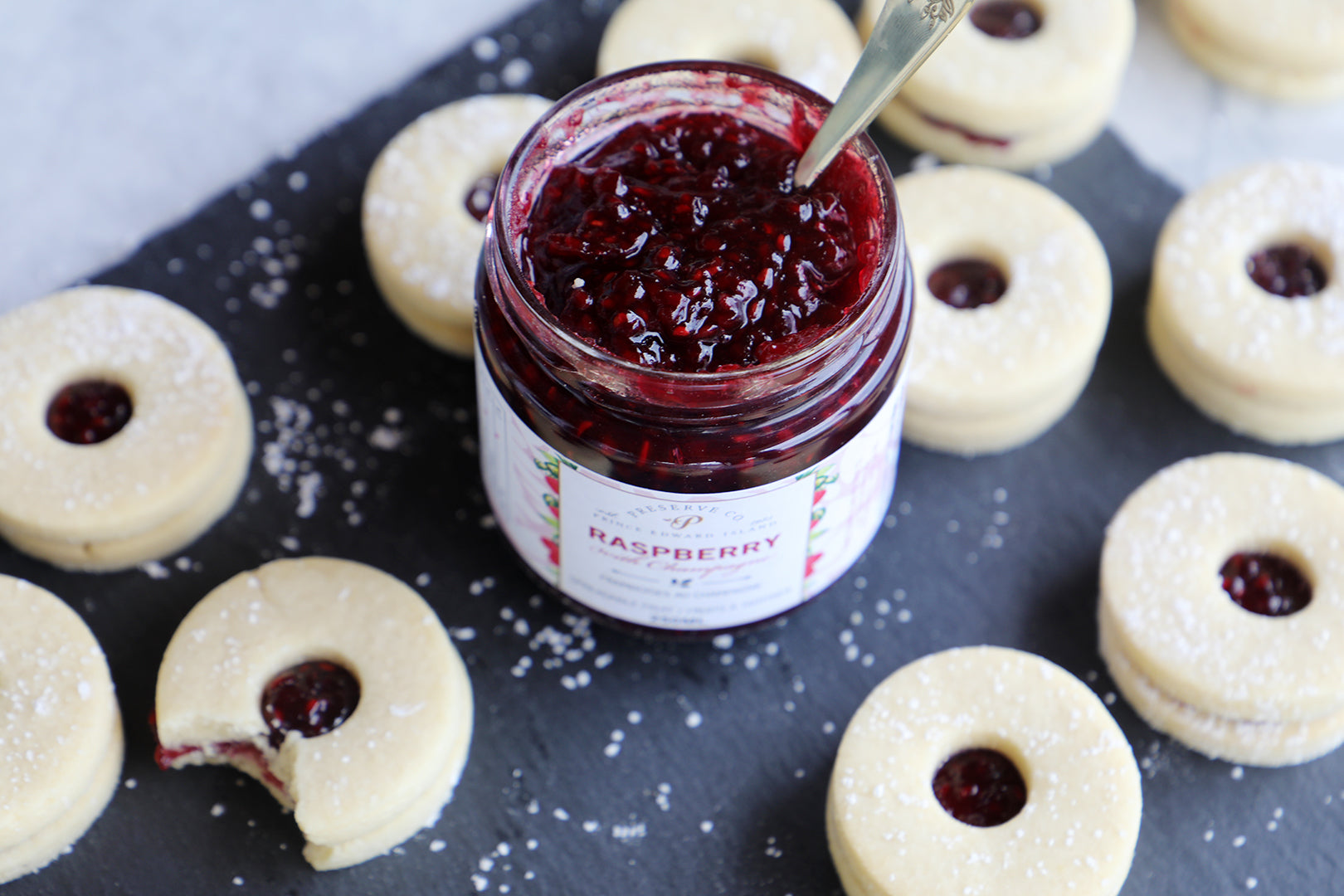 Preserve Company Raspberry Linzer Cookies
If Traditional Raspberry Linzer Cookies are not on your Christmas baking list you might want to go ahead and add them right now! We love using our Raspberry with Champagne Preserves to create the perfect buttery jam-packed holiday tea time cookie. 

Approximately 2 Dozen
Ingredients:
1 cup softened butter
½ cup granulated sugar
2 egg yolks
1 tsp vanilla
1 drop lemon juice
2 ¾ cup flour
¼ tsp salt
2 jars of 250 ml Raspberry with Champagne Preserves
Powdered sugar (for dusting)
Directions:
- In the bowl of a stand mixer fitted with a paddle attachment cream the butter and the sugar together until light and fluffy. Stir in egg yolks one at a time, scraping the bowl after each yolk. Stir in the lemon juice and the vanilla.
- One cup at a time, mix in the flour and salt until the dough comes together. Divide the dough into two disks, wrap in plastic wrap, and chill dough in the fridge for 2 hours, or over night.
- Preheat oven to 350°.
- Take one of the disks of dough out of the fridge, and let it sit on the counter for 15 minutes. Sprinkle your counter/work surface with flour and roll out the dough till it reaches ¼ inch thickness. Cut out circles using a round cookie cutter or biscuit cutter. I used a 2 ½ inch cookie cutter. In half of the cut-out cookies, cut out a small circle on the middle of the cookie, about ½ inch wide. I used the large side of a piping tip. Place cut-out cookies on parchment lined baking
sheet. They can be close together, as they will not spread very much. Bake cookies for 8-10 minutes or until edges are slightly brown. Cool cookies completely.
- Once cooled, spread a thin layer of Raspberry and Champagne preserves on a cookie (the one without the cut out), and place a cookie with the cut out on the top. Press down slightly, and sprinkle with sifted powdered sugar (optional).