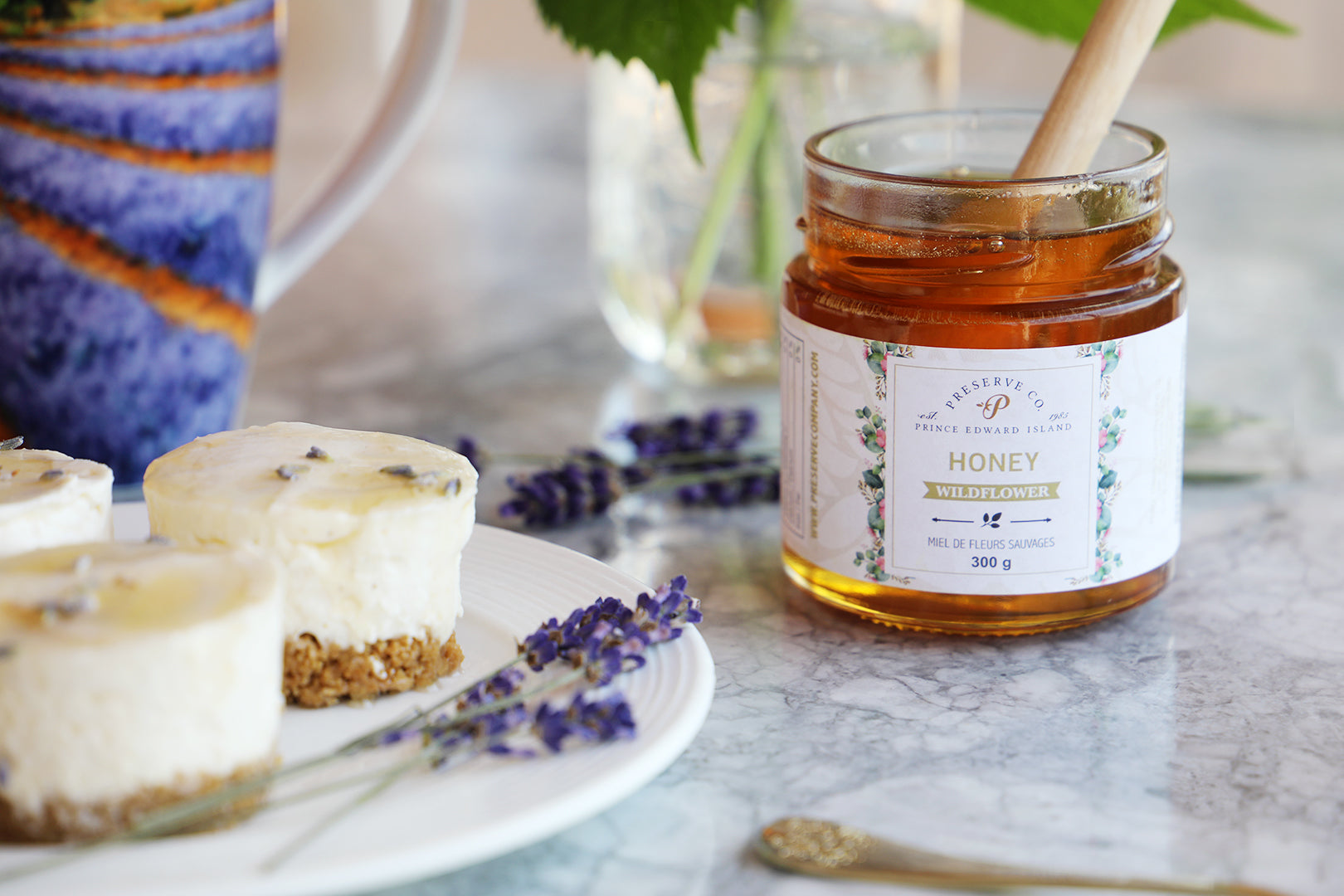 Preserve Company Mini Honey Cheesecakes with Lavender Glaze
Mini cheesecakes are not only adorable, but luxuriously creamy and surprisingly easy to make!  Our smooth wildflower honey and rich culinary lavender creates a smooth and distinctive blend that's unique and full of flavour!
24 mini cheesecakes

Cheesecake:
400g cream cheese
1 ¼ cups heavy whipping cream
¼ cup + 2 Tbsp Preserve Company Wildflower Honey
1 tsp vanilla bean paste
1 ½ cup graham cracker crumbs
¼ cup sugar
¼ cup melted butter

Glaze:
½ cup sugar
½ cup water
2 tsp dried lavender
Directions:
- Preheat oven to 350°, to bake your graham cracker crust.
- Mix graham cracker crumbs, sugar, and melted butter. Press into mini cheesecake pans and bake for 5 minutes. Set crusts aside to cool.
- Whip up your heavy whipping cream until stiff peaks, set aside.
- In the bowl of a stand mixer beat the cream cheese, honey, and vanilla bean paste until light and fluffy. Fold your whipped cream into cream cheese mixture. Spoon mixture into prepared cheesecake pans, and smooth with a spoon. Chill mini cheesecakes for at least 4 hours, or overnight.
- For the glaze bring sugar, water, and lavender to a slow simmer. Simmer mixture for 8 minutes, and strain out lavender buds using a fine mesh sieve. Cool, and drizzle over cheesecakes.