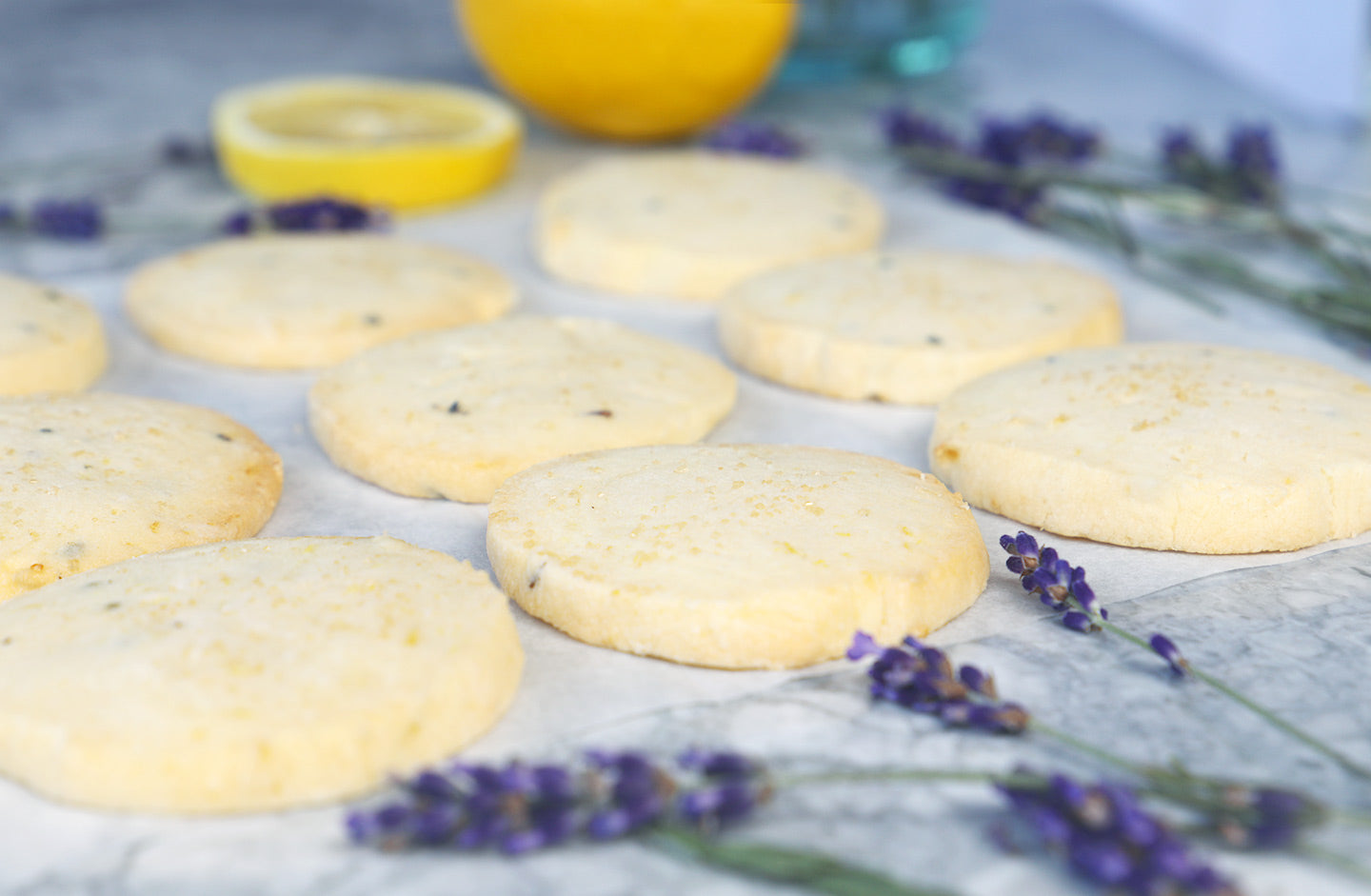 Preserve Company Lemon and Lavender Shortbreads
Lovely Lavender! If you've never added
Culinary Lavender
to your baked goods, this is a great recipe, to begin with.  The cookie is rich and buttery with a perfect balance of lemon and a light floral aroma. They are simple to make, a great gift idea and the perfect summery Afternoon Tea treat.
Culinary Lavender
is a member of the mint family and is close to rosemary, sage, and thyme. It has numerous health benefits and can be used for natural pain relief, calming, and skin treatments. English Lavender has the sweetest fragrance of all the lavenders and is the one most commonly used in cooking.
If you don't grow your own lavender it can be purchased online from our Specialty Food Shop
Here
.  Dried lavender is something that will keep in your spice rack for years and years.  Here on Prince Edward Island, we have several growers and distillers of quality 100% pure grade lavender.  It was such a treat to visit the Island Lavender Distillery u-pick to gather our own fragrant bundles in their gorgeous purple fields. 
We had some fun experimenting with this versatile herb.  Check out our Lemon and Lavender Shortbread recipe below and please let us know of any adventures you've had in the kitchen using lovely lavender.  Enjoy!
Ingredients:
2 cups all-purpose flour
1 cup powdered sugar 
1/2 cup cornstarch 
3/4 tsp salt
4 tsp fresh lemon zest
1 cup cold butter 
1/2 tsp vanilla 
2 large egg yolks 
Turbinado sugar (optional)


Directions:
- Preheat oven to 350°
- In a food processor, pulse your flour, powdered sugar, cornstarch, salt, lemon zest, and lavender until combined. 
- Cut up your cold butter into cubes, and put them in the food processor on top of the dry ingredients. Pulse together to combine, but don't over mix. 
- whisk egg yolks and vanilla together in a separate bowl.  Pour egg mixture into a food processor, and pulse until it forms a dough. 
Divide the dough in two, and roll into logs. Wrap the dough in plastic wrap and parchment paper, and chill it in the fridge for 2 hours, or overnight. 
- when you are ready to bake the cookies, cut each log into 16 pieces, and place 2 inches apart on a parchment-lined baking sheet. Sprinkle turbinado sugar on the top of each cookie, and bake for 10-12 minutes. The edges should get slightly browned. Leave the cookies on the pan for 10 minutes, then transfer to a cooling rack.