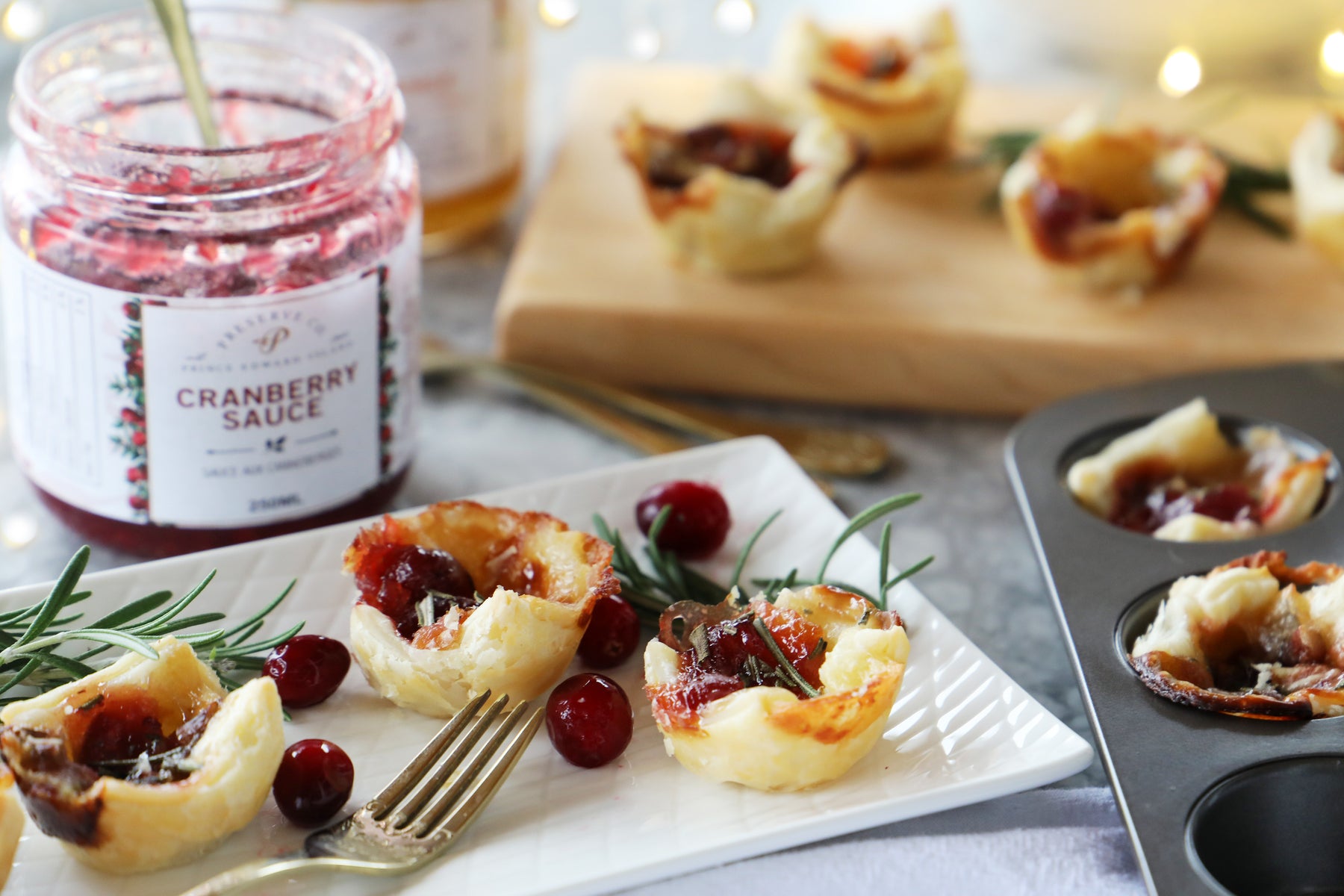 Preserve Company Cranberry Brie Bites
**Oops! Were you looking for the Raspberry Cream Cheese Blondie Recipe? You can find that here!**
If you're looking for an easy appetizer to make during the holidays these Cranberry Brie Bites are sure to be a crowd pleaser.  Melted Brie tucked inside golden, buttery puff pastry, then topped with our Cranberry Sauce, Orange Marmalade, pecans, and a sprig of rosemary for festive color, these tasty morsels will disappear in a matter of minutes. 
24 mini appetizers

1 sheet of frozen butter puff pastry, thawed
6 oz. brie
¼ cup Orange Marmalade
¼ cup Cranberry Sauce
¼ cup chopped pecans
Fresh rosemary for garnish

- Preheat oven to 375° and grease a 24-mini muffin pan.
- Roll out the thawed puff pastry slightly. Cut pastry into 24 even pieces. Place each piece into a mini muffin cup, there should be a little bit of pastry coming out of the cup. Set in fridge for 15 minutes.
- Stir together the orange marmalade and cranberry sauce together. Set aside.
- Cut the brie into ¾ - 1-inch cubes. Place each cube in the muffin tin, and top with the cranberry/orange mixture. Use about 1 tsp in each cup to cover the cheese. Sprinkle pecan pieces on top, and bake for 10-15 minutes, or until pastry is brown. The cheese may bubble up over the pastry, and that is okay! Once baked, place a small piece of rosemary on top. Serve hot.