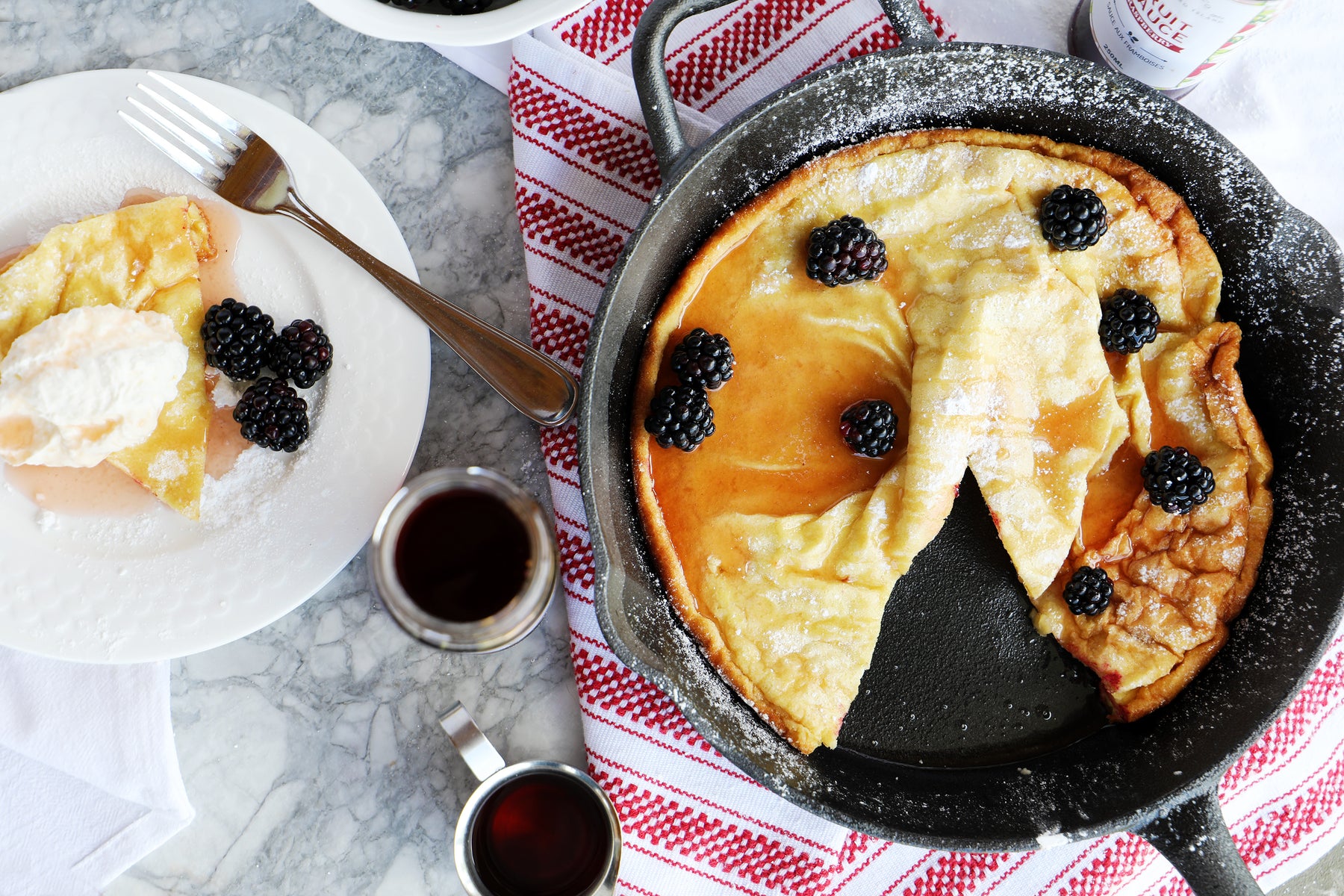 Preserve Company Classic Dutch Baby
Warm and light, yet very filling! These puffy German pancakes are perfect for cooler mornings and a fun addition to classic breakfast or brunch. Similar to Yorkshire pudding it is always baked in the oven rather than fried and generally thicker than most pancakes. It is best to serve immediately upon removal from oven after it poofs up into a show-worthy display.  Top with fresh fruit, whipped cream and our Strawberry Fruit Syrup! 
Ingredients:
½ cup plus 2 ½ Tbsp Flour
1 Tbsp sugar
¼ Tsp salt
3 eggs
½ cup plus 2 ½ Tbsp warm milk
1 tsp vanilla
2 Tbsp melted butter
Preserve Company Strawberry Fruit Syrup
Icing sugar
Fresh berries
Directions:

- Preheat your oven to 450°. Place your cast iron skillet in the oven before you preheat it. You want the skillet to heat up with the oven.
- Whisk your flour, sugar and salt in a bowl and set aside. Mix your eggs, warm milk, and vanilla, and add it to your dry ingredients. Whisk until smooth.
- Once your oven is preheated, take the skillet out, and melt the butter in the hot pan. When melted, pour your batter in. Place skillet back in the oven for 15-20 minutes, or until pancake is puffed up and slightly brown.
- Your Dutch baby will deflate once it comes out of the oven, so do not worry. This is normal! Sift icing sugar over the top and pour syrup as desired. Serves four generously.