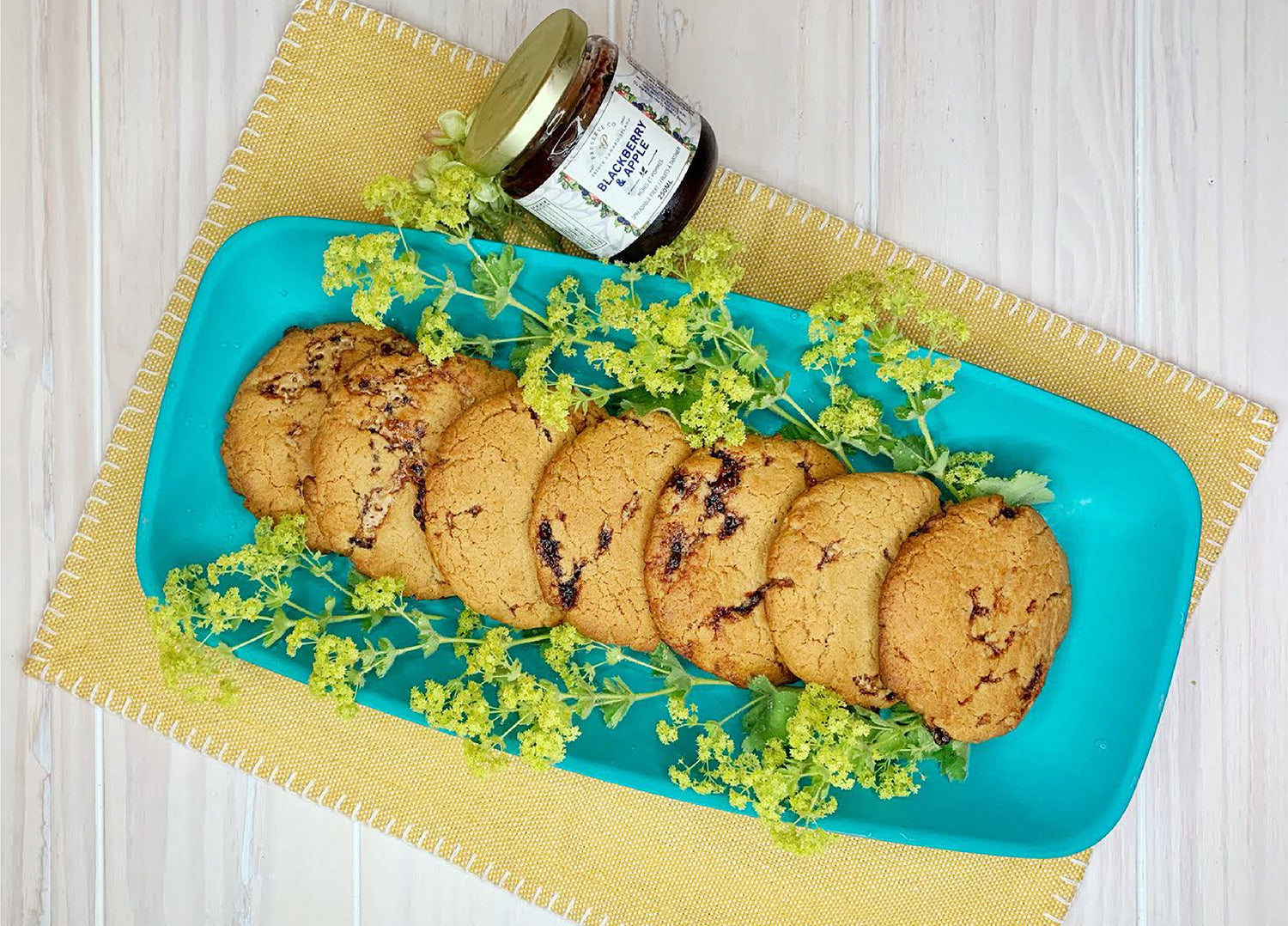 Preserve Company Blackberry-Apple & Peanut Butter Stuffed Cookies
Makes 10 large cookies

To stuff the cookies:
~for each cookie 1 tbsp crunchy peanut butter and 2 tsp Preserve Company Blackberry Apple Preserves (10 Tbsp PB & 20 tsp Preserves)
For the cookie dough:
1 ½ cups
1 ½ tsp baking soda
1 tsp kosher salt
1 cup creamy peanut butter
½ cup sugar
½ cup light brown sugar
½ cup unsalted butter, at room temperature
2 large eggs
1 ½ Tbsp vanilla extract

1. Spoon the crunchy peanut butter into 10 equal-sized pieces as close to a sphere shape as possible (about 1 tablespoon each) on a sheet tray and freeze until ready to stuff the cookies.
2. Pre-heat the oven to 375F
3. Whisk together the dry ingredients
4. In a stand mixer, or using a hand mixer, cream the butter and the sugar on high-speed for 3 minutes. This is done to dissolve the sugar crystals. Your mixture should be nice and fluffy.
5. Add the eggs one at a time allowing them to be incorporated first before adding in the next egg.
6. Add in vanilla.
7. Add in the dry ingredients, and stir to combine, then form the dough into 10 equal dough balls.
8. One at a time, flatten out the dough into 7 cm/3 inch circle in the palm of your hand.
9. Add the spoon of Preserves and a ball of frozen peanut butter. Carefully seal up the peanut butter and preserves in the cookie dough.
10. Place on a parchment-lined cookie sheet and bake for 12 minutes. Allow the cookies to fully cool on the cookie sheet before removing.