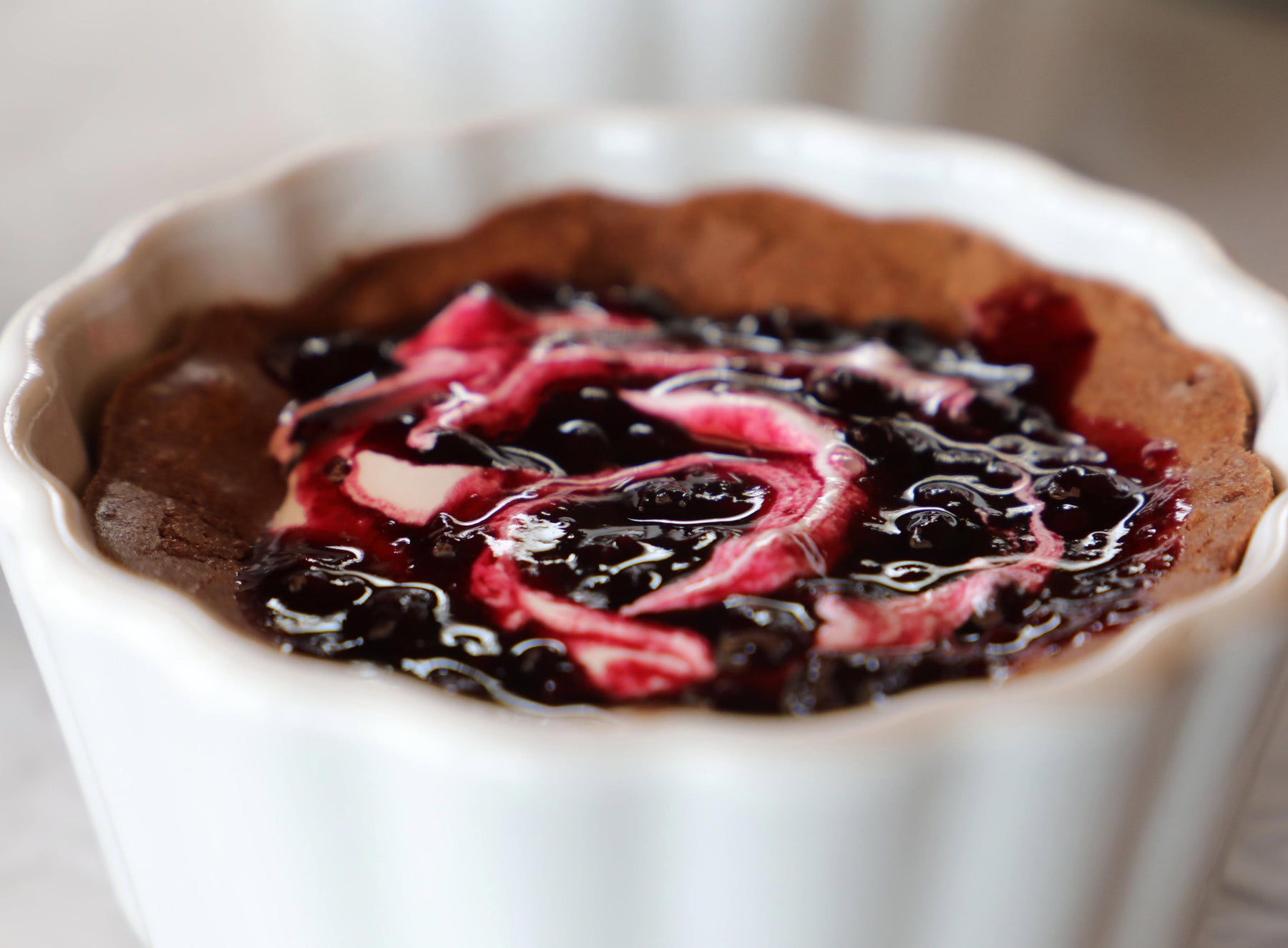 Mini Flourless Chocolate Cakes
4, 4-inch round ramekins

½ cup unsalted butter
9 oz. bittersweet chocolate, chopped
3 large eggs
½ cup sugar
2 tsp vanilla
¼ tsp espresso powder
Wild Blueberry and Raspberry with Champagne preserves

- Preheat oven to 325°.
- Spray four ramekins (4-inch round) with non-stick spray generously. Set aside.
- In a bowl sitting over a pot of boiling water, melt the butter and chopped chocolate together.
Once melted, remove from heat, and set aside.
- In the bowl of a stand mixer beat the eggs and sugar until light and fluffy. It will take anywhere from 3-5 minutes to get the kind of volume you need. You can use a hand mixer for this as well, but it will take longer than 5 minutes to get the right volume.
- Once eggs and sugar are whipped, add in your espresso powder and vanilla, and stir gently. Add in your melted butter and chocolate mixture and gently fold in, until all combined. You want to keep as much of the volume as you can, so being gentle is key.
- Spoon your cake batter into each ramekin. Its approximately ¾ - 1 cup of batter in each ramekin. Place ramekins in a baking dish and fill dish ½ way with hot water. You want the water to be halfway up the ramekins. Gently place baking dish in oven and bake for 25-30 minutes. These cakes are very fudgy, so you will not be able to stick a toothpick in the center to see if its cooked. The tops of the cakes will harden, and they will rise. Once cakes are out of the oven, they will fall in the middle. This is normal! It provides a perfect place to put whipping cream or ice cream.
- Heat up some Wild Blueberry and Raspberry with Champagne preserves in a small saucepan on the stove. Pour over the flourless chocolate cakes.