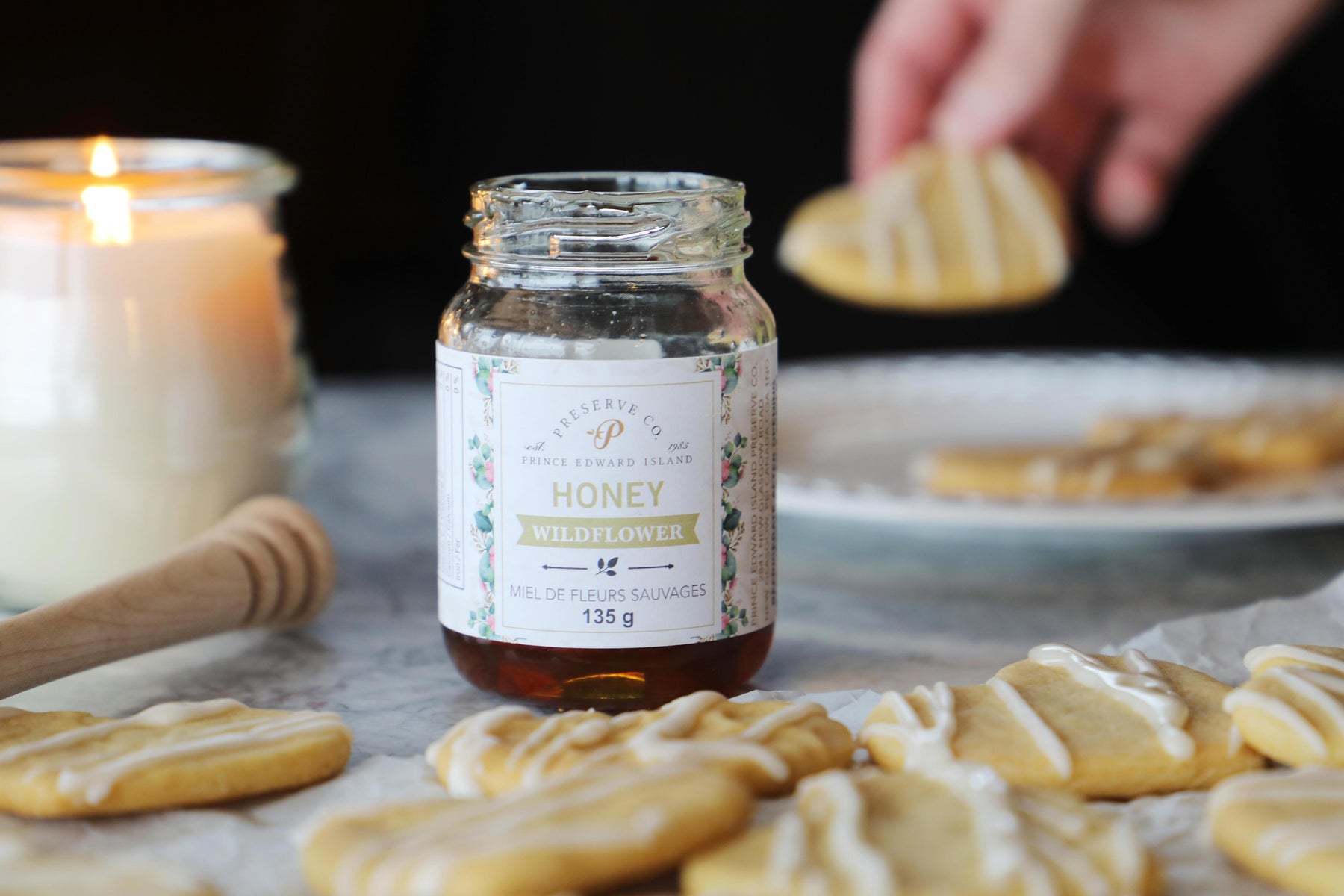 Heart Honey Butter Sugar Cookies
approximately 4 dozen cookies

½ cup unsalted butter, softened
½ cup brown sugar
¼ cup white sugar
½ cup Wildflower Honey
1 egg yolk
2 ¼ cup flour
1 tsp baking soda
¼ tsp salt

Icing:
½ cup sifted icing sugar
2 Tbsp Wildflower Honey
1-2 tsp water

- In the bowl of a stand mixer, or with a hand mixer, beat the butter, brown sugar, and white sugar until light and fluffy. Pour in the honey and beat until combined. Beat in the egg yolk. In a separate bowl, stir together your flour, salt, and baking soda. Add the dry mixture into the wet and stir until combined. The dough will come together and start coming away from the sides of the bowl when it is mixed. Divide the dough into two disks.
- Roll out one of the disks of dough between two pieces of parchment paper. You want to roll it out to about ¼ inch thickness. Place dough, still between the parchment paper, in the fridge to chill for 20 minutes. Repeat with the other dough.
- Once chilled, cut out cookies with a heart shaped cookie cutter. Place cookies on a parchment lined baking sheet. Bake cookies at 325° for 10-12 minutes or until golden brown. Repeat until all the cookies are baked and cooled.

- To make icing, whisk together sifted icing sugar, honey, and 1 tsp of water. You want the icing to be thin enough that you can pipe/drizzle over the cookies once cooled.
- Cookies will last for up to a week in an air tight container.