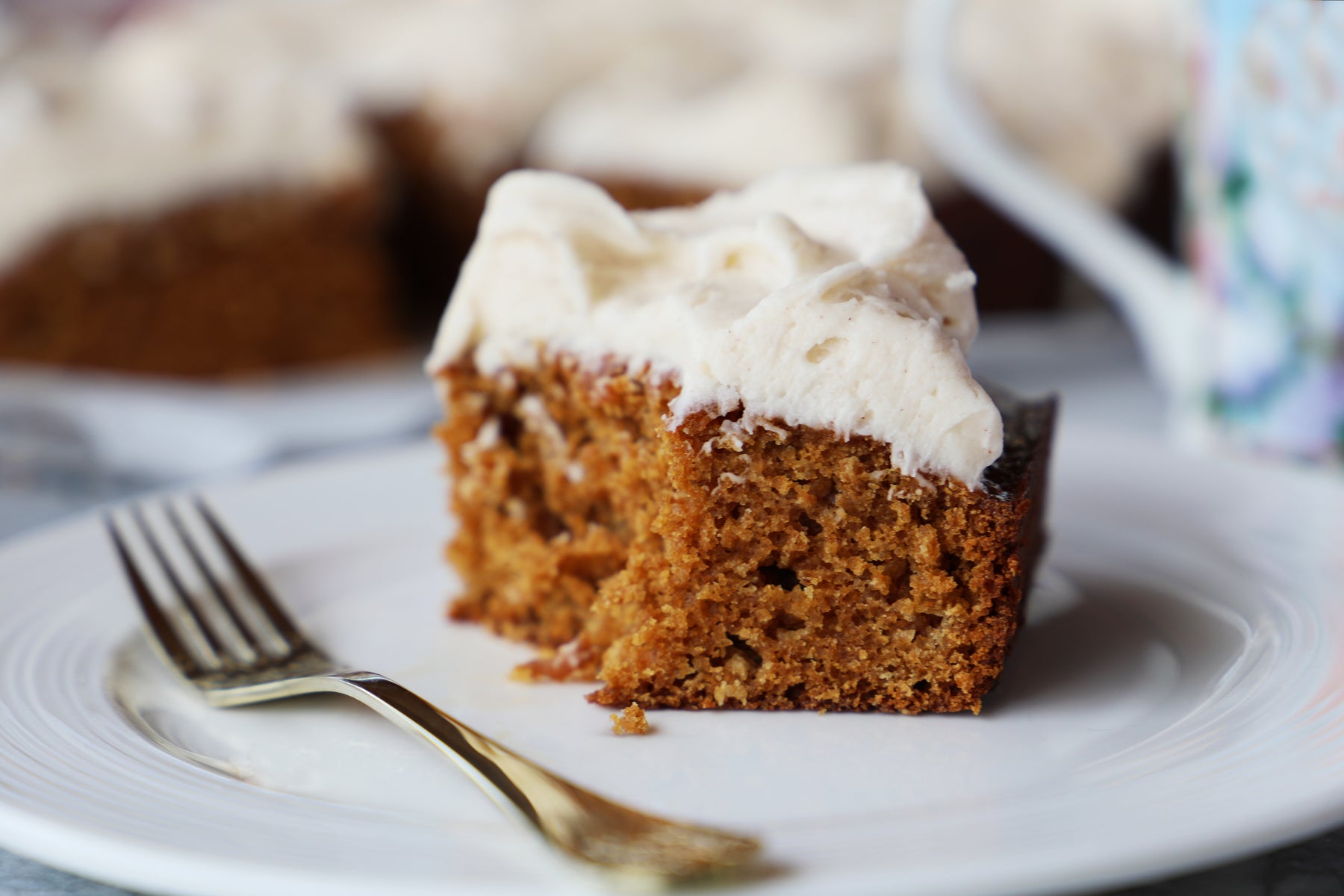 Gingerbread Sheet Cake with Chai Cream Cheese Frosting
9x13 cake

Cake:
2 ¼ cup flour
1 ¼ tsp baking powder
¾ tsp salt
1 ½ tsp ground ginger
1 ½ tsp cinnamon
1 tsp cloves
¾ cup unsalted butter
½ cup white sugar
¾ cup brown sugar
3 eggs
¾ cup molasses
1 ½ tsp vanilla
¾ cup buttermilk

Chai Cream Cheese Frosting:
1 cup cream cheese
¼ cup unsalted butter
3-4 cups icing sugar
2 Tbsp chai syrup
½ tsp cinnamon
½ tsp cloves

- Preheat oven to 350°. Line a 9x13 pan with parchment paper and set aside.
- Sift together the flour, baking powder, salt, ginger, cinnamon, and cloves. Set aside. In the bowl of a standing mixer (or a bowl with a hand mixer) beat the butter and both sugars together until light and fluffy. Add in eggs one at a time, beating well after each egg. Stir in molasses and vanilla. Alternately add in the flour mixture and buttermilk and mix until smooth. Pour into the lined baking pan, and bake for 35-45 minutes, or until a toothpick inserted in the center comes out clean. Cool cake before spreading icing on the top.
- To make the chai syrup, bring ½ cup water, ½ cup sugar, and 2 tsp Chai Spice Tea to a boil. Simmer for 10 minutes, and strain through a fine mesh strainer. Cool completely before using in frosting.

- To make frosting, Beat the cream cheese, unsalted butter, and chai syrup until combined and fluffy. Gradually add icing sugar one cup at a time, beating after each cup. Once you get the right consistency, beat in the cinnamon and cloves.