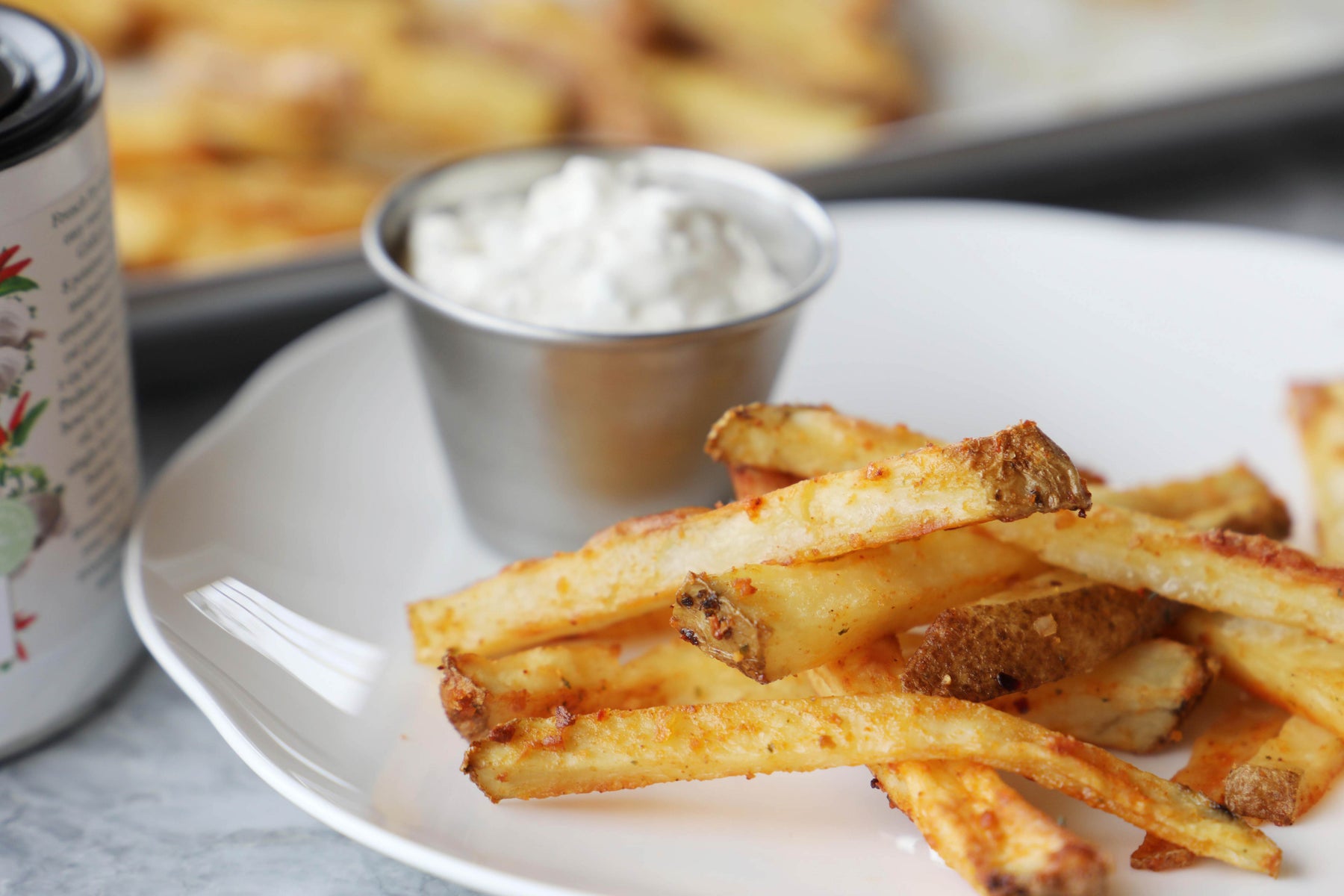 Crispy Oven Baked Fries
Perfectly seasoned, and perfectly golden brown, these oven baked fries are a star in themselves. Using our Epic Fry Salt full of garlicky goodness, these fries will be a staple on any summer menu.
3-4 servings
3-4 medium sized potatoes
1 ½ tbsp olive oil
2 Tbsp Epic Fry Salt
Roasted garlic dip (optional)

- Wash your potatoes (you can peel them if you want, but it is not necessary). Cut potatoes, length wise, into ¼ -inch to ½ -inch slices. Rinse the cut potatoes with cool water and drain them. Fill up another bowl with cool water and add in the potatoes. Soak the potatoes for at least an hour, but up to 24 hours in the fridge.
- Pre-heat oven to 400°.

- Once soaked, drain potatoes, and pat them dry with paper towel. Place the fries in a clean bowl and drizzle them with the olive oil. Sprinkle 1 Tbsp of the Epic Fry salt and toss to combine. Line a baking sheet with parchment paper and spread the fries in a single layer over top. Do not crowd the pan, as the fries will not get as crispy. Sprinkle the remaining 1 Tbsp of seasoning over the top.
- Bake fries for 25-30 minutes, turning the pan after 15 minutes. Increase the temperature of the oven to 425° and bake for another 10-15 minutes, or until the edges get all nice and crispy.
Serve hot with your favourite dipping sauce. I used the Roasted Garlic Dip!