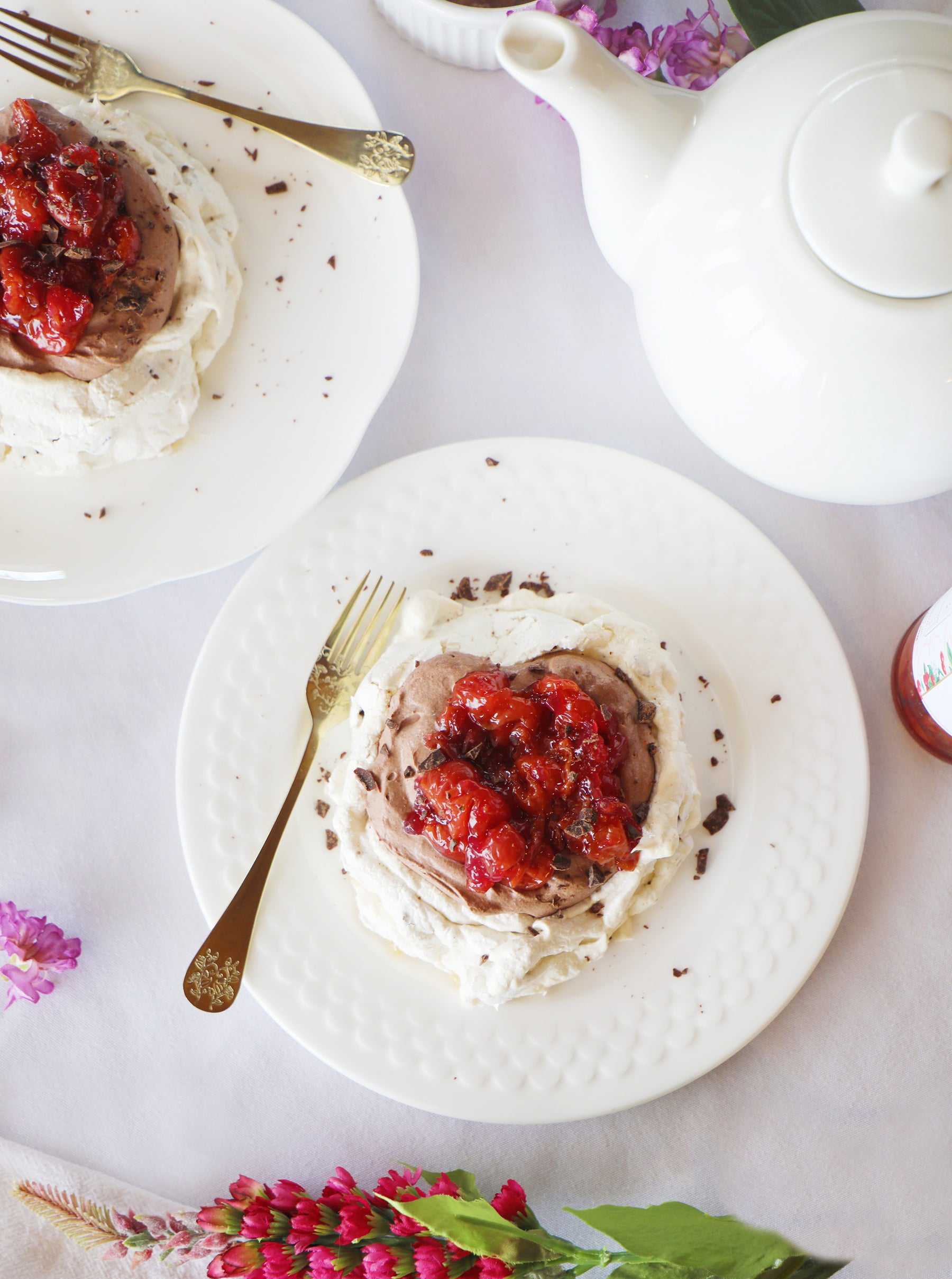 Chocolate Pavlovas for Two
2 large egg whites
1/3 cup white sugar
2 tsp cornstarch
1 tsp vinegar
1 tsp vanilla extract
1 oz. chocolate, chopping into small pieces
½ jar of Cherries in Brandy
½ tsp cornstarch
¼ cup water
2 tsp sugar
1 cup whipping cream
1 tsp dark cocoa powder
1 tsp icing sugar
½ tsp espresso powder

- Preheat oven to 250°.
- In the bowl of a stand mixer, or with a hand mixer, whisk the egg whites until they start to get foamy. Sprinkle in the sugar slowly 1 Tablespoon at a time. Once sugar is all added, whisk the egg whites and sugar until glossy stiff peaks form, approximately 3-5 minutes. Once glossy, add in the vinegar, cornstarch, vanilla, and chocolate pieces. Fold these in gently as you do not want to deflate the egg whites. Divide the meringue into two, and spoon onto a parchment paper
lined baking sheet. Spread each mound gently into a tall disk shape. Do not place them too close together, as they will expand as they bake. Place meringues into the preheated oven and bake for 55 minutes. Cool Pavlovas completely before adding the whipped cream and cherries.
- While pavlovas are cooling, make the cherry sauce and the chocolate whipping cream. To make the cherry sauce add the ½ jar of cherries into a small saucepan with 3 Tbsp of the water and the sugar. Bring cherries to a slow simmer. In a small bowl, whisk the cornstarch and the remaining 1 Tbsp of water together. Slowly add this mixture to the cherries and stir until thickened. Set aside to cool.

- To make the chocolate whipped cream whisk the whipping cream, cocoa, icing sugar, and espresso powder in a stand mixer, or with a hand mixer. Whip till soft peaks form and set aside until ready to assemble pavlovas.
- To serve, add the chocolate whipped cream to the top of the pavlovas and spoon cherries on top. Best eaten the same day. If it needs to be made in advance, wait until right before serving to add the whipped cream and cherries.
Enjoy!